Show: Monday Night Raw
Date: February 27, 2017
Venue: Resch Center, Green Bay, WI
Author: Cade Carnage
Welcome you glorious love buckets to the Raw go-home show for this Sunday's FASTLANE PPV!
Tonight, we finally hear from Seth Rollins and get an update on his Wrestlemania status, plus Goldberg makes a return to hype his match against Kevin Owens for the Universal Championship, and much much more.
Make sure to stay in the know and follow me on twitter at @MindofCarnage. Any mistakes found please advise me on there, PLUS keep refreshing for the latest details and highlights from the show.
Raw images below sourced from @WWE on twitter.
Let the recapping begin!
RAW
OPENER: Raw kicks off with the entrance of Goldberg, which literally takes a good few minutes.
Goldberg gets on the mic thanking Green Bay for the great ovation. He comments on last week's Kevin Owens opening segment where he had the spotlight on him and talked.
Goldberg says that he's not here to talk, and that he's 6 days away from becoming the Universal Champion at Fastlane, via a spear, jackhammer,& 1..2..3. He says he would take the title to WrestleMania against Brock Lesnar. Goldberg says he always delivers on his promises and promises to take out Owens. Kevin Owens would make an appearance on stage, in his dark suit.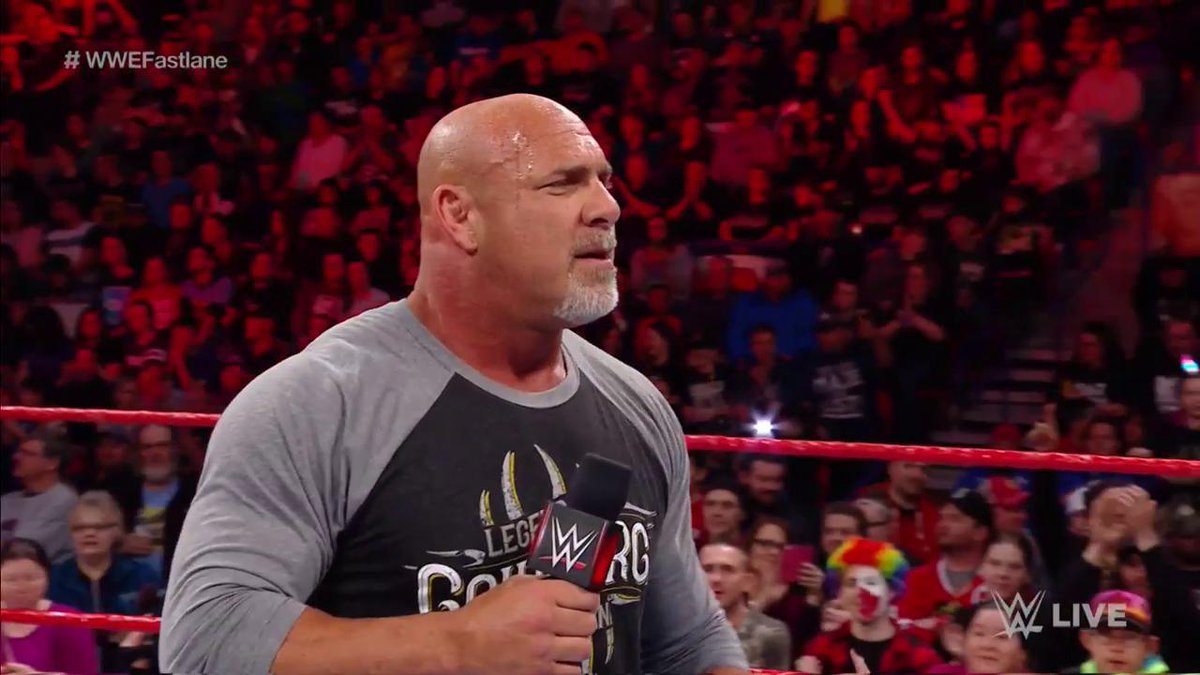 Owens says that he also made himself a promise, he would grab WWE by the throat and make them see what Kevin Owens is all about. He says that he's done that, and that on his first night in WWE, he beat John Cena. He continues saying how he beat Dean Ambrose, AJ Styles, Roman Reigns and Seth Rollins, and says that Jericho doesn't matter, but everyone remembers what he did to him. Owens says that no matter how many "sheep" [audience] cheer for him, Goldberg will be next in the evolution of Kevin Owens as Universal Champion.
Goldberg applauds Owens and comments on his "moving speech" which he claims all it did was piss Goldberg off. So Goldberg offers to fight Owens now. Owens begins hyping the audience for a match, but stops himself after he asked for a Green Bay Street Fight and realized that Green Bay didn't deserve to watch him compete. Owens says that at Fastlane, the "Goldberg Chants Die."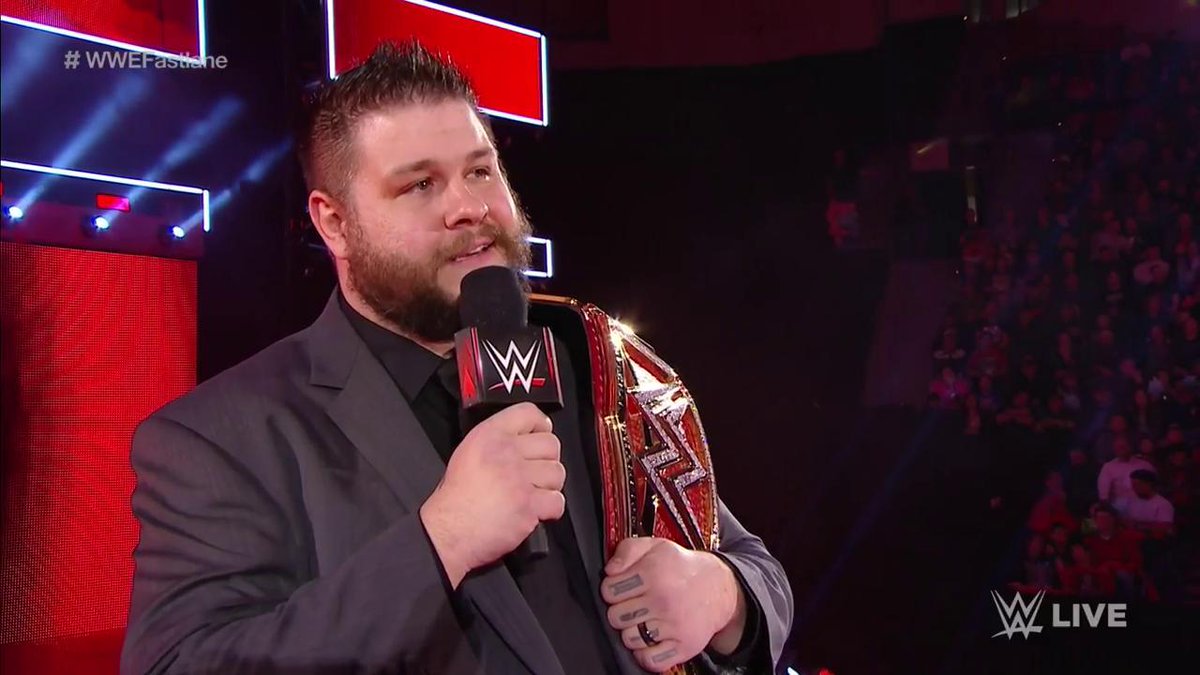 ---
ANNOUNCERS: Seth Rollins gets interviewed later about his WrestleMania status. New Day are backstage preparing for the segment next.
---
ENTRANCE: New Day make their way out while the announcers hype the New Day as the WrestleMania 33 hosts. As New Day reach ringside their music dies and they begin to converse with the audience. They claim to have a lot on their plates as they will be the WrestleMania 33 hosts. They don't want others to worry as New Day will always deliver to the audience, and claim that they know the audience want more, and tell the audience that they want… "The Ice cream."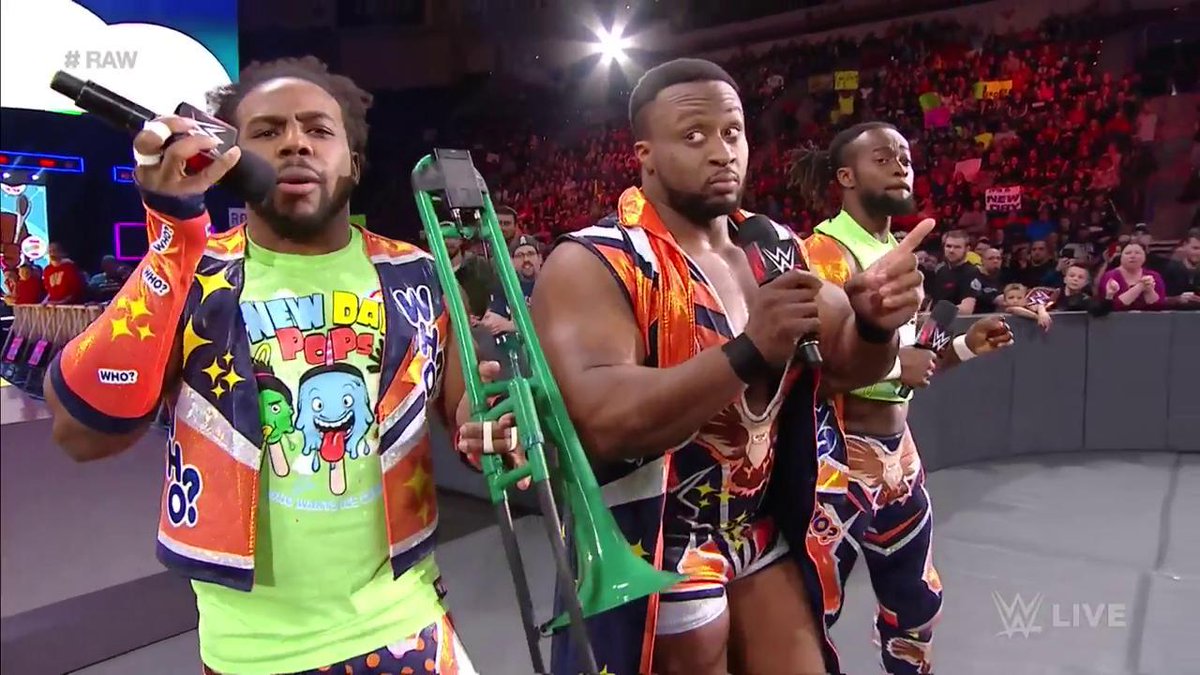 They get into the ring and say that before they can share their ice cream, they need to take the shine out of the Shining Stars. Big E quickly said afterwards "I was told to say that." The Shining stars make their entrance. A ring attendant hands the New Day an envelope and mock the Academy Awards where the best picture was mistaken as the card read was wrong. New Day say that Shining Stars have a match with Big Show later. They open the envelope and reveal that they are actually facing Rusev and Jinder Mahal.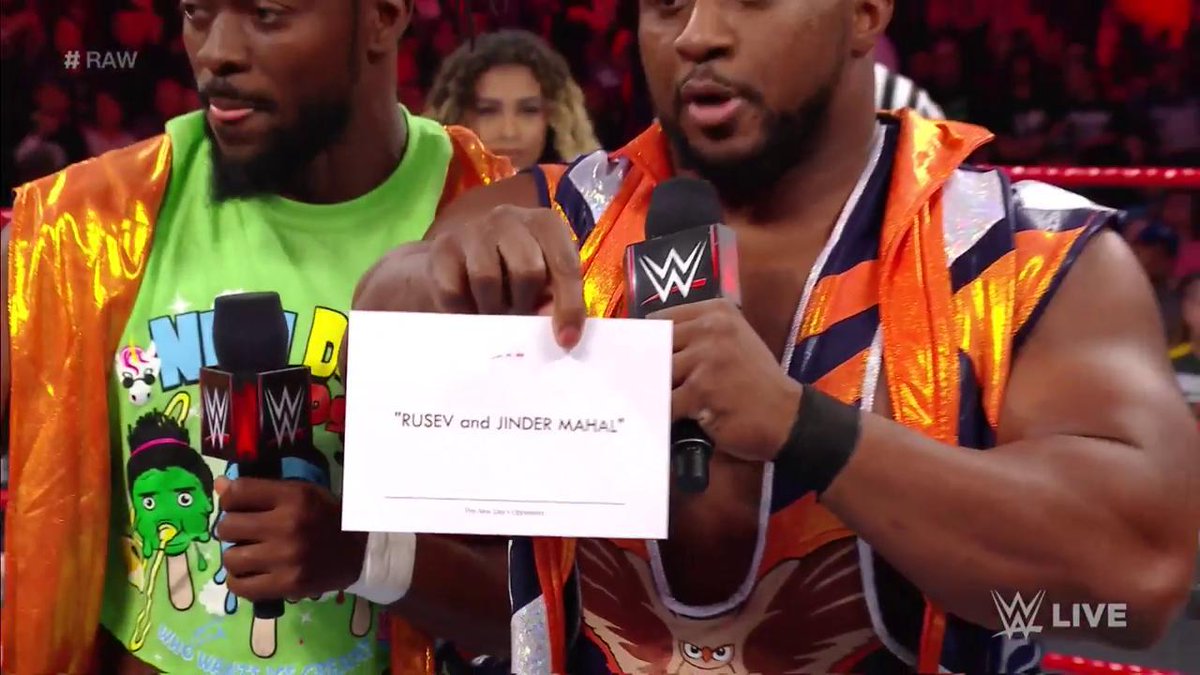 Rusev and Jinder make their way out.
---
New Day (w/ Kofi Kingston) vs. Jinder Mahal & Rusev (w/ Lana)
Tag Team Match
New Day take the advantage early one leading into the first commercial break, but when we return Rusev and Jinder have the upperhand. Rusev manages to knee Xavier Woods a few times in the mid section and tags in Jinder. Both Rusev and Jinder wear down on Xavier, blocking a few tag attempts. But Xavier fights back and manages to tag in Big E for the hot tag. Big E comes in with the momentum and lands three belly-to-belly's on Jinder Mahal. He hits the splash and tries for his Big Ending. He takes out Rusev on the apron and tries for the Big Ending, but Mahal pushes him away. Xavier blind tags Big E and hits a cross body on Jinder picking up a 2 count. Rusev breaks up the hold. On the outside, Kofi and Lana begin to argue on the outside distracting Rusev. In the ring, Mahal gets a surprise roll-up and Xavier picks up the 3 count win.
Winners: New Day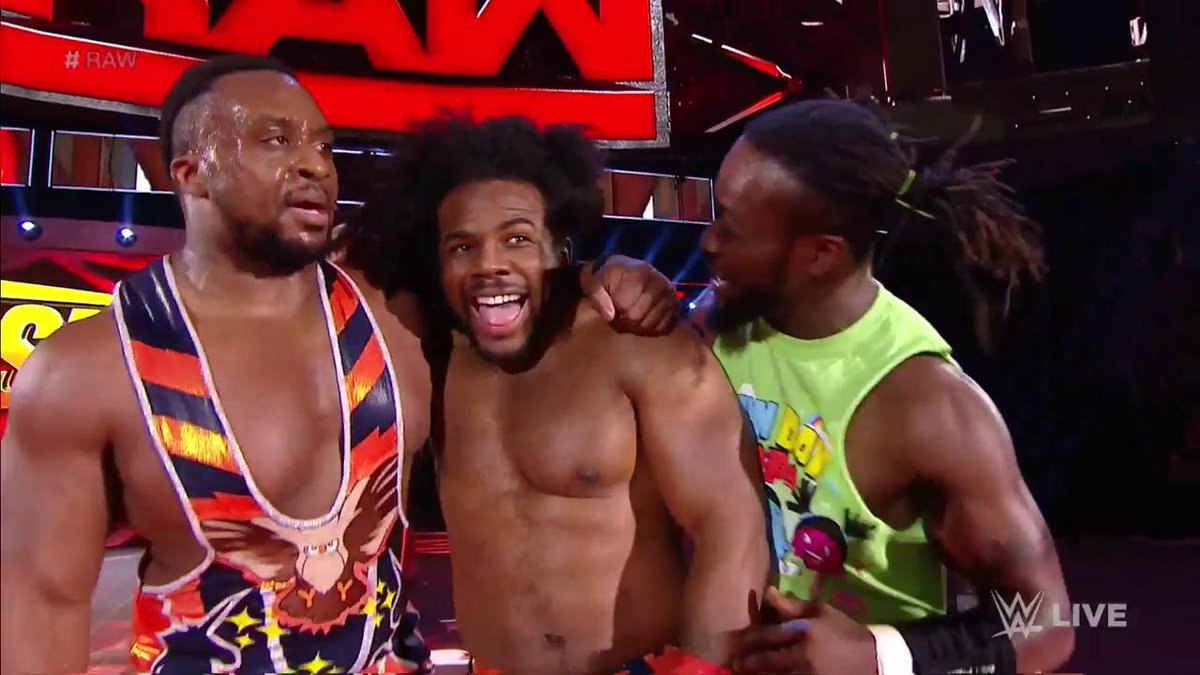 Following the match Rusev and Jinder argue in the ring.
MOC: Just to note, during this match the announcers were calling Jinder Mahal, Hardbody Mahal;and Rusev, handsome Rusev… It was horrible, what is happening?
---
ANNOUNCERS: They will reveal the latest inductee into the Hall of Fame later on tonight on Raw, and hype the Fastlane PPV. They highlight the Raw Tag Titles and how Enzo and Cass will face The Club at Fastlane for the titles.
---
BACKSTAGE: Enzo and Cass are backstage talking about… buckles… yup. Enzo talks about new merchandise once they win the Raw tag titles and says he will never take off the title. Cass stops him and says that Anderson and Gallows have won tag titles around, whereas Enzo and Cass has never won one. Cass says that this Sunday it'll be different and that they need to focus. Today they need to focus on Cass' match against Gallows tonight.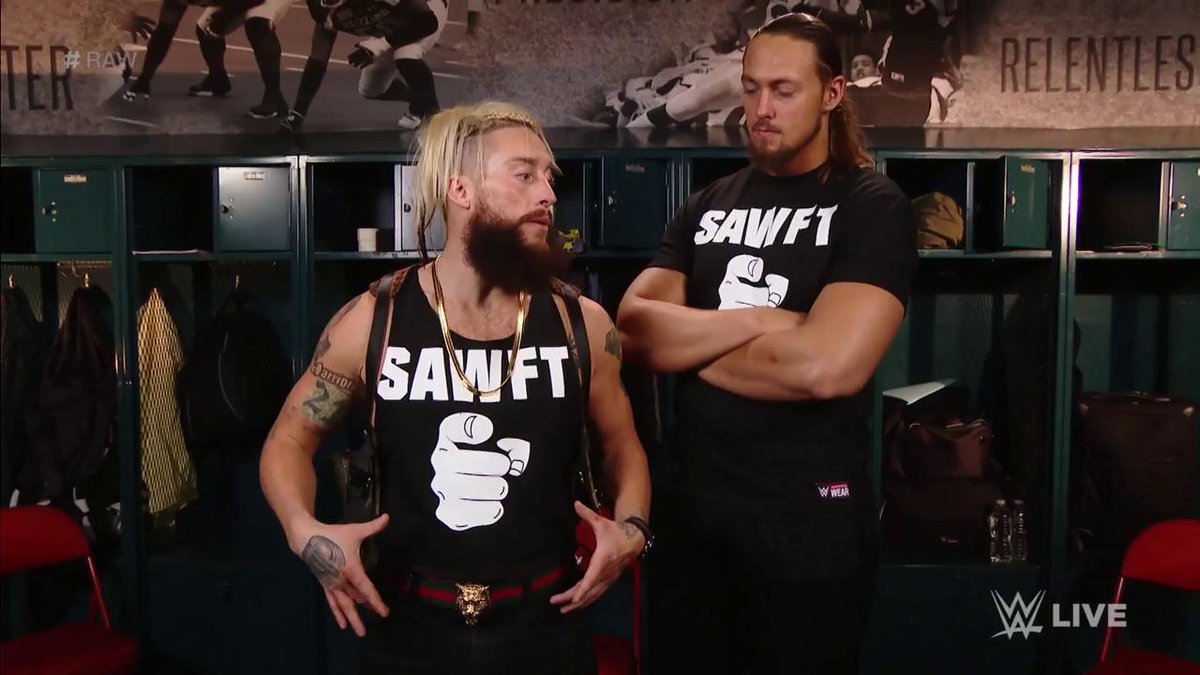 ---
BACKSTAGE: Cesaro and Sheamus are talking backstage as Samoa Joe walks in. He and Cesaro go back and forth with their "indie" history. Samoa Joe jokes about how Cesaro is still reaching for the brass ring. Cesaro claims that at least he's not carrying Triple H's jockstrap.
---
BACKSTAGE: We now get focused on Stephanie in her office. Mick walks in and Stephanie begins explaining and reminding Mick about his career and how he got his ear ripped off, how he was fearless and powerful and that's the Mick Foley she wanted, but didn't get. Stephanie says that to this night, Triple H ended Mick's career. She calls him weak and she says that Foley gets more feeble and more pathetic with each passing day. Stephanie apologizes for putting Mick in the GM role and put so much pressure on a man who can't even stand at all.
---
VIDEO: There was a video promo from Brian Kendrick about how Tozawa was taught a lesson. He shows some videos of when Kendrick did a cheap shot a few weeks back, and how he got a count-out victory last week on 205 Live where he tied his leg to the ring.
---
ANNOUNCERS: Rich Swann & Akira Tozawa vs. Brian Kendrick & Noam Dar was announced for the Fastlane Kickoff Show this Sunday.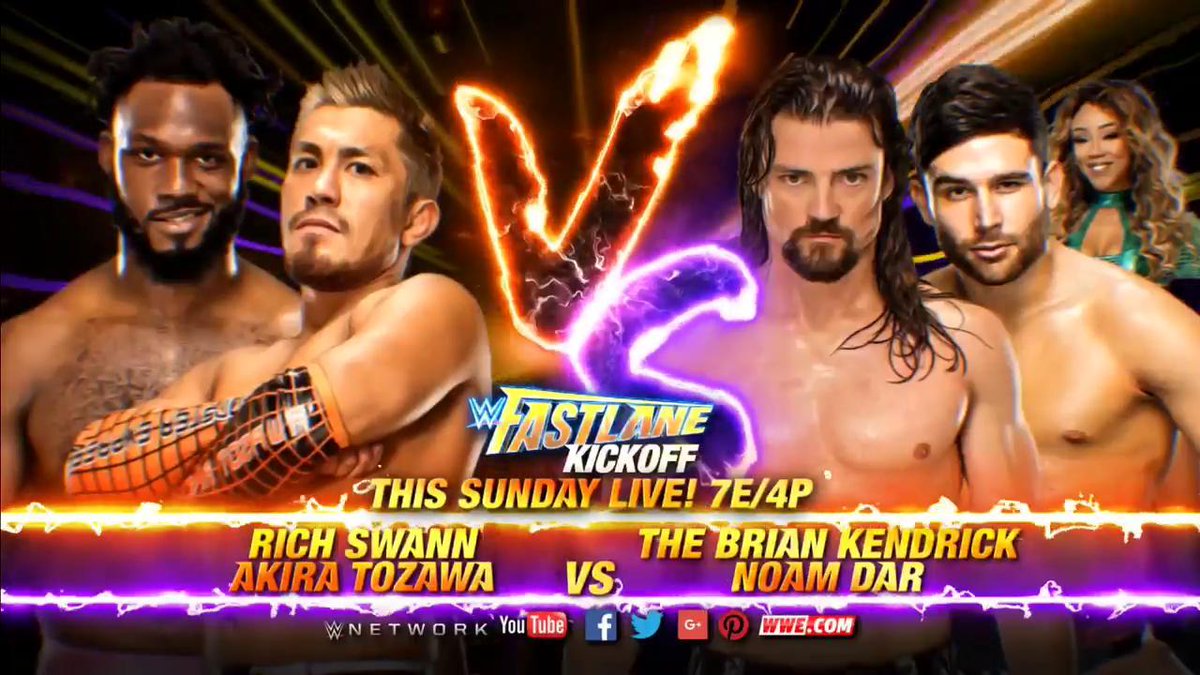 ---
Akira Tozawa vs. Noam Dar (w/ Alicia Fox)
Singles Match
Akira holds a majority of the assault on Dar, that is until Fox makes a distraction and Dar gets a cheap shot and begins to take advantage of Tozawa. Tozawa manages to fight back and takes Dar out of the ring. Akira runs and hits a suicide dive on Dar. He tries for a body splash, but Noam Dar coutners. Both counters a few strikes and kicks, but Tozawa gets his quick German Suplex and pins for the 3 count.
Winner: Akira Tozawa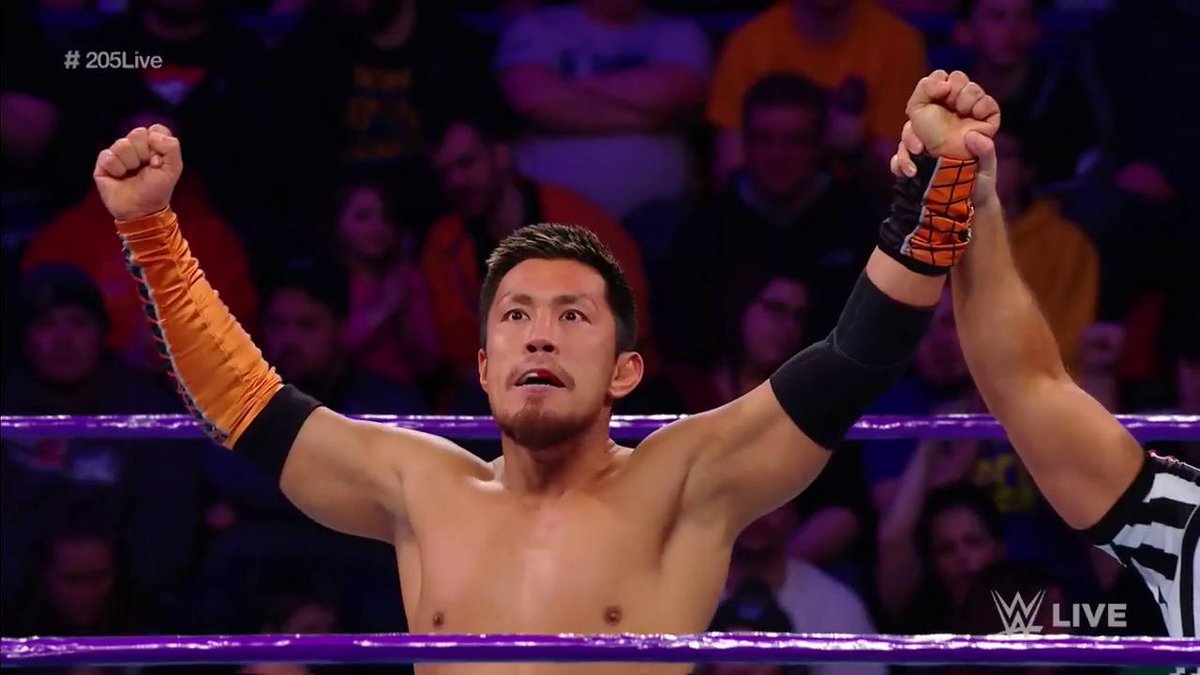 After the match, Brian Kendrick would run in and attack Tozawa from behind. He lays him out landing a hard kick to his head. Brian would get on the mic and say that he just taught Akira another lesson, and hopes he's learning.
---
BACKSTAGE: Mick Foley is standing lonesome, until Samoa Joe walks in asking if Mick's ok. Mick says he not, and ends up calling Joe a puppet for changing his ways and siding with Triple H. Joe resents the puppet comment, but Mick doesn't care and makes a match tonight pinning Samoa Joe vs. Cesaro.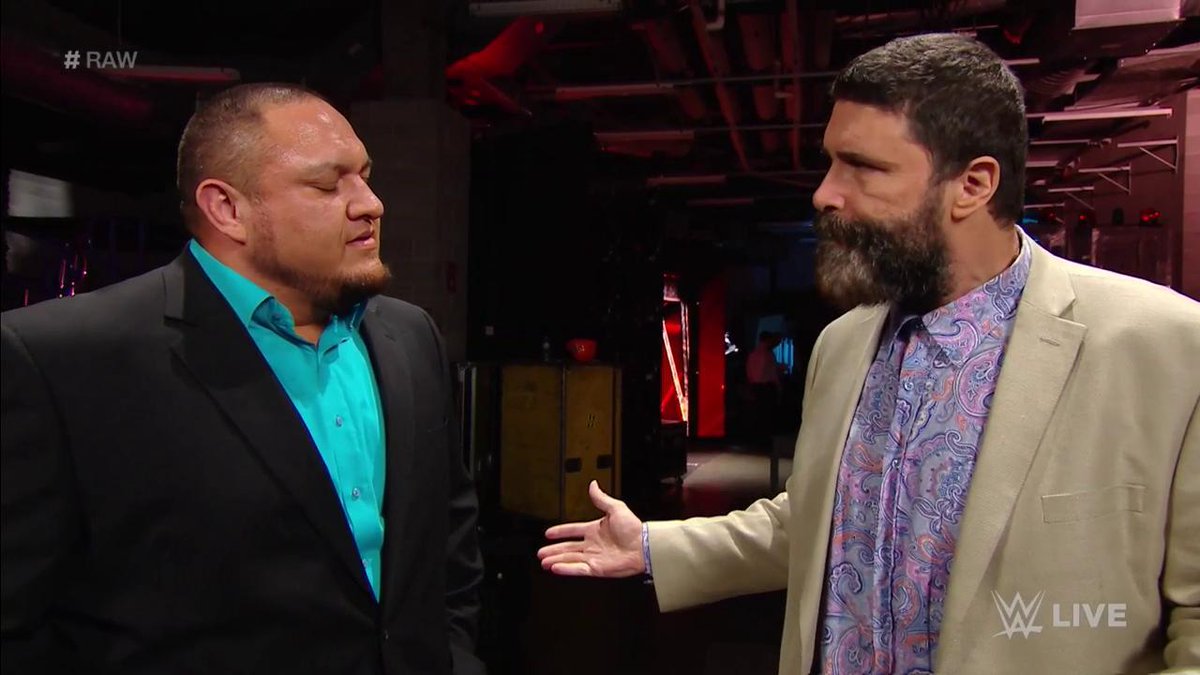 ---
ENTRANCE: Charlotte comes out with Dana White and before Bayley & Sasha comes out, Charlotte gets on the mic saying that Bayley took the easy way out. She calls her "normal" comparing her to the audience and say that Bayley is destined to be the "one-hit wonder." Charlotte would continue, but Bayley interrupted her.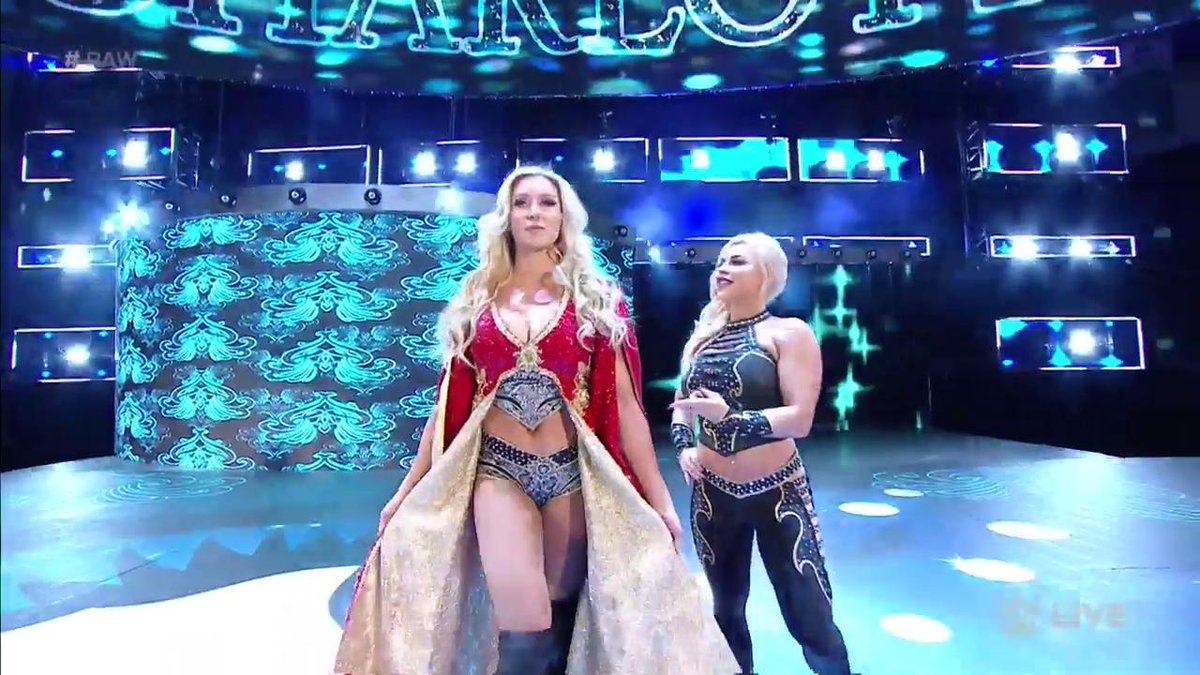 Bayley gets on the mic and comments that she's beaten Charlotte three times and says that her WWE journey doesn't end here. She now has another dream and points to the WrestleMania sign. Bayley says she wants to walk into WrestleMania as the Raw Women's Champion. Charlotte says that at Fastlane she will buy Bayley's father a front row seat to watch as she breaks her dreams. Sasha Banks makes an entrance.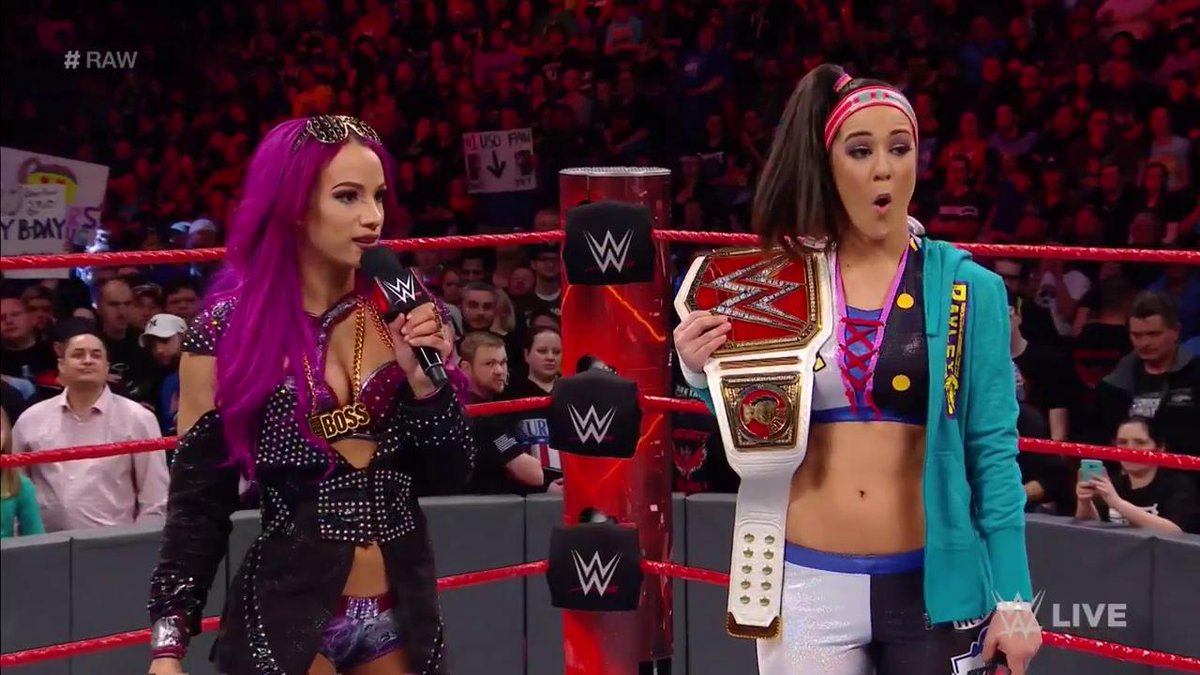 Sasha Banks comes in and says that Bayley is more deserving of the title than Charlotte ever was. Charlotte says that Sasha is always taking Bayley's spotlight. Sasha then says that they have a tag match. Charlotte says that they do, but Dana isn't her partner, and calls out Nia Jax.
---
Charlotte & Nia Jax (w/ Dana Brooke) vs. Sasha Banks & Bayley (c)
Tag Team Match
Sasha Banks and Nia kick things off. Without hesitation, Nia throws Sasha to the corner easily. Sasha tries to fight back, but Nia again utilizes her size to dominate her. She throws her to the corner and tells Sasha to tag in Bayley. Nia takes her out with a hard scoop slam and mocks Bayley. Bayley manages to get in some offence and tags in Sasha Banks, but both don't really do much as Nia clotheslines one of them and elbows the other.
Charlotte tags in beats on Bayley for a bit, but Bayley manages to tag out and gets Sasha in. Sasha gets in some offence and hits a hurricanrana and a dropkick giving her a two count pin. Sasha tags in Bayley and Dana tries to interrupt grabbing Bayley's leg, but Bayley stops her and throws Charlotte close to Dana on the outside. Bayley climbs out and delivers her Bayley-to-Belly to Dana on the outside mats. We cut to commercials.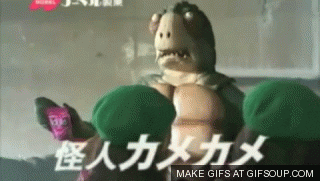 When we return from commercials Charlotte and Nia dominate over Sasha Banks. Sasha tries to fight back but Nia isn't allowing it landing a knee to the gut and hits two elbow drops. The pins for the 2 count.
The announcers update us saying that Dana Brooke was helped to the back during the commercials where she may be suffering from a broken rip.
Nia and Charlotte continue to double team Sasha, but one quick escape allows Sasha to tag in Bayley. Bayley lands a few clotheslines and few elbows to Charlotte. She hits a shoulder to the gut and a saito suplex for a 2 count. Charlotte fights back and tags in Nia. Bayley manages to lock in a chin lock, but Nia throws her off. Bayley runs Charlotte off the apron but turns in a hard body slam from Nia. Sasha tries for a cross body but Nia catches her and throws her on Bayley. Nia hits a leg drop and pins Bayley for the 3 count.
Winners: Charlotte & Nia Jax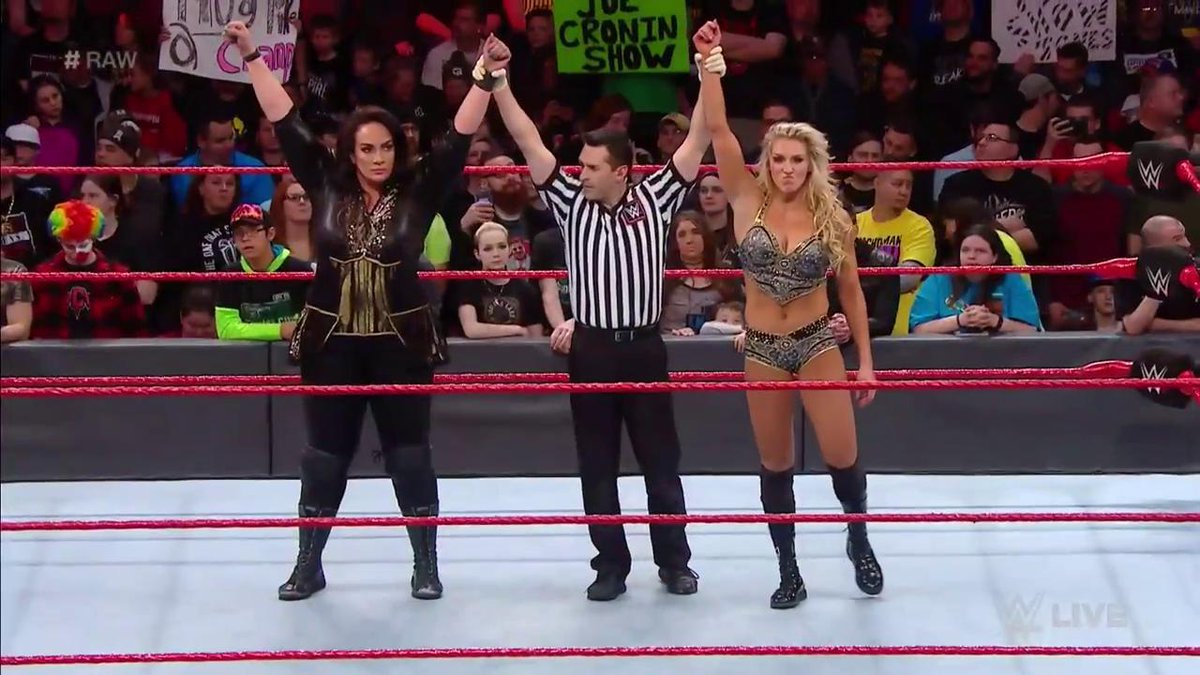 BACKSTAGE: Mick Foley is talking to Braun telling him that he can't give him competition tonight. Braun says he doesn't want competition, he wants a contract. He wants a contract for his match at Fastlane so this way Roman can't run. Mick says he'll have a contract for them to sign.
Because as we all know, when you have a match which is promoted and advertised of course you didn't sign a contract for that.
---
Luke Gallows (c) (w/ Karl Anderson (c)) vs. Big Cass (w/ Enzo Amore)
Singles Match
As expected Enzo and Cass deliver their usual promo entrance.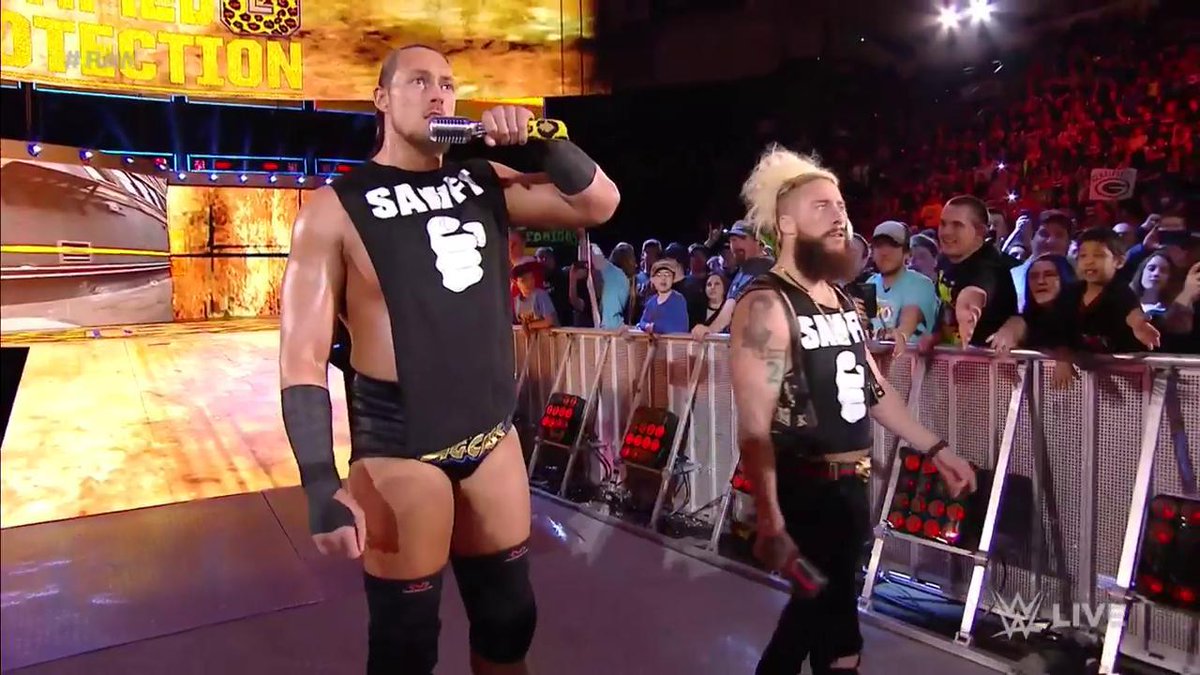 As the match begun, Anderson distracts Cass allowing Gallows to begin landing a few kicks. He takes Cass in the corner and hits a cross body, followed by a running elbow. Gallows picks up a two count. Cass would eventually come back and tries for a chokeslam, but Gallows breaks out and hits a hard kick to the head. Luke Gallows goes for the running clothesline, but Cass catches him, lands a punches and a running clothesline. He hits a hard clothesline in the corner and hits a fall-a-away slam to Gallows. He hits a side walk slam and hits the empire elbow. Anderson again tries for a distraction and tries to drive Enzo into the steps, but Enzo counters and throws Anderson instead. Gallows tries for a running move but Cass ducks and hits a big boot. Cass pins for the 3 count win.
Winners: Big Cass & Enzo
ANNOUNCERS: They hype the WWE Network and mention that if people subscribe this Thursday or after, people would get Fastlane and Wrestlemania for one month.
---
BACKSTAGE: This is the reasoning for this upcoming match:
Titus O'Neil vs. Sheamus
Singles Match
Even before the match could begin Titus attacks Sheamus as he as entering the ring during his entrance. Titus brings Sheamus into the ring, and the ref pushes Titus back and asks if they want the match to continue. The ref gets a yes from both men and the ref starts the match.
Titus again quickly goes on the attack, appearing very aggressive. The ref would push him back and when Titus turns around, Sheamus hits a hard brogue kick and pins for the 3 count.
Winner: Sheamus
---
ANNOUNCERS: Seth Rollins interview will be next. Corey Graves will be in the ring to interview Rollins about his status leading into Wrestlemania 33.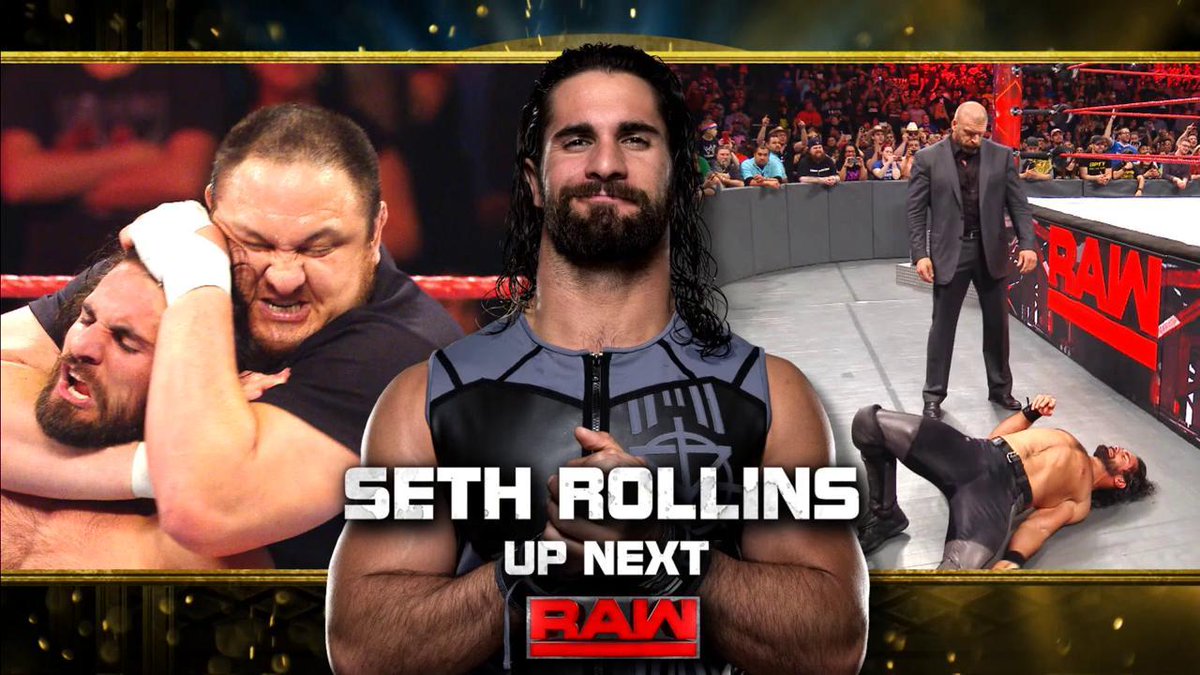 Corey Graves is standing in the ring. They darkened the mat and added two chairs in the center of the table.
Before Corey introduces Rollins, Corey Graves sends us into a video package showcasing the history behind Triple H and Seth Rollins, leading them to this time.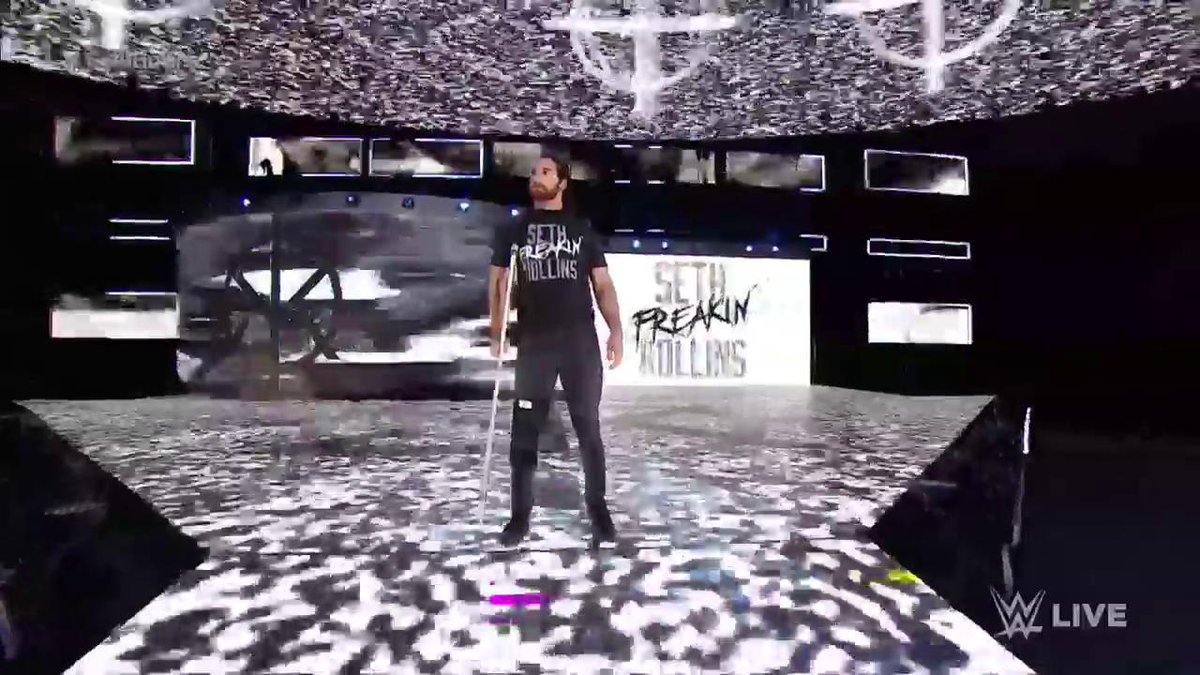 Following the video, Corey Graves introduces Seth Rollins, who comes out using one crutch and struggles to enter the ring. Rollins sits down in the provided chair and Graves asks the question, hows the knee? Rollins says that the tear to his MCL is more serious than thought, and that rehab is coming along. Graves asks bout where Rollins is at right now. Rollins says that it sucks and says that maybe he deserves to be injured. Corey questions that. Rollins references two years ago when he won the WWE Championship and calls it the greatest moment of his life. He's asked himself "what did I sacrifice for that" and says he pointed fingers and blamed others.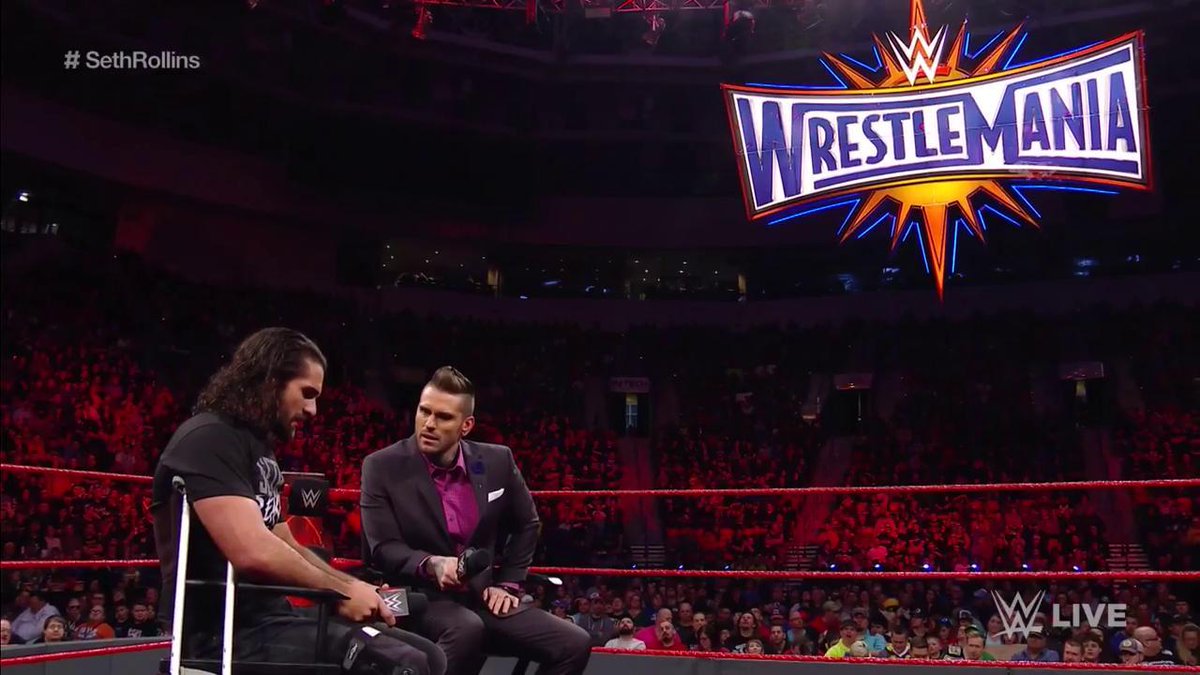 When he came back from the original knee injury, he was suppose to come back better and different and says that he lost site of that. He says that he believes the injury is his fault. Graves then asks about WrestleMania and if Rollins will be there. Rollins takes a while to answer and says that right now it's not looking great, and that the doctors may not clear him in time for WrestleMania. Right then, Triple H's music hits and he makes his way down to the ring, smiling.
Triple H says that it's good to see him, considering the last time he saw him, he didn't think they would see him again. Rollins looks to attack but Triple H points to the other end where Samoa Joe came out to stand at ringside. Triple H continues by saying that Rollins will not be at WrestleMania, especially if he knows what's good for him. Triple H laughs at Rollins realization that he deserves the injury this late. Triple H claims that he made Rollins the man, the face of the WWE and the WWE Champion. He delivered on everything he ever said, but then Rollins bit the hand that fed him.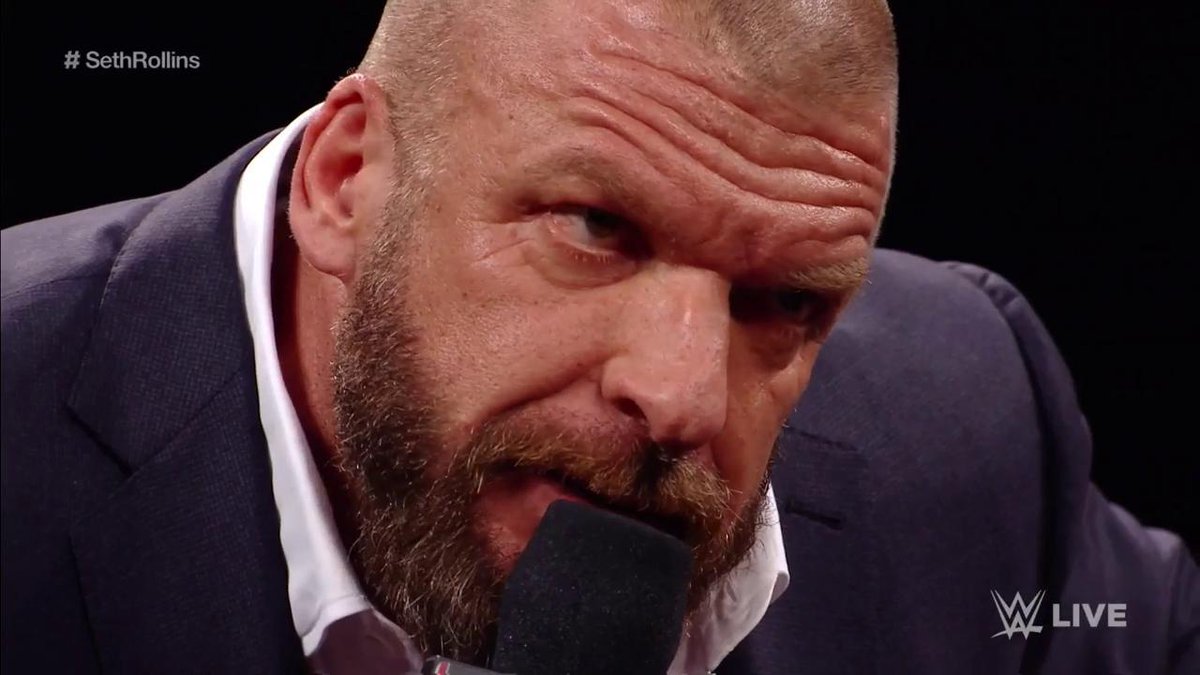 Triple H says that he used Rollins up and spat him out, and demands that he gets over it. Triple H says that Rollins was the future, but now only the past, and calls him worthless. He continues asking Rollins to salvage what he has left [body] and make the right decision. Triple H iterates "Do Not Come To WrestleMania." Triple H threatens that it would be the last thing Rollins ever does in a WWE ring if he shows up at WrestleMania.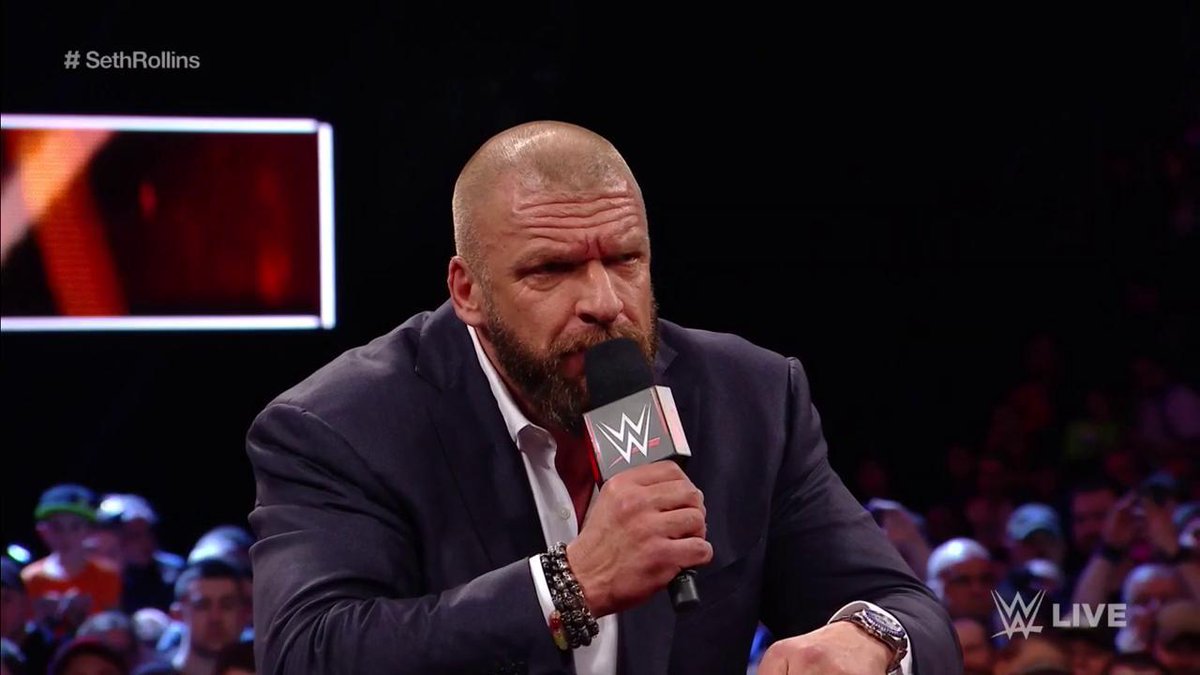 As Triple H begins to walk away, Rollins gets on the mic and says that he told Stephanie a month ago, he has nothing left to lose, and will be at WrestleMania. Rollins swears that if this marks the last thing he does in a WWE ring, it will be Triple H's as well.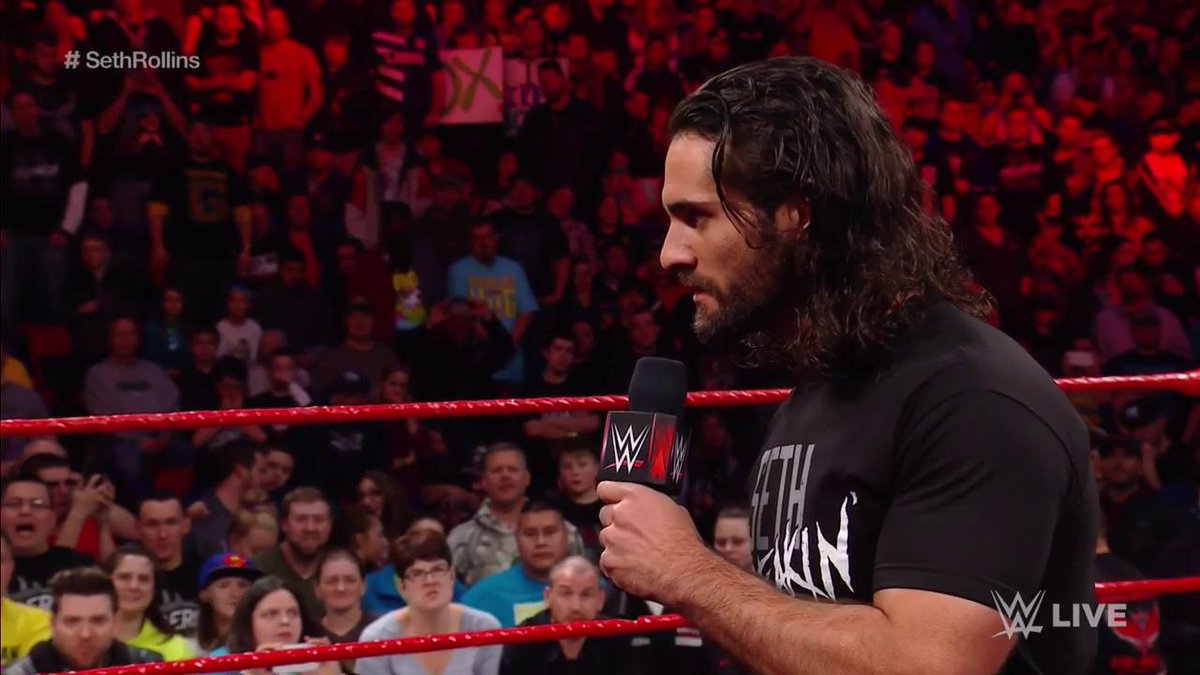 Triple H and Samoa Joe walks away.
---
Big Show vs. The Shining Stars
2-on-1 Handicap Match 
To start the match Primo would try to sell Big Show on the resort in Puerto Rico. Epico would tag in and both would try for a double move, but Big Show just overpowered them. The Shining Stars would have a fight back moment but Big Show again takes them both out by delivering a Knock out punch on Epico, and Chokeslam Primo for the 3 count.
Winner: Big Show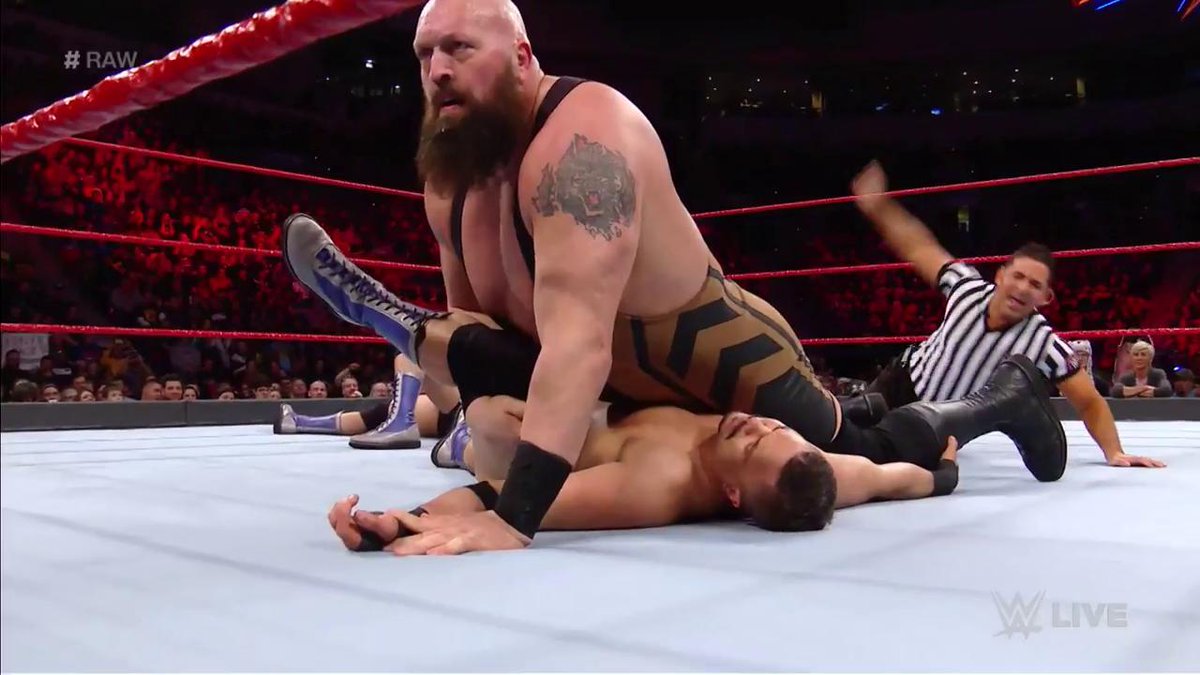 ---
ANNOUNCERS: The announcers highlight Black History Month and show a vignette in celebration for Dr. Martin Luther King Jr.
---
BACKSTAGE: Neville walks in to Tony Nese and says that for their upcoming match against Jack Gallagher and TJ Perkins, the only purpose in this match is to take out Jack Gallagher prior to the Fastlane PPV, this Sunday. Tony wasn't paying attention and when Neville gets in his face, Tony says that he'll do what's best for the 'premier athlete' [himself].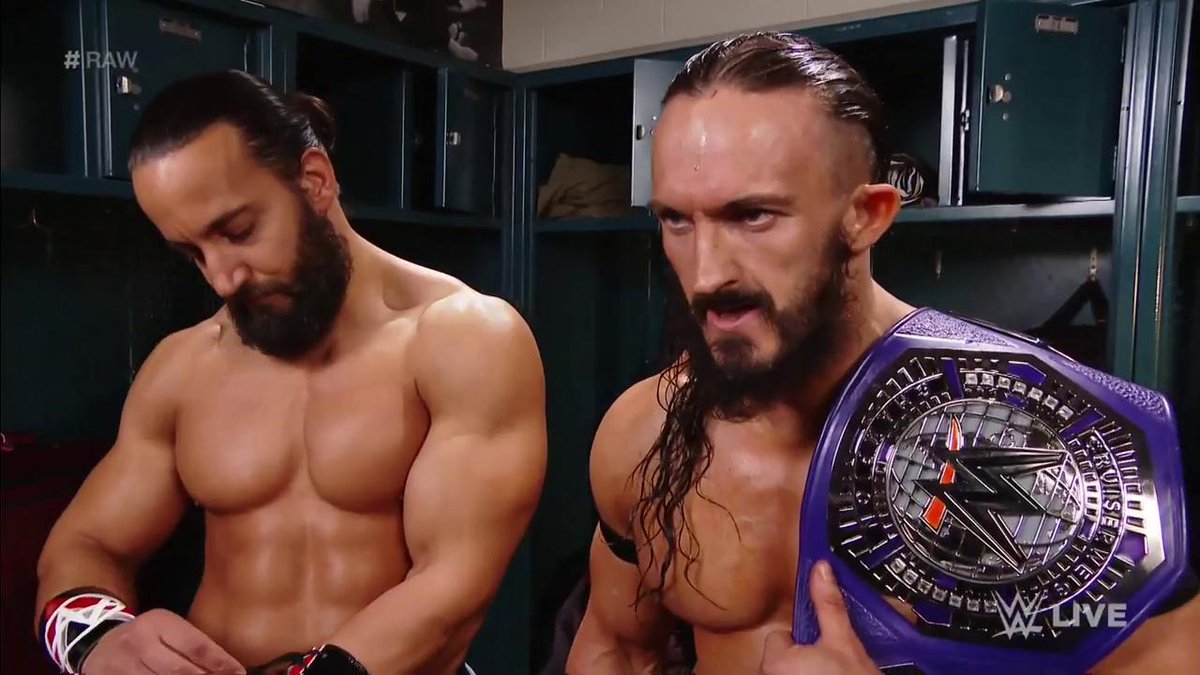 ---
Jack Gallagher & TJ Perkins vs Neville (c) & Tony Nese
Tag Team Match
As the bell rings, Neville quickly attacks Gallagher on the apron. TJ Perkins would attack Neville, and accidentally run into Gallagher on the apron. Neville would take advantage and tags in Nese. Nese quickly becomes the beating horse as TJ Perkins gets a few pins on him. Gallagher gets tagged in and continues the assault on Nese. Neville would try and help but get thrown out. Nese would get both TJ's and Gallaghers finishers and lose the match for him and Neville. Neville wouldn't run in to help him and let him lose the match.
Winners: Jack Gallagher & TJ Perkins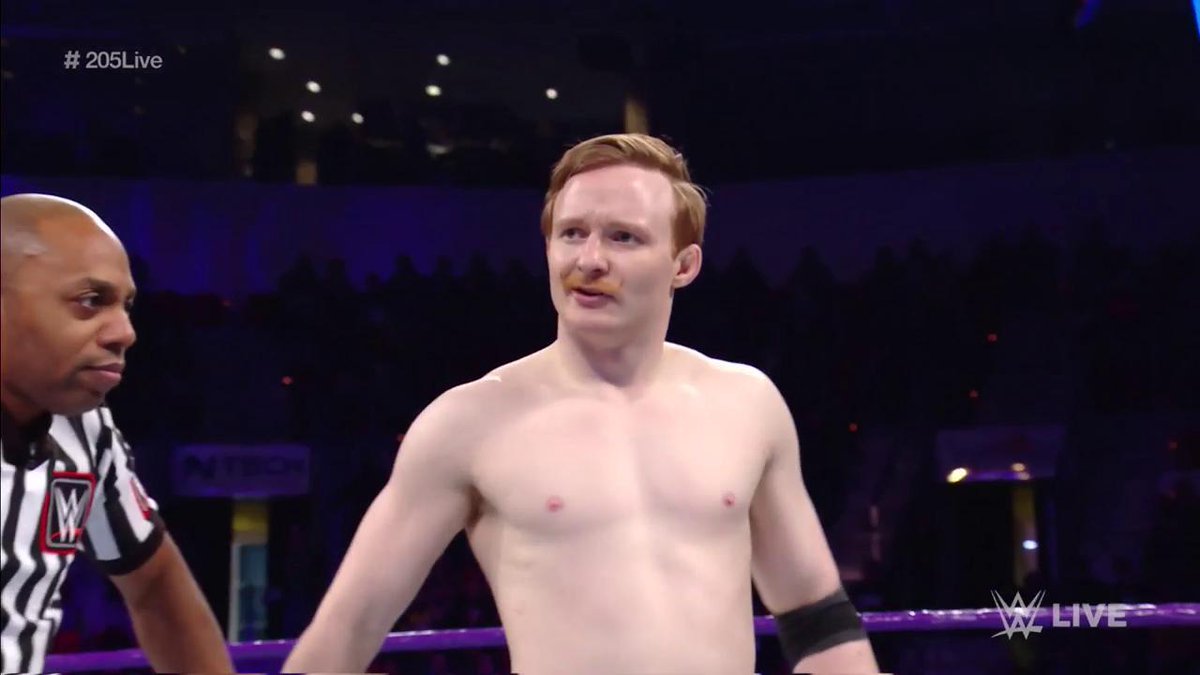 ---
VIDEO: A video package is shown for Beth Phoenix as she is the newest member of the 2017 Hall of Fame as reported earlier.
---
BACKSTAGE: Sasha & Bayley are in the back with ice and recovering from their match. Bayley says that on Sunday she may need eyes on the back of her head, but Sasha says that she'll be in her corner this Sunday. Stephanie McMahon would walk in and say that Sasha won't be ringside, because she'll have a match this Sunday against Nia Jax.
---
Cesaro vs. Samoa Joe
Singles Match
As the match begins, Samoa Joe goes on the attack quickly but Cesaro powers Joe off his feet and lands a gut-wrentch slam. Cesaro hits a european uppercut. He tries for a cross body but Joe lifts him over the top rope. Cesaro lands on the apron and yells out in pain clenching his knee. Cesaro climbs back in the ring and lands a cross body, but Joe manages to grab him and lands a slam to his knees, thus leading us to a commercial.
When we return, Cesaro fights back after a hard kick to the head and power lifts Samoa Joe up for a suplex. Joe and Cesaro begin exchanging punches, but Samoa Joe quickly locks in a leg lock. Cesaro would power back up but Joe would try to fight out. Cesaro lands a elbow to Joe and begins banging on his knee, showcasing that it's weakened.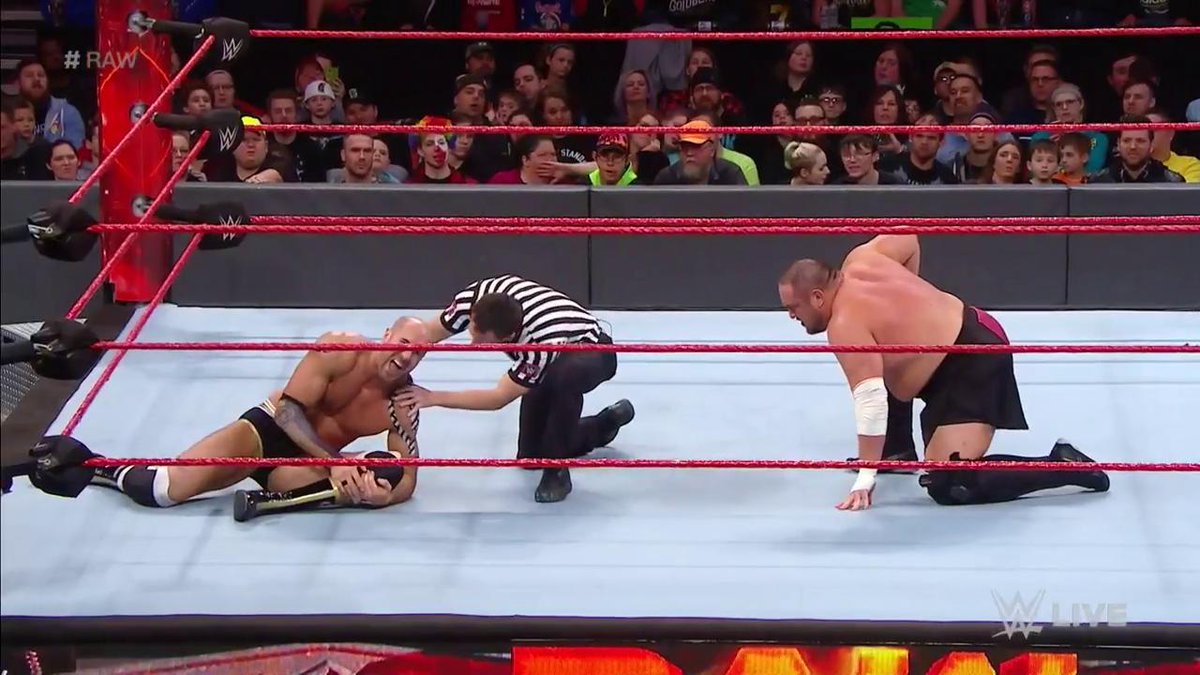 Cesaro begins landing several punches to Joe in the corner and powers Joe up landing him straight on his back. Cesaro would pin for a 2 count. Cesaro positions Samoa Joe for the swing, but Joe fights out smashing the knee. Cesaro would stomp on Joe's chest and pin for 2. Cesaro would try for the neutralizer but Joe would counter. Cesaro tries for a rebound move, but Joe trips him and hits his finisher. Thus giving him the 3 count pin.
Winner: Samoa Joe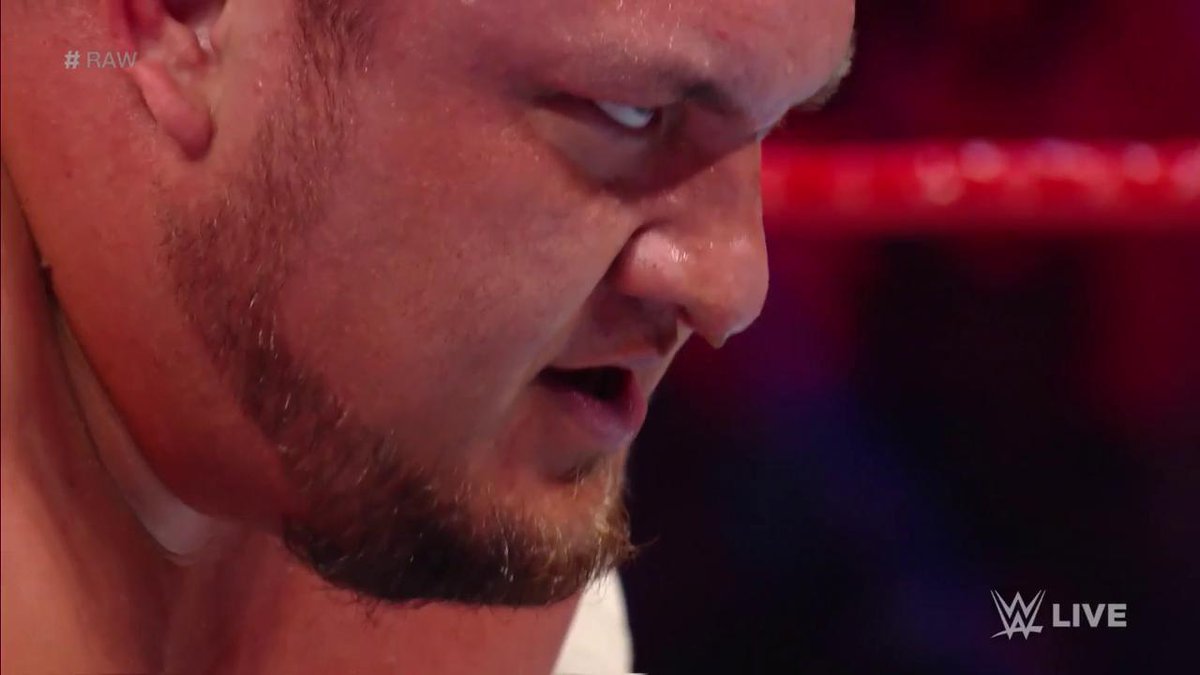 POST-MATCH: Following the match, Joe would be interviewed up the ramp and asked what he wanted to do in the Main Roster, Joe says that he came to the WWE to hurt people. Joe says his victory should serve as a reminder, It doesn't matter what you've accomplished, who you are, or how much the people [audience] like you; when you come against the destroyer….. Sami Zayn's music would hit and he attacks Joe.
Both men fight at the side of the arena until security could split them apart. Both men would go back and forth breaking Securities hold and attacking the other until it finally breaks.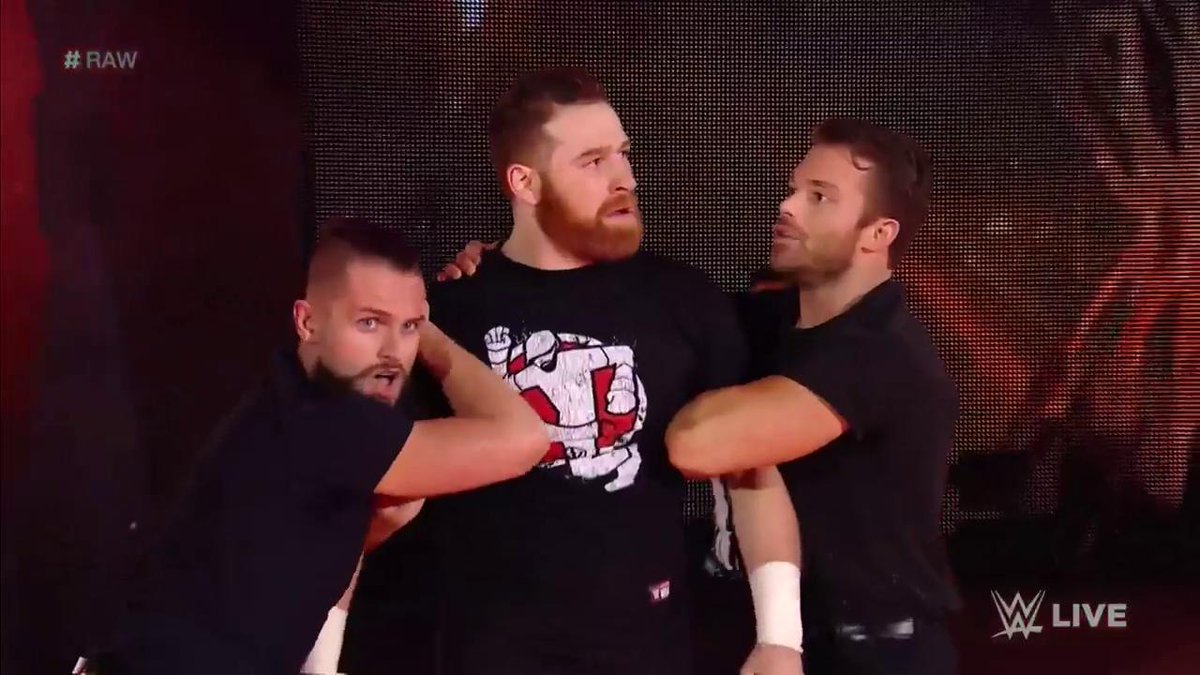 ---
IN-RING CONTRACT SIGNING:This marks the closing segment for tonight's WWE Raw broadcast.
Mick Foley is seen in the ring in front of a desk where the contract is situated. Foley talks about why Braun wanted the contract signing but gets interrupted by Braun as he makes his way out.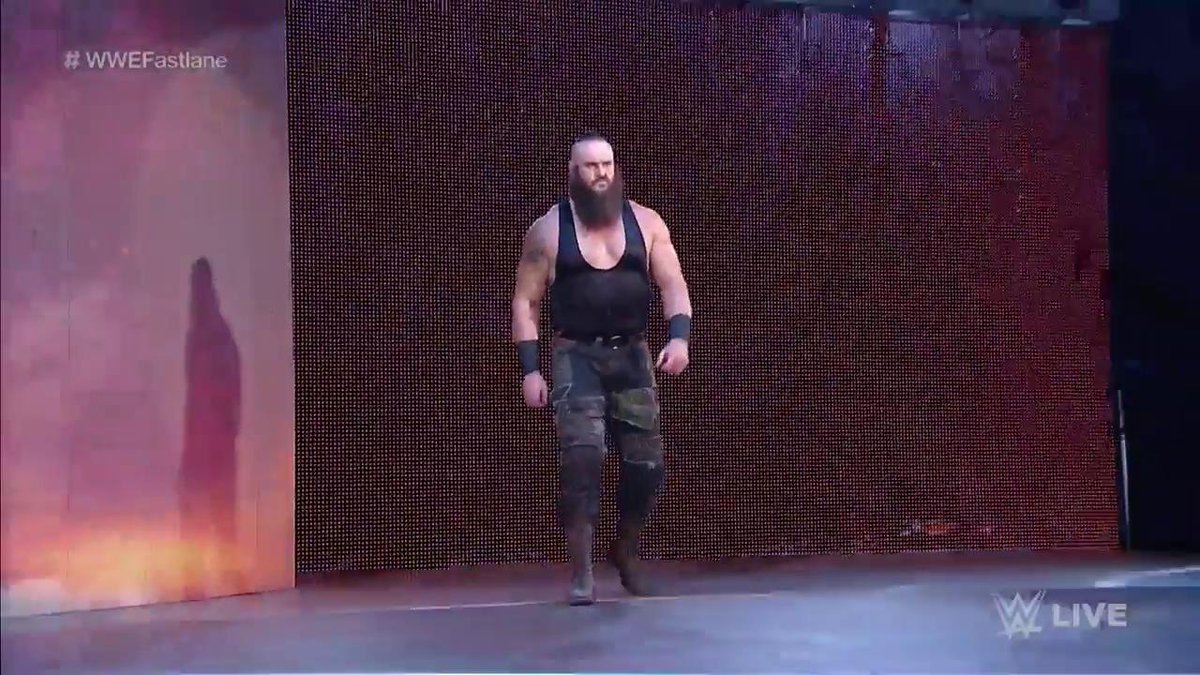 Braun says that Foley brought the table, contract and Roman and wants him out. Foley says that he's the GM and the talents must respect what he says. Braun says that he one day would feel intimidated by Foley but agrees with Stephanie and that Foley is a broken down man. Foley would freak out and get in Braun's face and says that if you arent going to respect him as a GM, then respect Foley as a legend.
Braun would laugh in his face, but that would leave when Foley threatened him. Braun smashes the mic out of his hand and gets in his face. Roman Reigns music would hit.
Roman and Braun meet at ringside and exchange punches. Braun would throws Reigns to the steps, but Roman jumps over them and uses them to hit a superman punch on Braun. He tries for another but Braun catches him and runs Roman into the ring post. Braun throws Roman to the audience and smashes his face against an equipment case.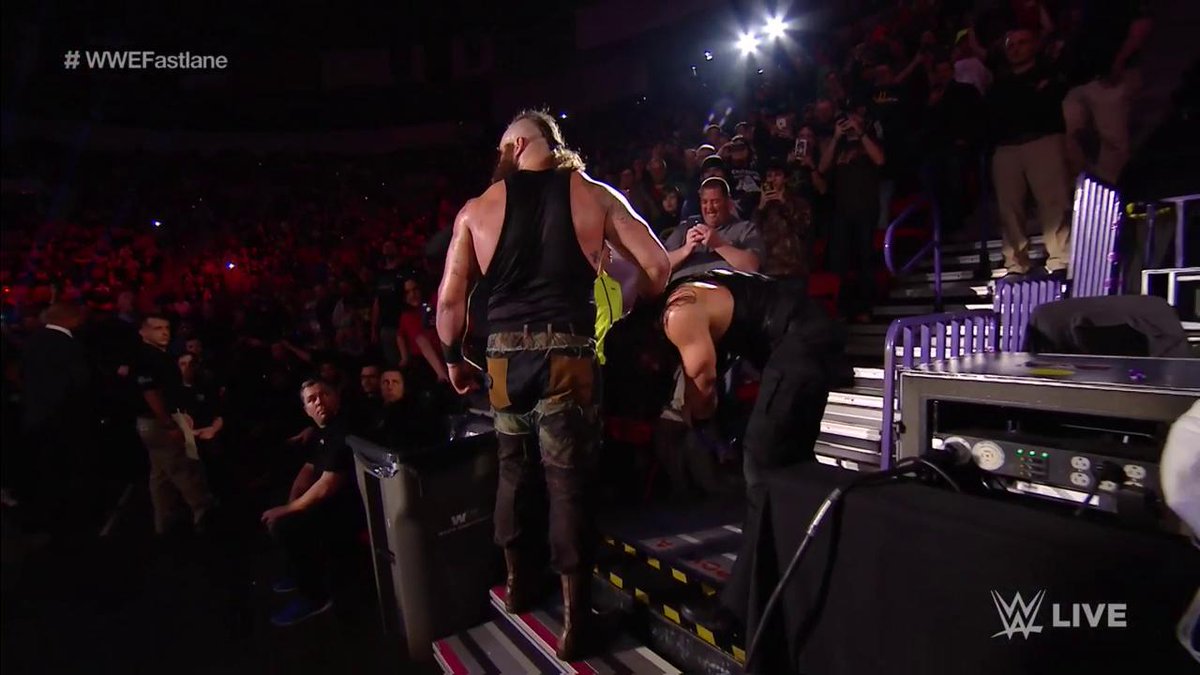 Braun and Roman fight it out on the stairs and again Roman manages to hit a superman punch. He would then spear Braun through the ring barricade back to the ringside area. During the spear, a security guard would also be taken through the barricade as he didn't move out of the way fast enough.
Roman climbs into the ring, grabs the contract and looks to sign it. But Braun Strowman would rise from ringside and yell "is that all you got?" Braun climbs back in and Roman hits another Superman punch. He tries for the spear again, but Braun catches him and throws him against the turnbuckle, which breaks it from the buckle and breaking the top rope around the ring.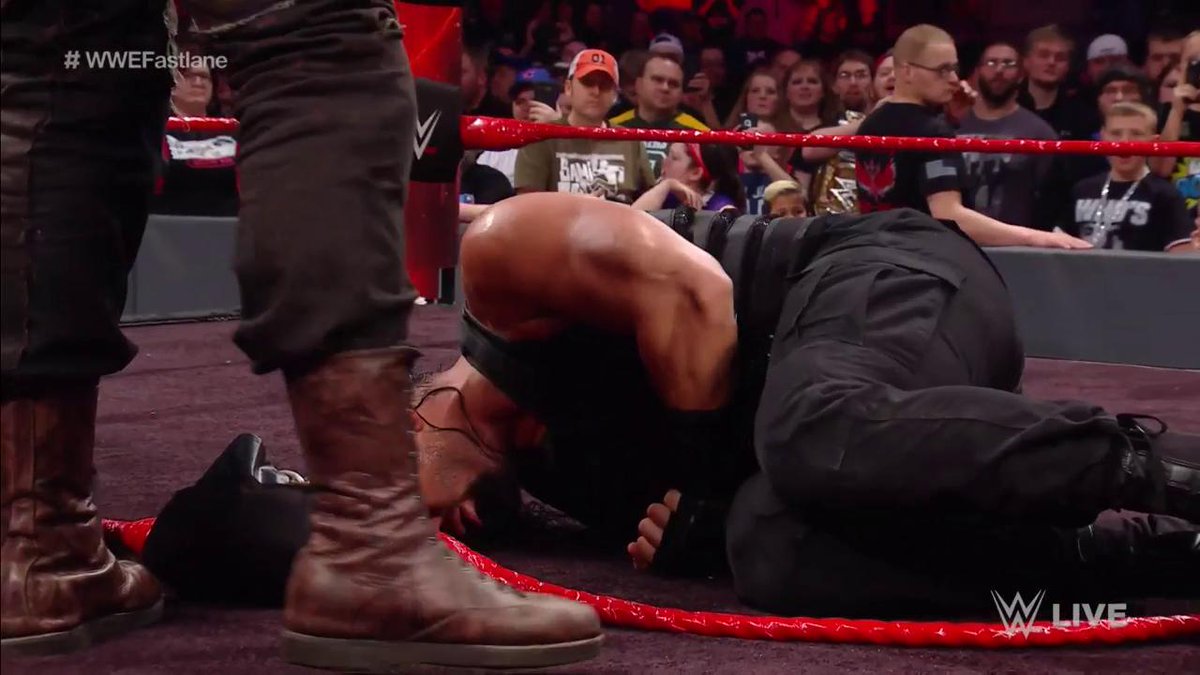 Braun celebrates and walks away.
Roman would eventually get back to his knees and would sign the contract for this Sunday. Braun smiles and walks to the back.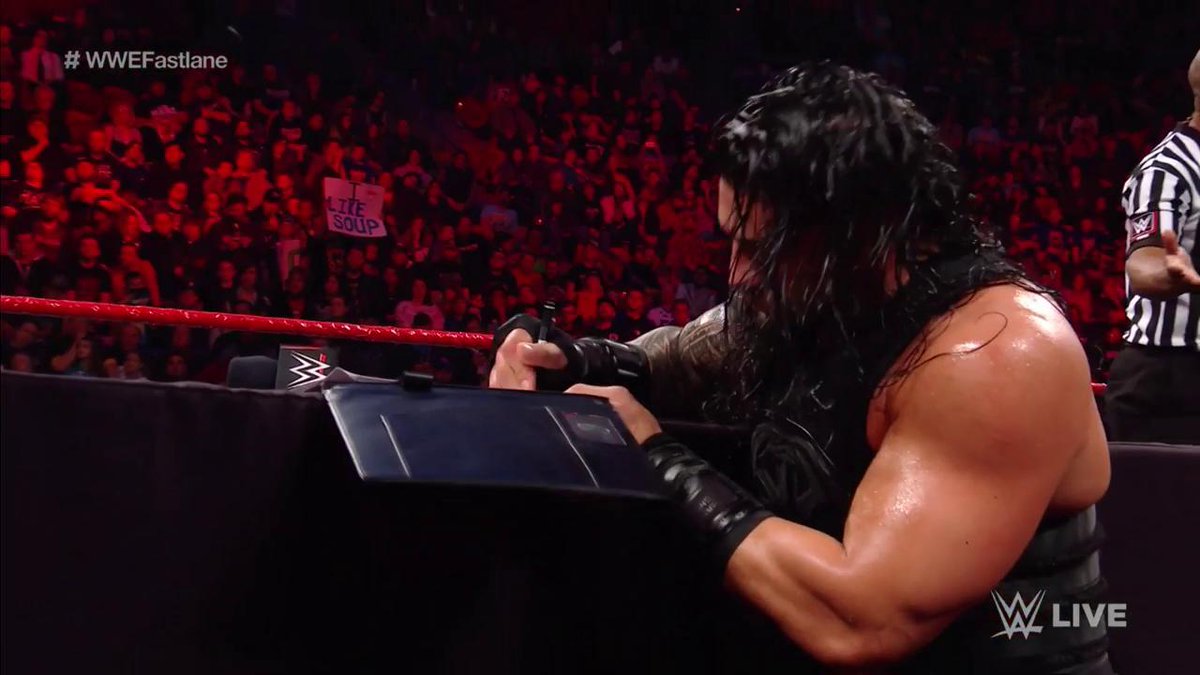 ---
That is all for tonight folks. Hope you enjoyed the recap. Make sure to stay tuned for highlights and backlash leading to Sunday's FastLane PPV.
Thank you for reading and sticking by.
Cause Carnage, Watch Wrestling!