Show: Raw
Date: March 13, 2017
Venue: Joe Louis Arena, Detroit, MI.
Author: Cade Carnage
Welcome everyone to tonight's WWE Raw recap brought to you by, me… how wonderful. Make sure to keep refreshing this page for the latest details. You can also follow me on Twitter @MindofCarnage. 
Images from tonight's show will be sourced from @WWE on twitter.
Interesting to note that tonight's Raw from the Joe Louis Arena will be the final show held at this venue, as it will be demolished shorty after.
RAW
VIDEO: Raw begins with a video package recapping last week's Raw when Lesnar attacked Goldberg.
OPENER: Raw kicks off with both Paul Heyman and Brock Lesnar making their way to the ring. A "suplex city" chant begins and Heyman gets on his knees unable to contemplate that dream of Lesnar F5ing Goldberg last week on Raw. Heyman hypes WrestleMania 33 where Goldberg and Lesnar will go 1-on-1 for the universal championship, and where the term "down goes Goldberg" will be screamed by the announcers. The fans begin a Goldberg chant, and Heyman tries to introduce him, but says that he's not there tonight. Heyman tells the people who chanted for Goldberg to "shut the hell up."
Heyman continues saying how his client has had problems with Goldberg in the form of Spear, Jackhammer, Goldberg. But last week was different as Lesnar delivered an F5, and Down goes Goldberg! Heyman hypes Lesnar and says that the resurrection of Goldberg will be put down. Where the comeback of a champion [Goldberg] will be put down. Heyman ends his promo saying that 1 F5 means Lesnar goes up, and down goes Goldberg!
Both Heyman and Lesnar walk off.
---
BACKSTAGE: Mick Foley is starring at the TV as Stephanie walks in calling Heyman creepy. Stephanie says that there's been pressure between them and feel it's the pressure leading to WrestleMania. Stephanie says she hired Mick as the Raw GM because of how he connects to the fans and talents, but there are areas of expertise that Mick needs to improve on. Stephanie is willing to teach Foley some business expertise and asks if he's in, which Foley accepts. Stephanie says that by the end of the night, Stephanie wants Mick to scour the Raw roster and find a talent… to fire.. Stephanie wants Mick to think like a business person and not with his heart. Dim the roster of the weak talents and claim overhead for the business. She gives him by the end of the night, in which Foley reluctantly accepts.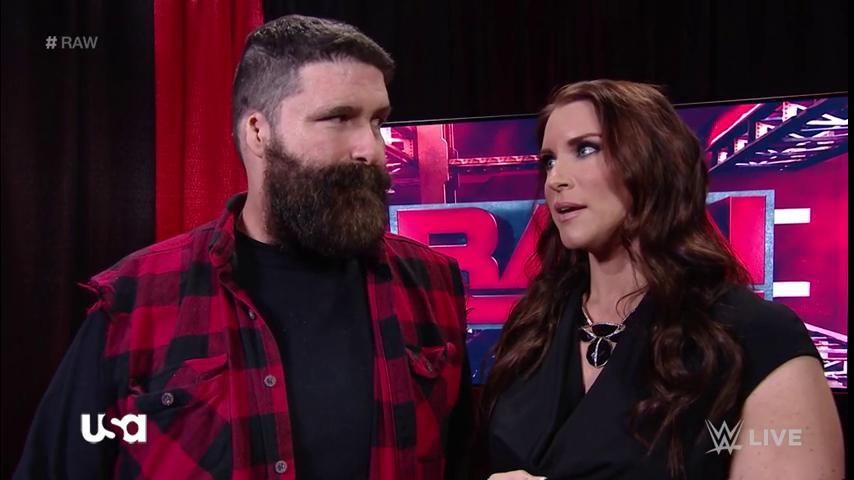 MOC: based on reports, after that segment some fans began chanting "Fire Roman Reigns" and "Fire Goldberg." Savage!
---
Sasha Banks (w/ Bayley) vs. Dana Brooke (w/ Charlotte)
Singles match
Before Raw began, Charlotte demanded that Dana take Sasha Banks  out heading into WrestleMania 33. But that didn't happen as Sasha pinned Dana with a roll-up in about 2 minutes.
Winner: Sasha Banks
Following the match Charlotte grabs a mic and climbs into the ring calling Dana a disgrace. She says Dana doesn't deserve being by her side and is finally getting rid of Dana… But before Charlotte could talk some more Dana begins attacking Charlotte. Charlotte would eventually roll out and walk away surprised by Dana's actions.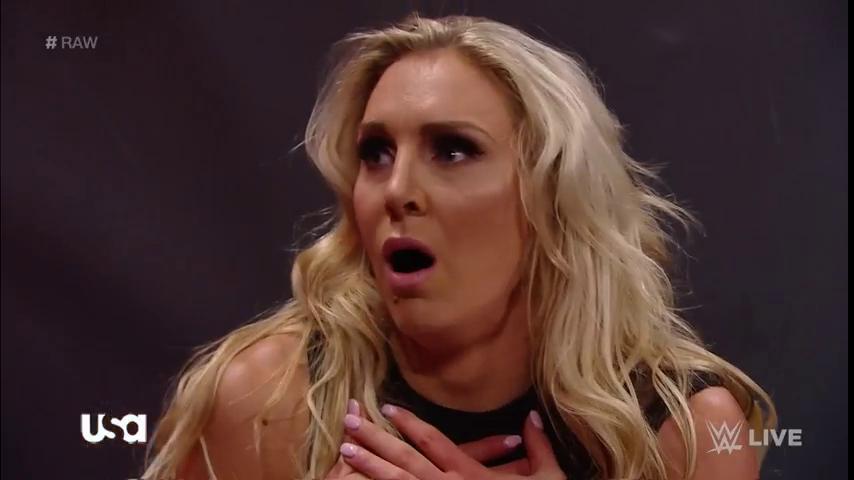 ---
ANNOUNCERS: They hype the upcoming Hall of Fame and announce this years inductee for the 2017 Warrior Award which is Eric LeGrand. LeGrand would suffer a spinal injury during a game in 2010. LeGrand was paralyses but has been able to regain movement in his shoulders, legs and even breath on his own. LeGrand has been helping others suffering from spinal injury and even raising money for treatment for spinal injuries. LeGrand will be inducted into the HOF by Dana Warrior.
See his video package here.
---
TJ Perkins & Akira Tozawa vs. Brian Kendrick & Tony Nese
Tag Team Match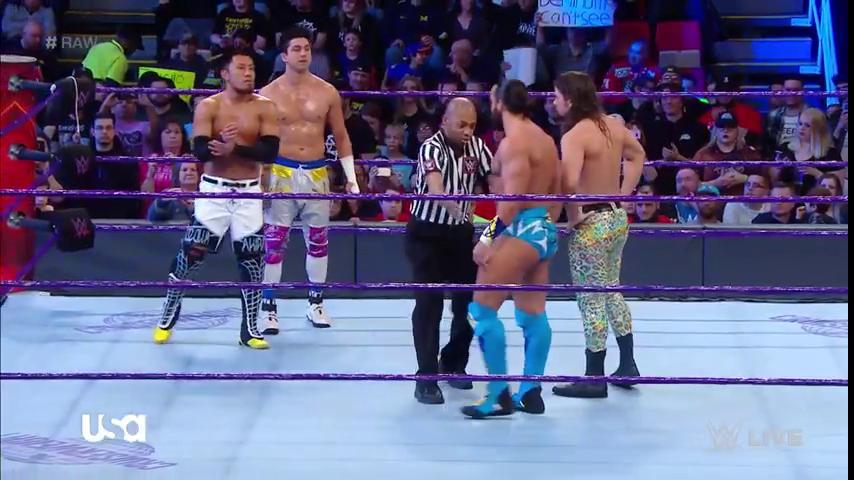 Overall very quick paced match with Nese and Kendrick working Akira for a majority of the match, but the pace changed one TJ got the hot tag and landed a hard dropkick to Nese' face. He connects a face smash and pins. Kendrick tries to break it but hits Nese instead. TJ takes out Kendrick and Nese lands a hard clothesline on TJ and pins for a close 2 count. Nese tries for another attack but TJ pushes him away, climbs to the second rope and hits a jumping DDT for yet another 2 count. TJ tries for his finisher but Kendrick tries to interrupt Akira kicks him off the apron. Nese though, pushes TJ into Akira taking him to the outside and rolls TJ for the 3 count win.
Winners: Brian Kendrick & Tony Nese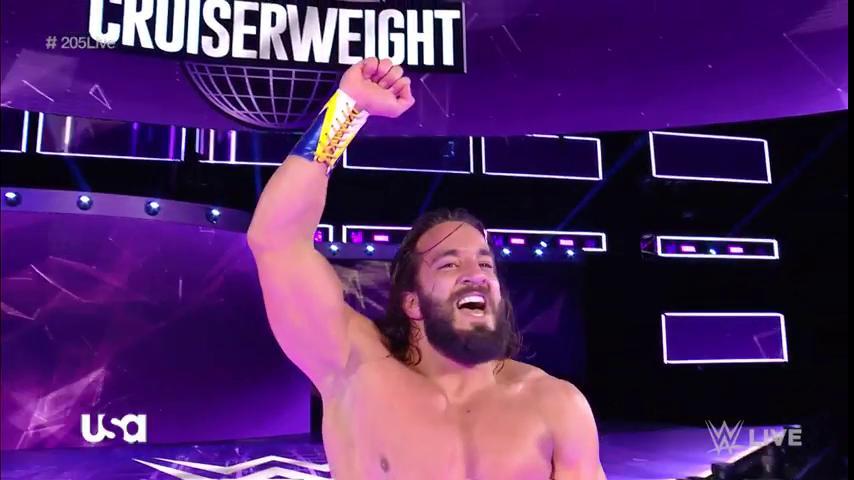 ---
BACKSTAGE: Anderson and Gallows get interviewed in the back for the upcoming #1 contenders match between Cesaro/Sheamus & Cass /Enzo. Anderson says that everyone wants to talk about other teams other than the Raw tag team champions. They claim that the spotlight should be theirs. If no one wants to give it to them, then they'll just take it.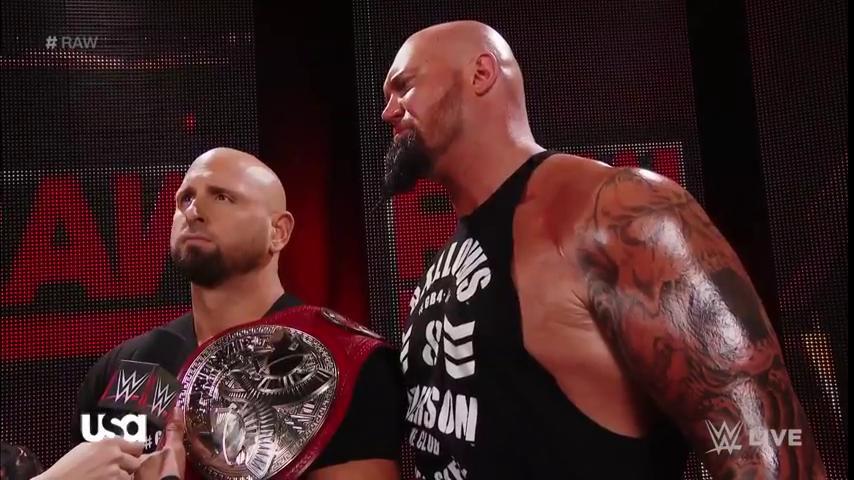 ---
Kevin Owens & Samoa Joe vs. Sami Zayn & Chris Jericho (c)
Tag Team Match
Before the other entrants could come out, Owens delivered a promo under the spotlight saying that he took the spotlight and put it back where it belongs [referencing his attack on Jericho on Raw.] Owens says he was never Jericho's best-friend, but in all reality Jericho never truly considered Owens as his best-friend either. Owens claims that all Jericho was trying to do was get close to his Universal Championship. Owens says that he managed to stab Jericho in the back, before Jericho could back-stab him. Owens says that Jericho beat him at Fastlane, not Goldberg. At Wrestlemania 33 Owens will take The United States Championship just like Jericho took his. Owens says that only thing left of Y2J will be the tears of Jericho [CRY IT OUT MAAAAN.] Owens says that Sami and Jericho will learn a lesson tonight. Who needs best friends, when you have a destroyer, Samoa Joe enters the arena.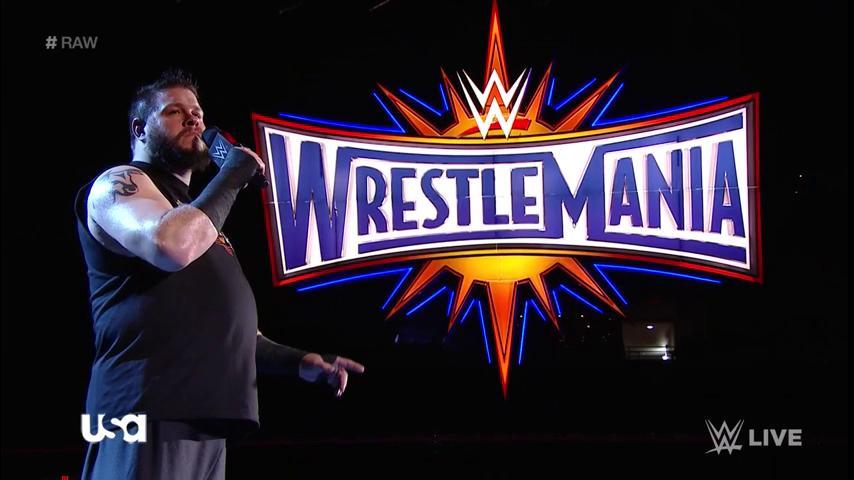 When the match finally begins Jericho tries to go on the attack quickly, but Joe counters landing a quick knee and a senton splash. He takes Jericho in the corner but Jericho counters and hits a missile dropkick and tags in Sami Zayn. Joe delivers a hard slap to the chest and tries for a running move, but Sami counters with a head scissor take down. Joe manages to come back and takes Sami into the corner and hits his quick head kick. Owens tags in and pins Sami mocking Jericho. Owens lands a superkick to Jericho on the apron and goes on the attack again. Sami manages to fight back against Joe and Owens and takes them both to the outside. Sami runs the ropes and his a springboard body splash on both Joe and Owens. As he landed Sami grabs his knee as if he hard on it.
Sami takes Joe into the ring, but from behind Owens attacks Sami's leg. Both Owens and Joe beat on Sami until the ref has had enough and calls for the bell.
Winners: Sami Zayn and Chris Jericho via DQ
After the match Jericho tries to stop them, but in the end the same things happens with him with Owens and Joe double teaming him. Owens hits his Pop-up Powerbomb as the refs surround them to break it up.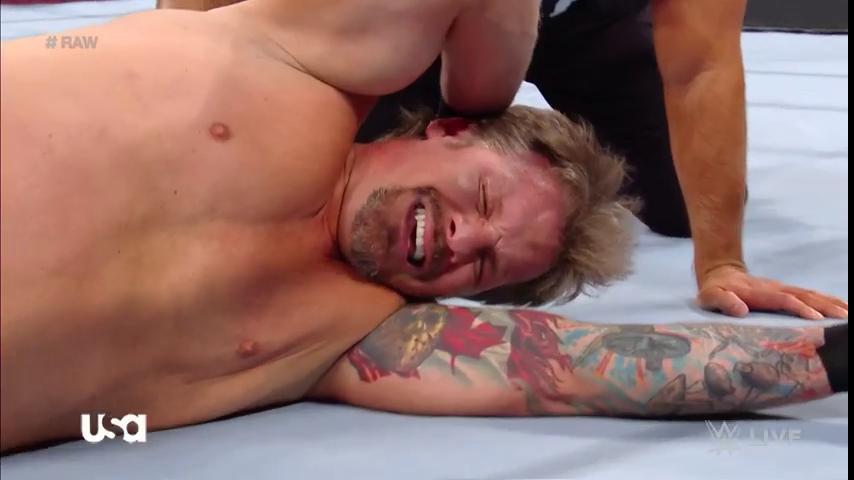 ---
BACKSTAGE: Stephanie is backstage trying to help Mick pick a name to fire from the roster. Stephanie recommends Sami Zayn but Mick seems to not agree. Nia Jax walks in and shares her frustration that Sasha has a triple threat match at WrestleMania and Nia has nothing. Stephanie says that Nia does deserve the spotlight and makes a match pinning Nia against Bayley.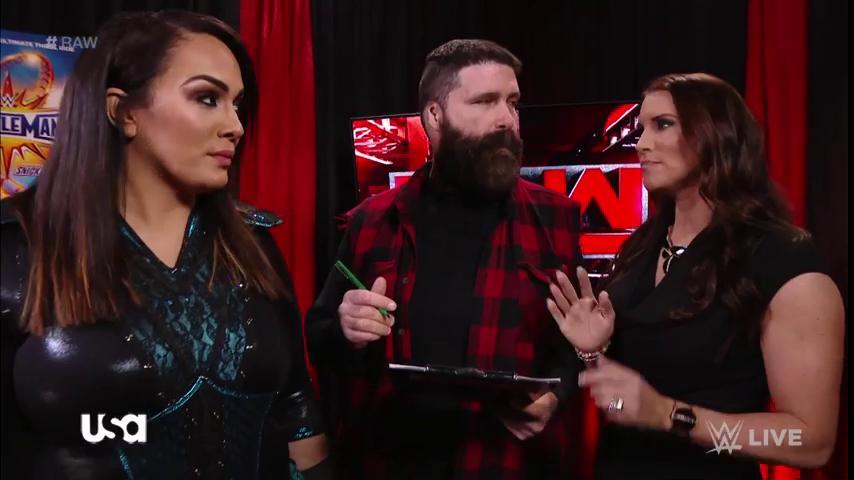 ---
BACKSTAGE: Mick Foley is walking in the back as Jinder Mahal walks in and says that he's a main event player and that he wants a chance to prove himself. Mick agrees and says that he'll face Roman Reigns tonight.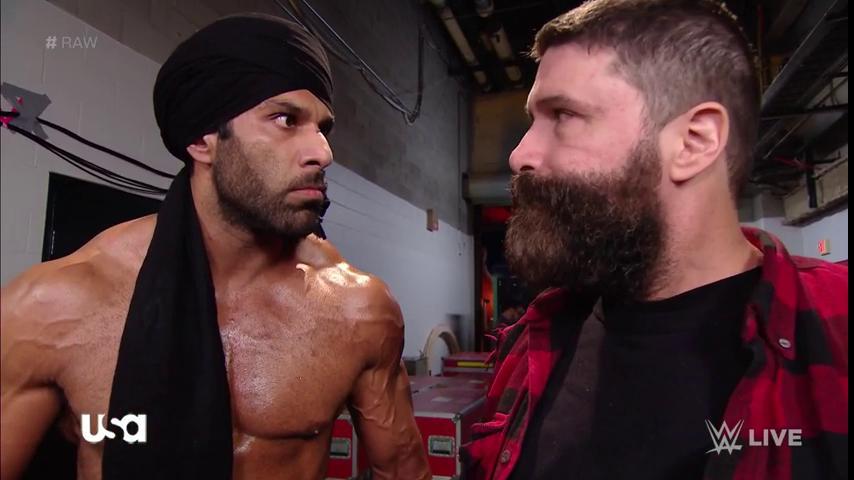 ---
BACKSTAGE: New Day is backstage hyping their hosting gig coming up at WrestleMania 33, and debut their new Raw show called New Day Talks. They introduce their first guest; The Big Show. They hype the Andre The Giant Battle Royal and the possibility of Big Show being the first ever two time winner of the battle royal. New Day ask Show a few questions about his upcoming Jetsons movie set to be released soon. Eventually Titus O'Neil walks in blowing his whistle and says that no-one cares about being on this New Day Talks show. Titus gets in the face of Big Show and asks why he's not on the Jetson's movie and pushed him in frustration.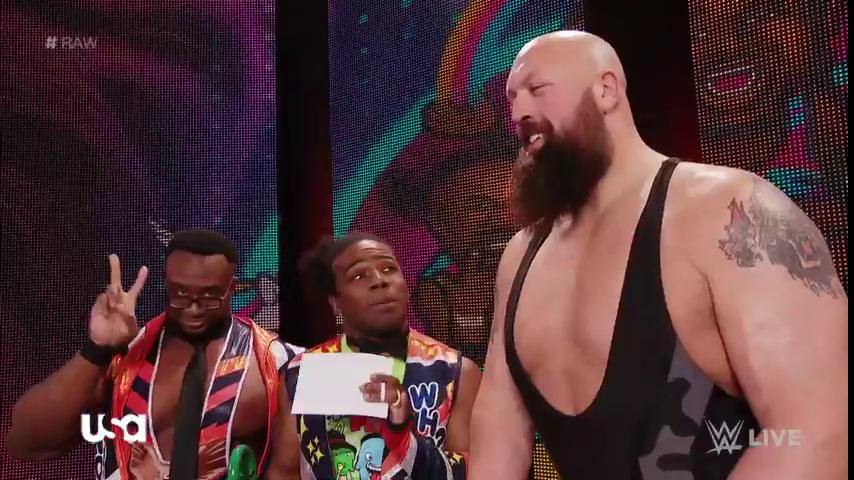 ---
Enzo Amore & Big Cass vs. Cesaro & Sheamus
#1 Contenders Match For the Raw Tag Team Championship
Tag Team Match
Enzo and Cass perform their usual long promo entrance hyping themselves as the challengers for the Raw tag team champions and that they will be heading to WrestleMania.
Cesaro and Sheamus kick off the match aggressively trying to wear down Big Cass. Both teams go back and forth until they get in each-others faces and we cut to commercials.
When we return both Cesaro and Sheamus are double teaming Enzo and are keeping him in their half of the ring. Enzo tries a few times to get a tag but Sheamus and Cesaro mange to stop him. But Enzo would eventually tag out and Cass comes in hot taking out Cesaro with a big boot, fall-away slam and a corner clothesline. Sheamus gets a blind tag and tries to take out Cass, but he manages to fight back and big boots Sheamus to the outside. The momentum in Cass' boot also takes himself to the outside.
While on the outside Gallows and Anderson make their way through the audience and attacks Sheamus & Cass making the ref call for the bell.
Winners: No Contest
The Club manage to take out both Cass and Sheamus. Cesaro tries to fight them, but gets beaten up by the Club.  Enzo gets a big boot on the apron and the Club hits the Magic Killer to leave both teams laid out.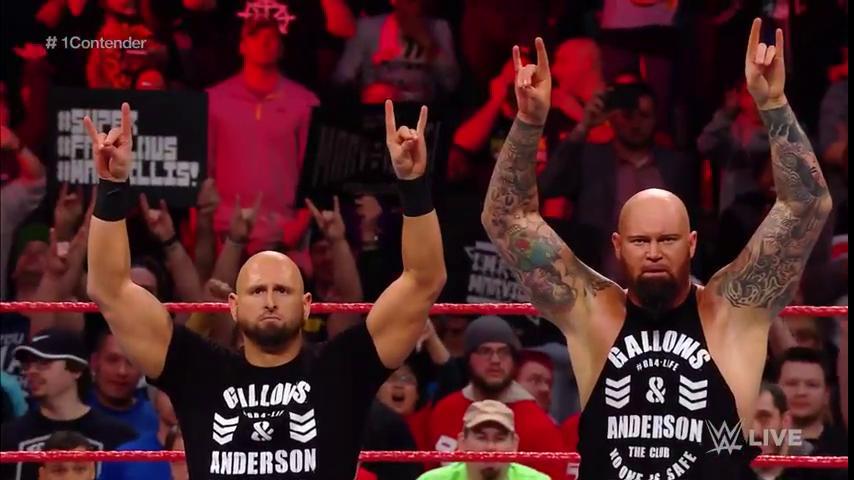 MOC: So I take it this means, it will be a triple threat match at Mania for the Raw tag titles… That's no surprise.
---
VIDEO: The announcers show a recap from last week when Braun calls out Roman, but instead got the Undertaker. Braun would back away but Roman would meet Taker in the ring and get a chokeslam for it. Roman Reigns is shown in the back preparing for his upcoming match with Jinder Mahal.
---
BACKSTAGE: The Club is shown backstage as Mick comes in saying that he's tempted to fire both Anderson and Gallows but instead of that he's making the Raw tag team match at WrestleMania a Triple Threat match. No surprise…
---
Roman Reigns vs. Jinder Mahal
Singles Match
Jinder would get in some offence until Roman begins his beat down in the corner. But as Roman was delivering his corner clotheslines, a gong can be heard. This distracts Roman allowing Jinder to hit a running knee, and a power-slam. Jinder pins but gets a close 2 count. Jinder continues his attack landing a hard dropkick and beats on Roman in the corner. Roman would eventually explode out of the corner and hits the Superman Punch. Roman lifts Jinder back to his feet and hits another Superman punch. Roman pins and gets the 3 count victory.
Winner: Roman Reigns 
Following the match Roman would get on the mic and calls out the Undertaker, but before Taker can answer we cut to commercials.
When we come back, Roman is still pacing waiting for Taker, but instead of Taker to our surprise Shawn Michaels comes out. Roman says that it's cool to see HBK, and that Detroit love him, but Roman isn't sorry because he didn't call out HBK, but the Undertaker. Shawn says that he saw what happened last week, and what happened a few minutes ago with the gong. Shawn says that Roman is distracted and not focused and come WrestleMania Shawn claims that Taker will eat Roman Reigns alive.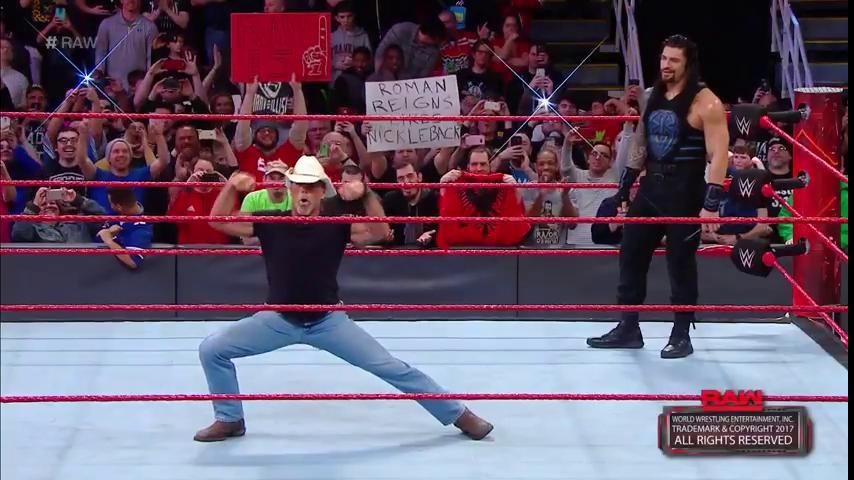 Roman isn't concerned about being in the ring with Taker, Taker should be concerned about being in the ring with him. Shawn says that he can acknowledge that the ring is Roman's yard, but he's Mr. WrestleMania. Shawn knows the pressure and weight of the company on your shoulders and people secretly wanting you to fail. Shawn says he's on Roman's side and that he needs to get prepared. Roman says that the Undertaker retired Shawn and that he's the guy that will retire the Undertaker.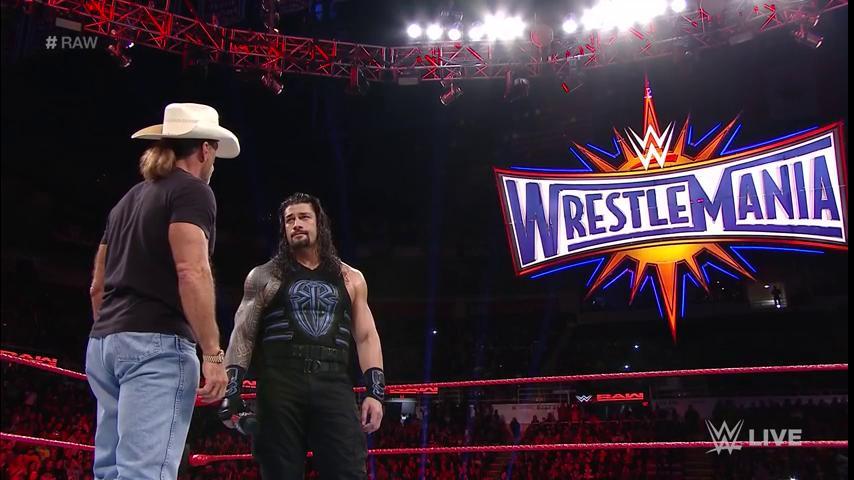 Roman drops the mic and walks off. As Roman walks up the ramp and looks back at the ring, Braun Strowman runs in and clotheslines him throwing him right off the ramp and sandwiched between the ramp and barricade.
---
BACKSTAGE: Stephanie and Mick are watching the monitor in the back and Stephanie is happy about the intensity of Braun. Mick seems distraught and asks if Stephanie McMahon could have a change of opinion. Stephanie says that this will raise Mick as a leader and will raise competition in the locker-room. Stephanie says that Mick has one hour to make a decision, if he doesn't than she will be forced to make it for him.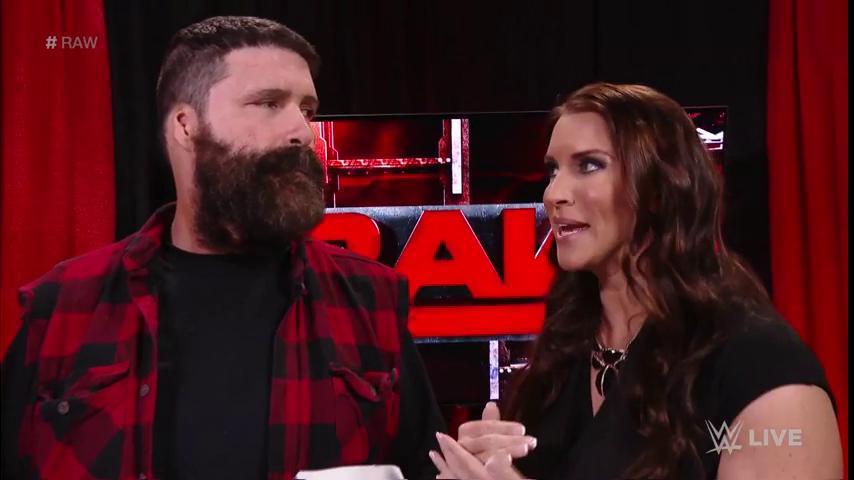 ---
ANNOUNCERS: They recap last Monday when Austin Aries attacked Neville officially entering himself into the Cruiserweight Division.
---
Austin Aries vs. Ariya Diavari
Singles Match
Aries and Ariya shake hands as the ring bell goes off. Austin quickly connects a few arm drags and dropkick to the head. Aries lays on the top rope just taking a breather. Aries goes on the attack but Ariya flips him over the top rope making Aries land face first on the apron. The action moves back into the ring where Ariya hits a hard clotheslines flipping Aries right over. Aries would eventually fight back hitting his own clothesline and throws Ariya to the outside. Aries hits his suicide dive through the bottom rope and throws Ariya back into the ring. Aries hits a brutal looking back drop and hits the rolling elbow for the three count win.
Winner: Austin Aries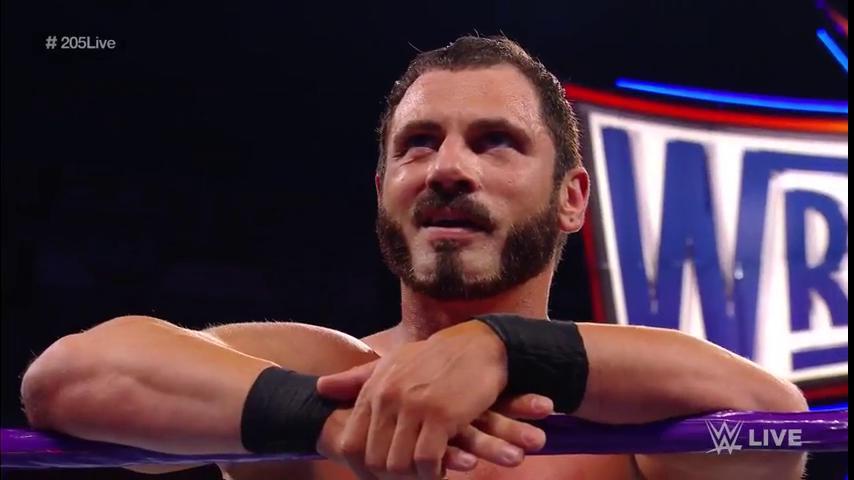 ---
VIDEO: Emma return package aired…. Not Emmalina, but Emma. Ohh god… this is coming soon.
---
Big Show vs. Titus O'Neil
Singles Match
The match begins and Big Show quickly goes on the attack. He hits a few punches to the gut and a hard slap to the chest. Titus tries to get in some offence, but Big Show stops him quickly. Titus manages to deliver a big boot, but Big Show gets up quickly and hits not only one choke slam, not two, but three giving Show the 3 count victory.
Winner: Big Show
---
ANNOUNCERS: They hype March being Women's History Month and celebrate Billie Jean King, an advocate for Women's movement.
---
BACKSTAGE: Sasha & Bayley are talking backstage talking about beating Nia Jax. Sasha says to prove the haters wrong, so they can go into WrestleMania to prove who the bigger woman is. Sasha gave us some Heelish vibes in this promo.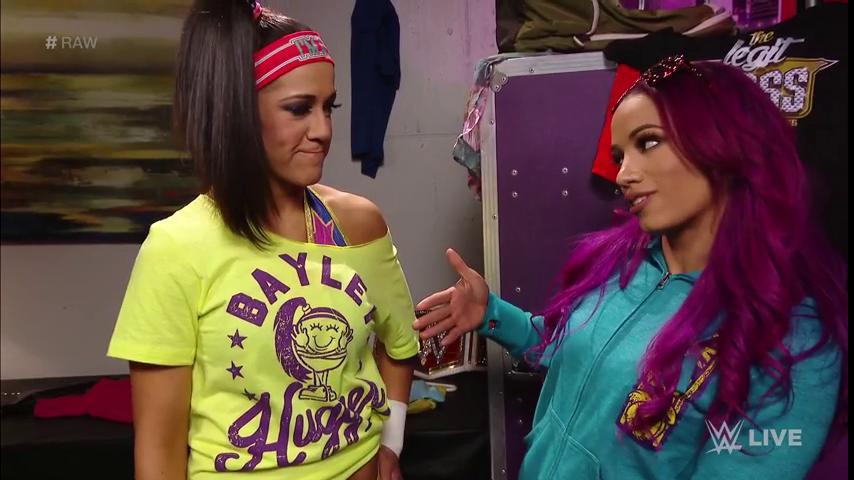 ---
BACKSTAGE: Chris Jericho is in the locker-room with an ice pack on his head. Jericho gets asked about his revenge on Owens. Jericho says that he will get his revenge at WrestleMania, and that he will show people the true Kevin Owens. Jericho is bringing back the highlight reel next week on Raw, when he interviews the REAL KEVIN OWENS!
---
Bayley (c) vs. Nia Jax
Non-Title Singles Match
Once the match begins, Bayley tries for a neck lock but Nia keeps pushing her away. They clinch, but that doesn't help as Nia just throws Bayley to the outside. Nia lands a headbutt and rolls her back into the ring. Bayley connects a few kicks to the head from the ring, but Nia doesn't like that and kicks the steel steps on the outside out of frustration taking us to commercials.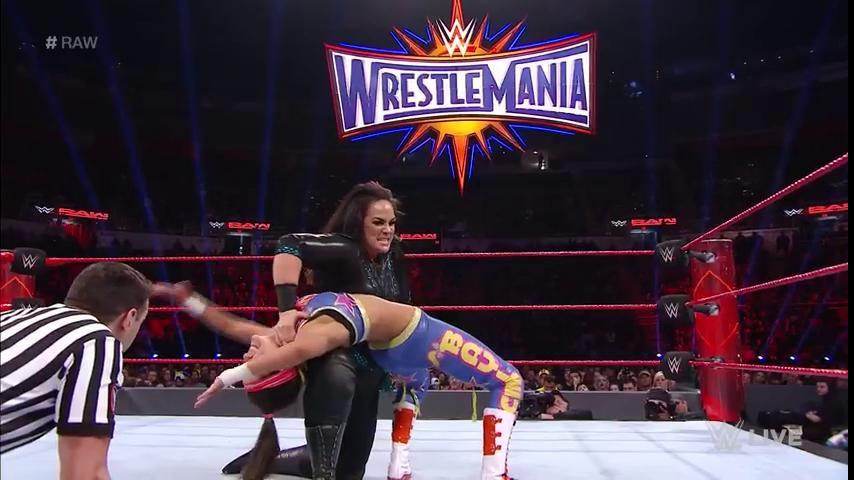 When we come back from commercials Nia Jax pretty much has the advantage over Bayley bending her over backwards over her knee. Nia lands a few kicks to Bayley's chest allowing Bayley to counter and dropkicks Nia to the outside. Bayley tries to rally some offence, but every time Nia just powerhouses Bayley. Bayley tries to a second rope cross body, but Nia catches her. She tries for a Samoan Drop, but Bayley fights out into a choke. Again Nia fights out and throws Bayley onto the top rope throat first. Nia takes Bayley into the corner and hits a hard cross body. Nia beats on Bayley in the corner over and over again until the ref counts to 5 and calls for the bell.
Winner: Bayley via DQ.
Nia would continue the assault after the match. The ref tries to stop her, but Nia pulls Bayley to the outside and throws her against the barricade. Nia leaves Bayley reeving in pain on the outside mats.
---
BACKSTAGE: Mick Foley begins his walk to the ring to fire someone.
Stephanie McMahon is in the ring, and reminds the fans the opportunity she provided to Mick Foley to prove he could make the tough decisions. Stephanie McMahon wants Mick to fire someone apart of the Raw roster and introduces him to announce who he's picked.
Mick comes out saying that he believed this assignment was cruel as he couldn't think of a WWE superstar to fire, until a few minutes ago. Mick says that this assignment will make him a better manager and a better person. Mick says that the name he's come up with is…. Stephanie McMahon. The audience provide a loud YES chant as Stephanie isn't impressed. Stephanie says that that's not in his power to fire her and demands a name. Mick says that she is the one that deserves to go. He can't understand how she can look at talents with such little care. Mick brings up Triple H's return when he cost Seth Rollins the Universal Championship and says that he believed in her when she said she didn't have any part in that.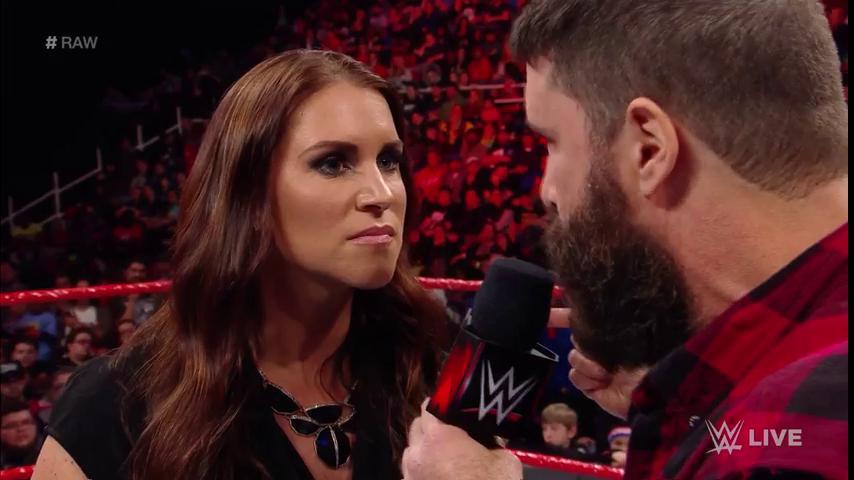 Mick continues saying how Stephanie and Triple H have been running a things around here. Mick continues, but gets stopped by Triple H's music. Triple H makes his way out.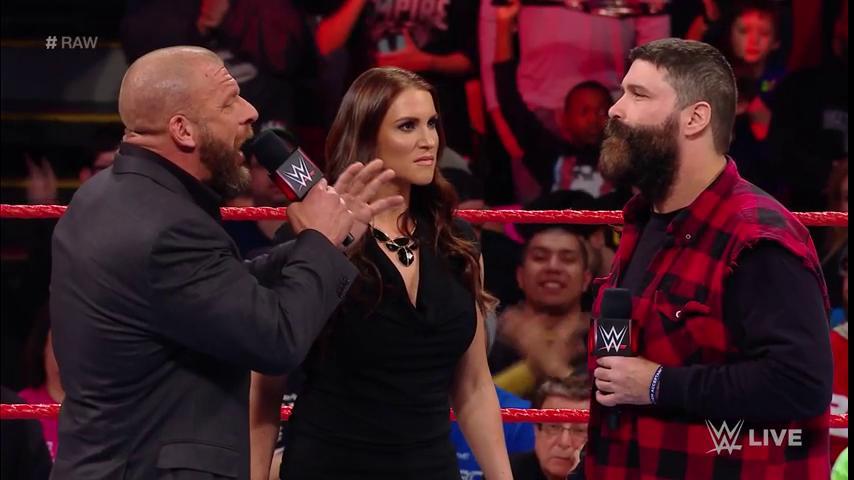 Triple H enters the ring smiling and says that if Mick has something to say, just say it to his face. Mick says that he didn't realize Triple H existed, thought he was only hiding in the shadows. Triple H says that people always say that and yet no one ever looks for him. Both men go back and forth with insults. Triple H has the better of it calling Mick a "has-been" and say that it was because of Stephanie Mick came back to the WWE. But no matter what Stephanie McMahon is as much of a Business Man (women), like her father Vince McMahon taught her to be.
Mick says that unlike many talents backstage, he doesn't need to pretend to like Triple H. Mick says that he doesn't need Triple H, or this company but is a man who can look in the mirror and is proud who looks back. Triple H comes back saying he's happy how he feels, and says if his children feel the same way. He references Noelle and Dewey who works for WWE in the main office, and says if they feel the same way if Mick should leave the position he was granted.
Triple H demands that Foley walk back up the ramp and have an Epiphany that when Stephanie says jump, Mick says "how high." Mick slowly begins to walk out of the ring but stops in the corner. Triple H tries to confront him but Mick pulls out socko and begins to choke Triple H. Stephanie McMahon comes from behind and lands a low-blow. Triple H slowly takes off his coat and looks to beat on Foley.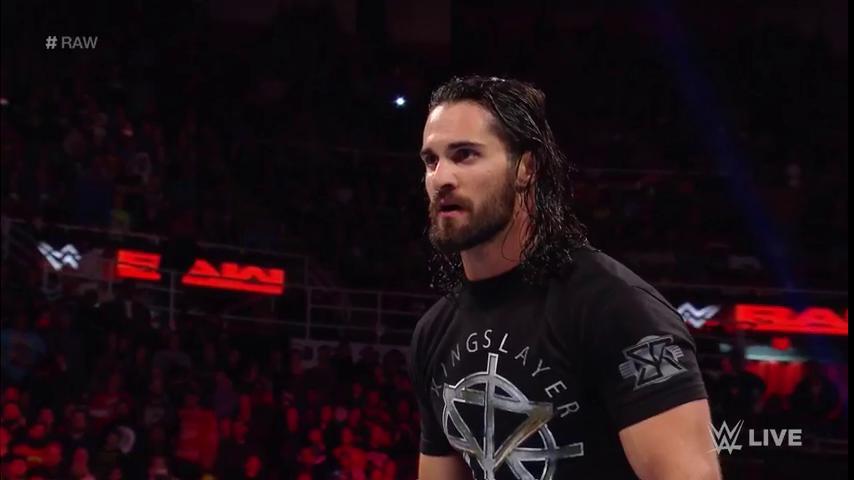 As Triple H approaches Foley, Seth Rollins music hits and he tries to make his way out on one crutch.  He makes it to ringside, and Triple H wants him to enter the ring. Seth Rollins drops the crutch and to everyone's surprise runs into the ring. Rollins appears to be in good shape and hits a side kick to the gut. Rollins lands a running kick to the head taking Triple H out of the ring. Triple H picks up Rollins' crutch and runs back into the ring with it. Rollins stops him but Triple H eventually manages to hit him with the crutch directly on the knee.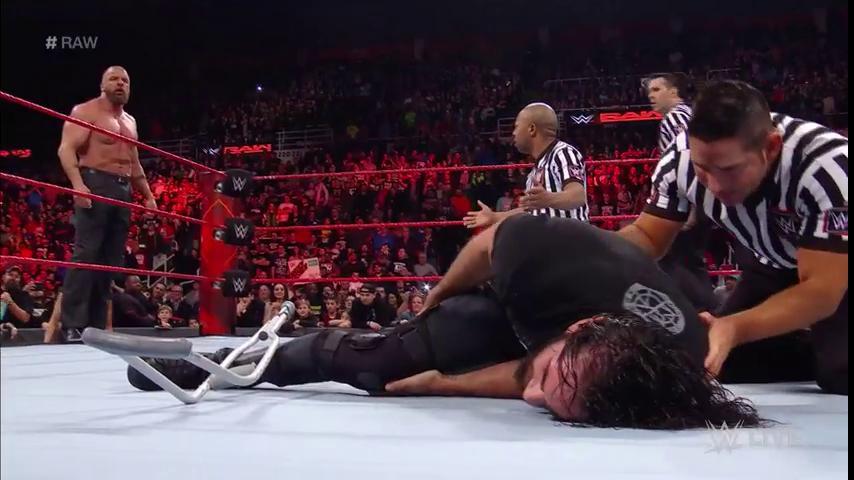 Triple H removes the shirt and begins stomping on the bad knee. He locks in a reverse figure-4-lock and makes Rollins yell out in pain. The ref's come out and break up the hold. Triple H hits him once more with the crutch in the knee and walks away smiling.
---
That ends tonight's WWE Raw broadcast. Hope you guys enjoyed it. Remaining highlight should be up tomorrow.
Cause Carnage, Watch Wrestling!