Show: Monday Night Raw
Date: March 20, 2017
Venue: Barclay Center, Brooklyn NY
Author: Cade Carnage
Welcome everyone to tonight's WWE Raw live recap brought to you from Brooklyn, NY.
Make sure to keep refreshing this page for the latest details highlights. Follow along on Twitter @MindofCarnage to interact with me live. Images from the show will be sourced from @WWE on twitter.
Plus, I'm doing a new feature today where if you use #MOCRawReact  on twitter following Raw to express your thoughts on the show, your tweets will be featured at the ending of this recap. So make sure you get them in.
Let the recapping commence.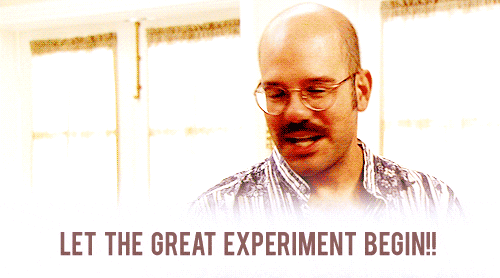 MOC Live Raw Recap
I probably won't do any match details as I'm just so tired for some reason… wow, this is going to be an interesting night. LOL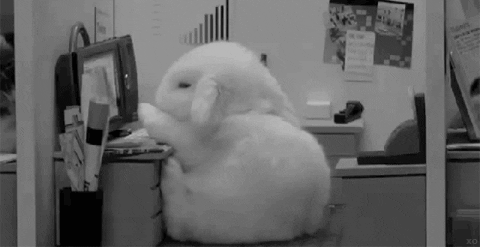 VIDEO: Raw kicks off with a video recap from last week's Raw, with the closing segment featuring Mick Foley, Stephanie McMahon Triple H and Seth Rollins.
OPENER: Raw kicks off with Mick Foley making his entrance to the ring. Mick gets on the mic and gets greeted with a loud Foley chant. He pulls a letter out and begins reading it saying that he's humbled and been honored to call himself the GM or Raw for the last 9 months. He thanks Triple H and Stephanie McMahon for giving him the opportunity. He continues reading saying how he put that opportunity in jeopardy when he put Mr.Socko in Triple H's mouth, and apologizes for it. He continues saying that he doesn't want his action distracting people from Wrestlemania. For the good or WWE, Raw and WrestleMania, Mick Foley announces that he will take a leave of absence effective immediately.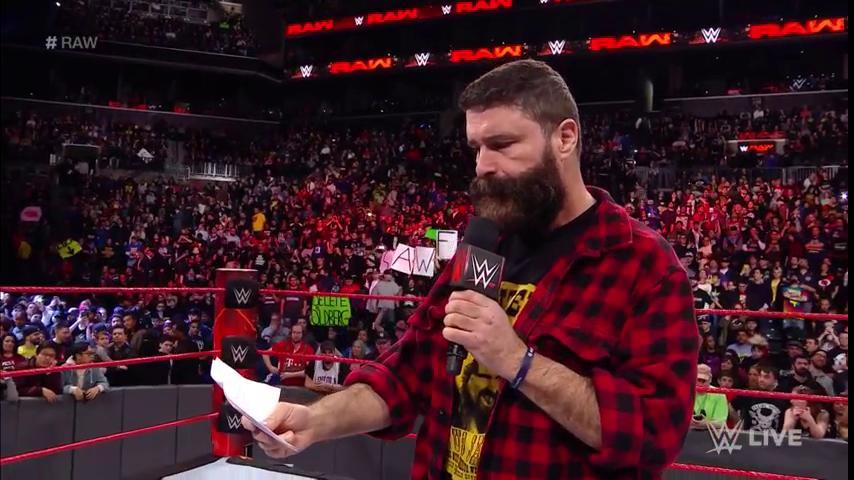 He shows the index cards to the audience and rips them up. He says that he would say whatever he wants to say and tries to put down Triple H and Stephanie, but his mic keeps cutting in and out. Stephanie McMahon's music hits and she comes out.
Stephanie gets in the ring and mocks Mick's mic not working. She reminds him of his actions last week and gave him a golden opportunity to give a proper farewell address. The reason he need index cards is because she claims, Mick forgets everything. Him returning to WWE was always about him wanting to be liked by the WWE audience, and doesn't care about what's best for business.  Stephanie says she'll do what's best for business and fires Mick Foley right in the middle of the ring.
Mick doesn't say anything and begins walking out, but gets stopped by Sami Zayn who's entrance music hits. Sami gets on the mic and says that what Stephanie is doing to Mick is wrong, just like all of her decisions as of late. Stephanie thanks him and asks him to help his broken down mentor to the back. Foley asks Sami to just walk away. Foley gets off the apron and begins limping up the ramp. Sami doesn't follow and says that Foley has shown more class and integrity in the 9 months on Raw, than Stephanie has in her whole life. Sami says Stephanie should be ashamed of herself. Stephanie mocks Sami and says he's not on the level to come out and questions Stephanie's integrity, or even speak to Stephanie at all and asks him to go to the back and think about how to make it up to her.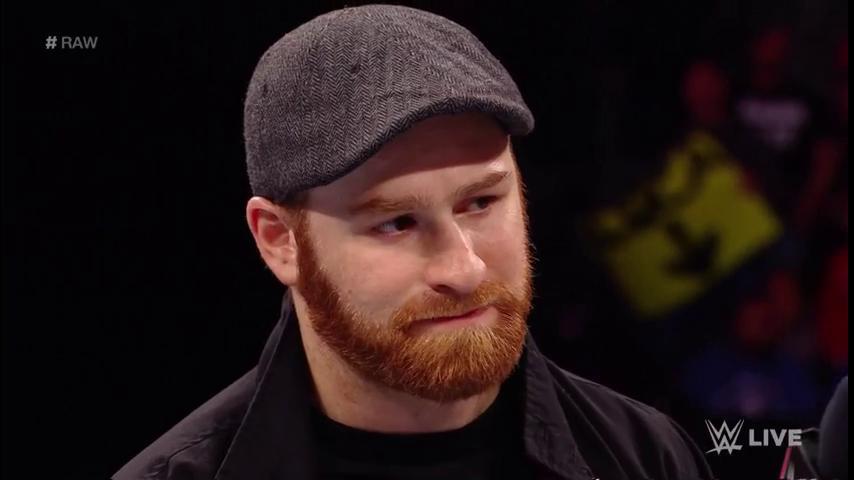 Sami appears to walk out, but stops and says that he doesn't want to do the smart thing, but the right thing. He was about to threaten her, but Samoa Joe's music hits and he makes his way out. As Joe walks to the ring, Stephanie stops him and says she got it. She asks for Foley to leave and makes a match pinning Sami Zayn against Samoa Joe.
Even before the match could behind Sami runs from the ring and lands on Joe on the outside leading us into commercials.
---
Sami Zayn vs. Samoa Joe
Singles Match
Both men deliver an intense and aggressive start to the match with Samoa Joe holding a majority of the offence. Sami would get some offence near the ending of the match and even bust Joe open mildly after he gets thrown into the ring post. Joe would eventually lock in the Coquina Clutch and Zayn would have no choice but to tap out.
Winner: Samoa Joe
ANNOUNCERS: They announce that throughout the night they will show highlights of the ever growing feud between Roman Reigns and Braun Strowman. They show one from the Royal Rumble.
We also will get an update on Rollins condition following the attack from Triple H last week.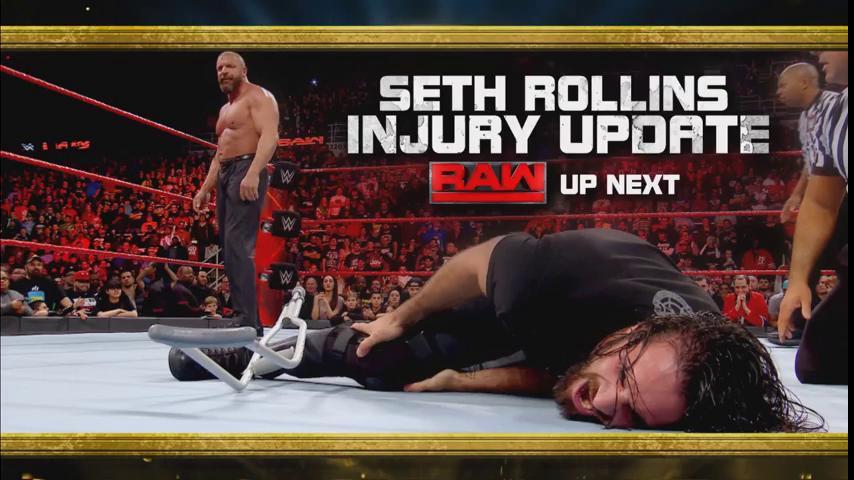 ---
BACKSTAGE: Mick Foley talking to Sami Zayn and saying how he appreciates what Sami did out there. Sami says that Raw needs Mick. Mick says that Raw needs Sami not him. He hugs him and says to hold the fort down. Sami thanks him and appreciates meeting him.
Mick walks and runs into Cesaro and Sheamus who both hug him. They thank him for giving them a chance. Foley is proud of them and continues to walk. He meets some 205 live talents in the back and shakes their hands. He would eventually run into Bayley and gives her a big hug. Triple H would meet him as well, and just say "have a nice day!"
Mick Foley walks out and leaves the Raw arena.
---
ANNOUNCERS: They recap last week when Seth Rollins returned to Raw and confronted Triple H.
The reveal that Rollins is back in Birmingham, AL doing rehab on his knee.
They interview Kevin Wilk, who is helping Seth in his rehabilitation. He says Rollins is progressing well and has come a long way, but he did re-aggravate the injury last week. He claims that Rollins will need several months to be cleared to compete. But Rollins is very motivated to compete and if he does compete, they'll probably be seeing him the next day with more rehabilitation.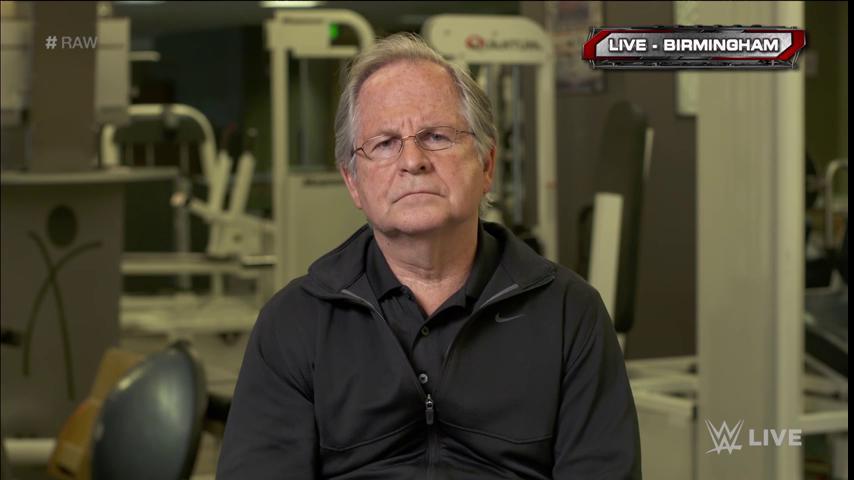 ---
Charlotte vs. Dana Brooke
Singles match
Dana would go on the attack right away and to my surprise would control the majority of the match. The ending would come quickly as Charlotte hits a big boot and pins Dana for the win.
Winner: Charlotte
---
BACKSTAGE: Stephanie McMahon is walking backstage and runs in Bayley who looks sad. Stephanie offers a hug to make her feel better. Bayley says she doesn't need one and says that she once look up to Stephanie McMahon. Stephanie stops her and says that it takes a strong women to run a brand, and it takes a strong women to be champion, which Bayley isn't showing as of late. Stephanie makes a rematch from last week against Nia Jax and says that if Nia wins, she gets added to the WrestleMania Women's Championship match making it a fatal-4-way.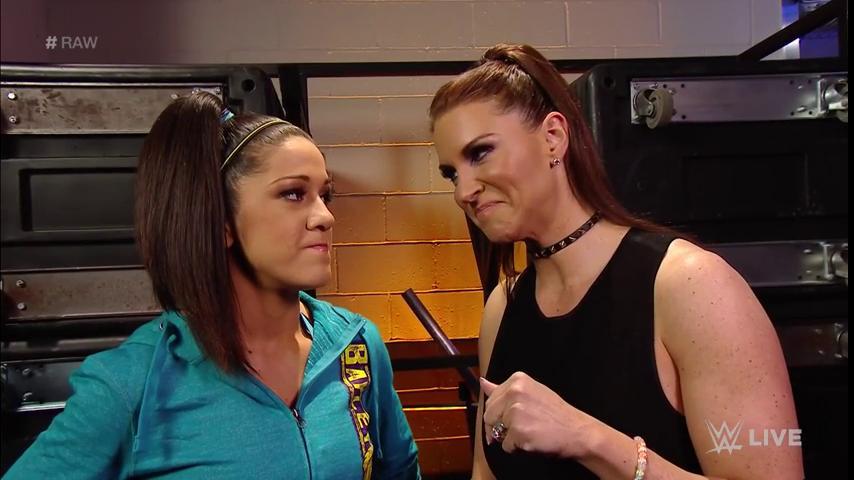 ---
HIGHLIGHT REEL: Jericho comes out to a great ovation and begins by saying that the Brooklyn audience is loud tonight. He says that his guest tonight is the "real" Kevin Owens. He says that he doesn't need Owens as he has a lot of friends and calls the audience "friends of Jericho"… "Cheer me onnnnn maaaannnnnn!"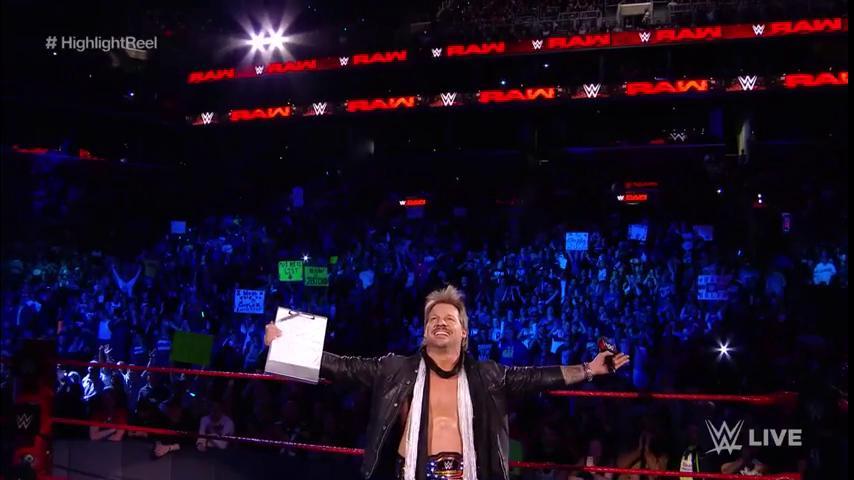 Jericho continues saying that Owens isn't a hit-man, and shows an image of a 16 year old Owens with a Y2J shirt. Jericho says that Owens doesn't look like a prize fighter, and says that he was marking out man! Jericho now goes to 2014 when Owens was signed to the WWE and reached out to his idol, Chris Jericho. He shows a DM on Twitter when Owens asked him for advise.
Jericho would continue saying that Owens is always nervous, intimidates and kind of scared, of Jericho. Jericho calls himself the hero and idol for Owens and when they meet up at WrestleMania, Owens will transfer back to the 16 year old nerd wearing a Y2J shirt realizing what Owens has gotten himself into. Jericho hypes himself up as the Greatest of all time and says that at WrestleMania he will make Owens hurt more, than costing him the Universal Championship as Fastlane. Jericho would then tease about adding Kevin Owens to the List of Jericho, but wouldn't be able to as Samoa Joe begins walking out.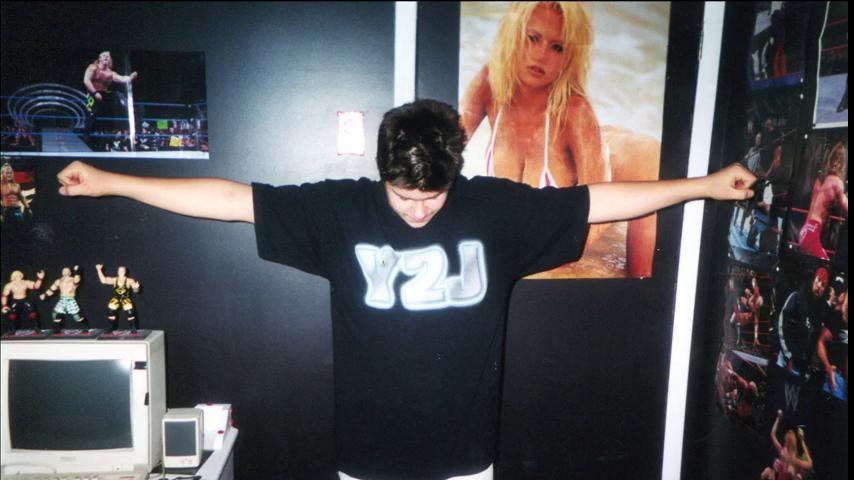 Jericho gets distracted allowing Kevin Owens to come from behind and attack Jericho in the ring. Owens would hit the pop-up powerbomb on Jericho and proceed to rip up the famous list of Jericho. Owens would walk out leaving Jericho laying in the ring.
---
TJ Perkins vs. Brian Kendrick
Singles Match
Match didn't last too long. TJ would take the attack quickly, but a quick distraction allows Brian to hit his Sliced Bread #2 and pin for the 2 count.
Winner: Brian Kendrick 
After the match Brian would get on the mic asking for Akira Tozawa. Brian would say that he's a sitting duck, but Akira isn't even in the country. He would then pull out Akira's passport saying that he needs it to travel back to the USA. He teaches him another lesson to not leave stuff laying around backstage.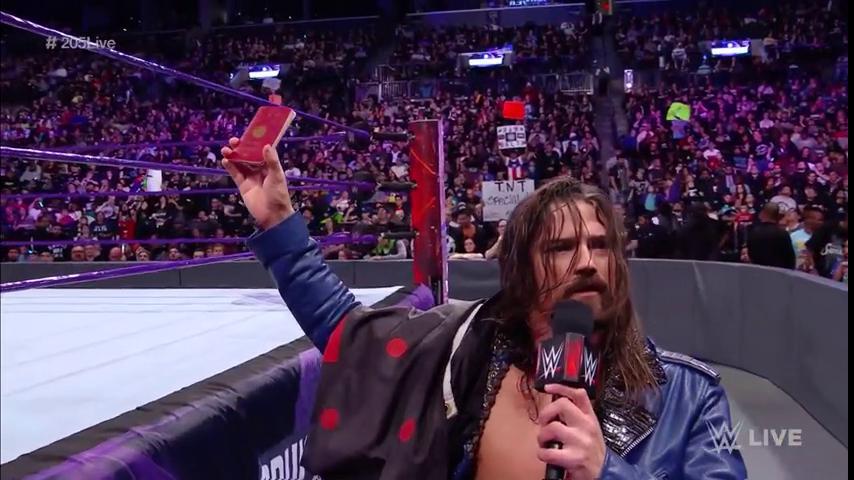 Personally, I would think you would need a passport to leave the country as well… so ya.
---
ANNOUNCERS: They recap HBK's appearance last week warning Roman Reigns. Here's a reminder:
---
ANNOUNCERS: They recap the growing feud between Brock Lesnar and Goldberg. leading to WrestleMania 33.
---
BACKSTAGE: Sheamus and Cesaro are talking backstage as Stephanie comes walking in saying that two men who once hated eachother are great friends. Stephanie says that Cesaro & Sheamus need to battle for their Wrestlemania spots again competing in a 4 on 2 Handicap match against Luke Gallows, Karl Anderon, Enzo and Cass. If they lose, they lose their WM spot.
---
Bayley (c) vs. Nia Jax
-If Nia Jax Wins She Gets Entered Into The Women's Title Match at WrestleMania 33-
Non-Title No DQ Singles match
Nia would bring the attack early on with Bayley getting in minor offence where ever she can. But the momentum would shift once Nia smashes Bayley face-first against the ring apron. Both Charlotte & Sasha would watch from the backstage area.
Nia would generally hold the momentum in this match smashing Bayley against the barricade over and over again by the hair. Nia would grab a chair but Bayley would kick it away. Both would go back and forth a bit more, with Nia hitting the Samoan Drop and getting the 3 count win.
Winner: Nia Jax (enters the Raw Women's Match at WrestleMania 33)
---
ANNOUNCERS: They remember Mae Young in celebration of March being Women's History month. They run a video package of her amazing career.
---
IN RING: Michael Cole is in the ring, and introduces Triple H as being the man who made Seth Rollins WrestleMania status questionable.
Both men take a seat in the seats provided. Michael Cole asks about the news about the diagnosis of Seth Rollins heard earlier tonight. Triple H says he's disappointing and says he wanted this match with Rollins at WrestleMania. He considered himself in the best shape in his life and that he was looking forward to it. He claims that it's not his fault Rollins is injured, it's Rollins fault for listening to the audience themselves. He continues saying that people like Rollins need the audience to justify that he's good. Triple H says he never needed that, though some guys in the back need to audience to justify that they are good. Triple H says that Foley's potato chip ear, his wobble was all done because of the audience.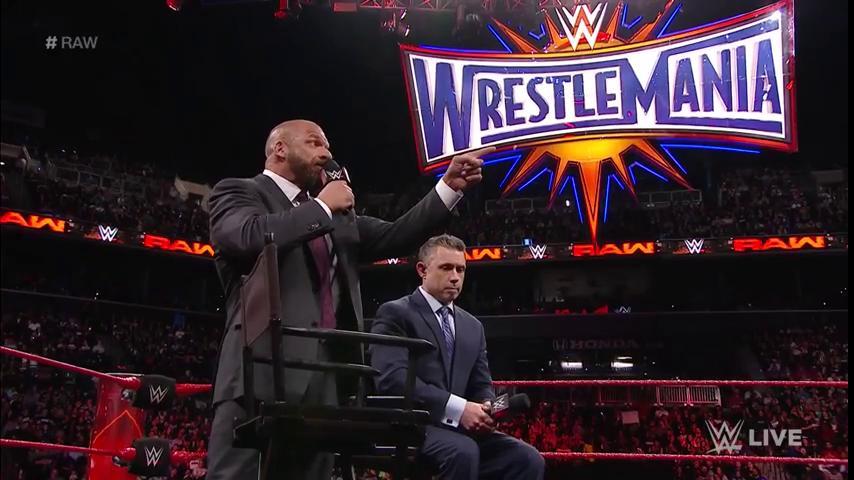 He recaps when Rollins threw his crutch on the floor last week during Raw and the audience went crazy for it, another example when the audience's cheering cost a talent his health. They show a video recap from the attack last week.
After the video, Triple H tells the audience "that's on you, it's your fault." Cole goes back about a year when Triple H took Rollins under his wing. Triple H said that he saw potential in Rollins and gave him the blueprint to make it in the business. But when no one was there to pick up Rollins when he was down, Rollins cried. Triple H was the crutch that took Rollins to the top of the mountain. He find it funny how the crutch [Triple H] actually picked up a physical crutch and beat him up with it. Triple H says that he is officially done with Seth Rollins. Triple H pulls out an envelope and hands it to Cole saying that it's a few tickets for the nose-bleeds so Rollins can feel the roar of the crowd.
Triple H looks like he would leave but then questions it. He asks for the envelope back and says that there may be a way he could fight Rollins at WrestleMania. Triple H says that he could draw up a non-sanctioned match at Wrestlemania so when Triple H leaves him hopeless, he couldn't sue the WWE or Triple H's family. Triple H asks the audience if that's what they want, and tells Seth to show them that he is in deed Seth "freaking" Rollins, or just a freaking coward.
---
Cesaro & Sheamus vs. Luke Gallows, Karl Anderson (c) & Big Cass/ Enzo
-If Sheamus & Cesaro lose, they lose their spot at Wrestlemania 33-
Handicap Tag Team Match
Enzo and Cass would deliver their promo agreeing that they would try and cost Sheamus and Cesaro their match at WrestleMania 33. Before the match could begin, Karl Anderson and Luke Gallows would take out their partners, Enzo and Cass. The match would start and Sheamus and Cesaro would take advantage quickly and take out Karl Anderson after Cass attacks Gallows on the apron picking up the pinfall victory.
Winners: Sheamus & Cesaro (remain in WrestleMania 33)
After the match Enzo hits the Badda-Boom-Shakka-Lakka on Karl in the ring.
BACKSTAGE: New Day are in the back to deliver a hype promo about their hosting spot at WrestleMania 33. Before the promo begins Big E and Kofi look at Xavier with Big E saying "So is there something you want to tell us?" Xavier would begin saying that he's looking forward to Roman Reigns & Undertaker. They begin listing all the matches for the big event and end it with a "New Day Rocks" chant.
---
Austin Aries vs. Tony Nese
Singles Match
These two put on a great quick paced match with the momentum split between the two. The win would come when Aries hits a missile dropkick and delivers it up with a running forearm smash and a discus forearm.
Winner: Austin Aries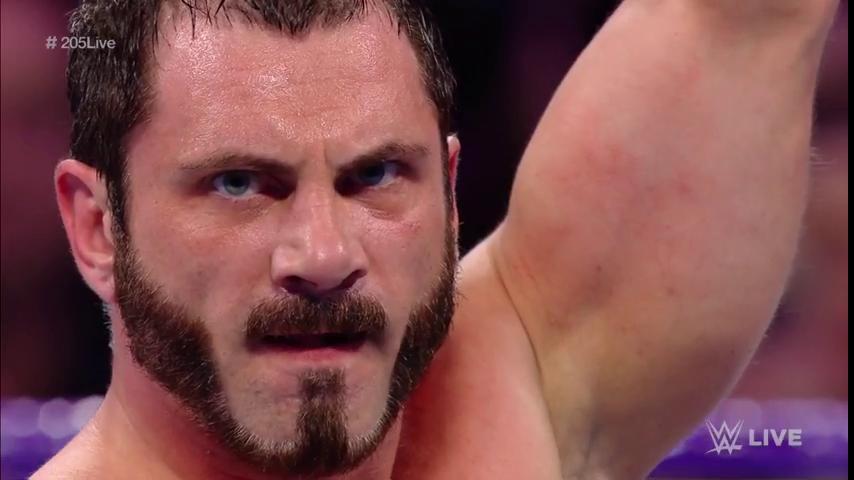 After the match Neville comes out to the stage area and threatens that he could come to the ring and obliterate Aries just as he's done to the rest of the Cruiserweight division. But Neville says that Aries is no threat to the King, and that Aries out of control ego will make Neville's win at WrestleMania that much more satisfying. Aries says that everyone hears the words coming out of his mouth, but what Aries sees in Neville's eyes is the fear of stepping in the ring with Aries who is above Neville's level.
---
VIDEO: Another Emma video package with… you guessed it a "coming soon" HA!
---
ANNOUNCERS: Goldberg and Brock Lesnar will be live on Raw next week as the go-home show for Wrestlemania 33.
---
BACKSTAGE: Braun is interviewed backstage and pretty much just says that he'll destroy Roman Reigns tonight.
---
Roman Reigns vs. Braun Strowman
Singles Match
As the match begins, Roman Reigns goes on the attack quickly throwing several punches. Braun tries to fight him off but Roman keeps coming back and takes Braun to the outside. Roman tries for the drive-by, but Braun stops by a massive clothesline. Reigns gets to his feet but Braun hits a spinebuster picking up a 2 count. Braun goes on the attack and throws Roman chest first into the corner turnbuckle.
Braun would lock in a choke, but Roman fights out and manages to land a few clotheslines. He tries for a Samoan drop but Brauns size is too much as he lays him out with a running clothesline. Braun tries for a running spear in the corner but Roman moves out of the way taking Braun into the post. Roman would get the momentum behind him and manage to pick up Braun slowly and hitting the Samoan drop. Braun rolls to the outside and Roman hits the drive-by. Roman tries to continue to attack but Braun throws him against the steps. He throws one layer of the steps in the ring and tosses Reigns back in.
Braun picks up the steps but Reigns stops him with the superman punch. He tries for another but Braun catches him. He tries for the powerslam, but Roman breaks out. He hits another superman punch and sets up for the spear. But as he calls for it, the gong goes off, and the lights go black. When they come back on, The Undertaker is standing in the middle of the ring between Reigns and Braun.
Undertaker stands starring as an "Undertaker" chant begins. Braun tries to go for Taker, but he catches him and hits a choke slam. As Taker turns around Roman hits him with a quick spear.
Winner: No Contest
Roman would leave the ring and begin walking up the ramp, as in the ring Undertaker sits up and gets up on his feet. Taker slices his throat and the gong goes off again.
We end Raw with a stare down between the two men.
Any highlights not uploaded as of yet will be uploaded tomorrow.
Thank you so much for reading.
Cause Carnage, Watch Wrestling!
Fan reaction from tonight's WWE Raw. Get your votes in: