Show: Monday Night Raw
Date: April 3, 2014
Venue: Amway Center, Orlando, FL.
Author: Cade Carnage
Welcome everyone to your WWE Raw recap following what was an exciting WrestleMania 33!
We can expect tonight to be filled with a ton of surprises and have an over excited audience, as it usually does following WrestleMania. Hardy Boyz returned, New Universal Champion, New US Champion, and a potentially retired Undertaker will all take center stage tonight leading into the first Raw of the new wrestling year.
I won't dabble, so let's begin this rabble!
Remember to refresh this page for the latest details and highlights. Make sure to follow me on Twitter @Mindofcarnage to interact with me there. Images below sourced from @WWE.
RAW
VIDEO: Raw starts with a video package recapping Undertaker vs. Roman Reigns from WrestleMania 33.
---
OPENER: Raw begins with the audience giving a loud Undertaker chant, the camera just pan the audience as the chant goes on for a while. The chant would transition to "Undertaker, Roman Sucks." Roman Reigns entrance would hit and the Booing begins.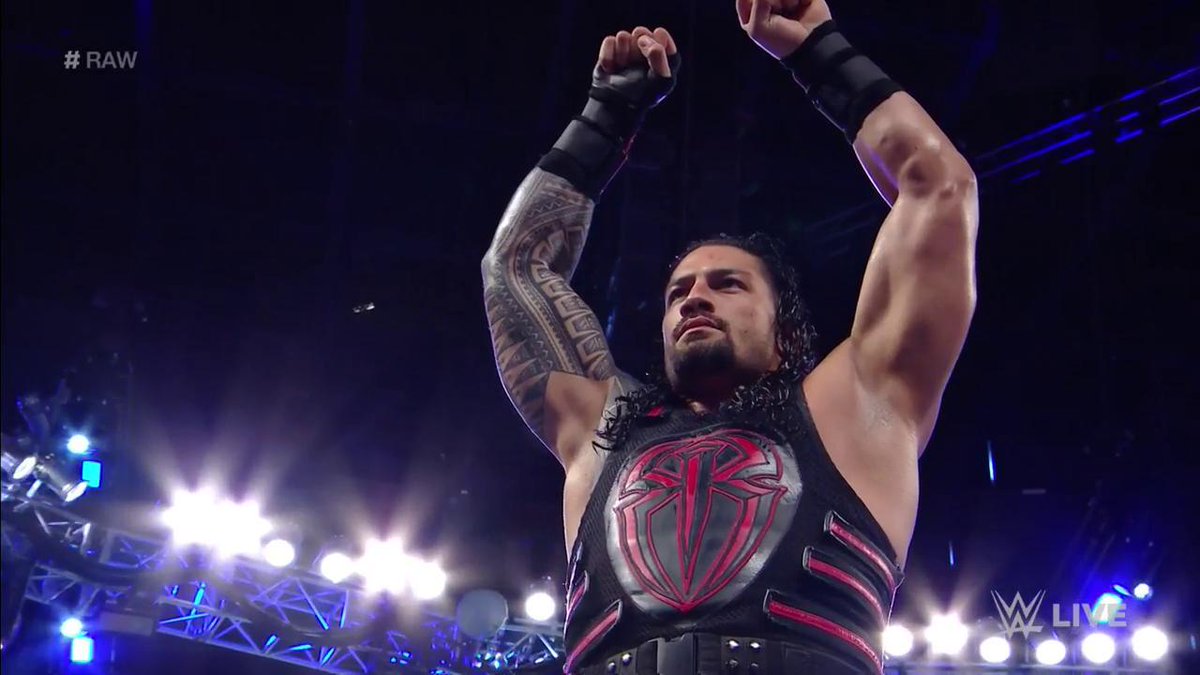 Roman gets on the mic and begins addressing a very upset audience. Roman doesn't even say anything and the audience starts a "fuck you Roman," "you suck," "asshole." "Roman sucks" and "Delete" chant. Man he got roasted… LOL
Every time Roman positions the mic to talk, the audience get louder booing him. Roman spends a good amount of time in the ring, not saying anything and just looking at the excited audience telling him to go away. He would finally begin his promo and only say "this is my yard now" and walk away. The audience, didn't like that.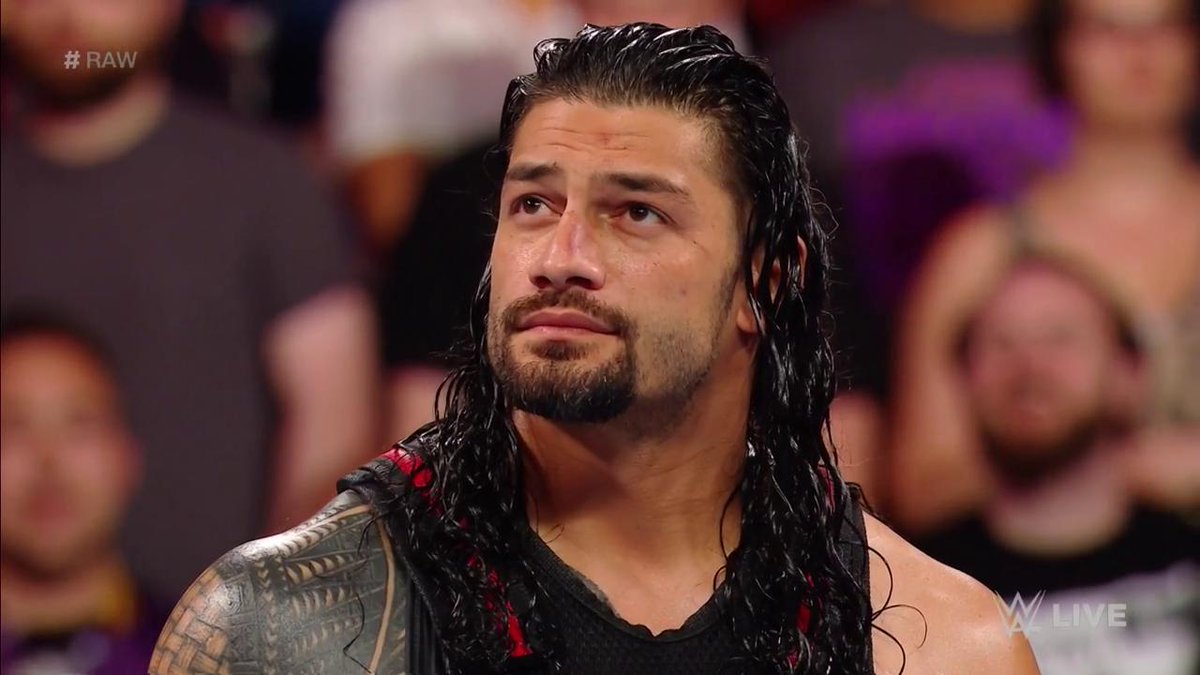 ---
ANNOUNCERS: They hype #RawAfterMania hashtag and how the fans tonight will be excited and very vocal. Hardy's vs The Club are on next, They also introduce the German announcers ringside right now.
---
The Club vs. Matt & Jeff Hardy (c)
-Raw Tag Team Championship-
Tag Team Match
During the Hardy's entrance the audience go absolutely insane do a DELETE chant.
The Club go on the attack quickly but Hardy's manage to stop them and keeps the advantage. Matt tags in and hits the side effect and tries for the twist-of-fate, but Karl counters. Matt takes Karl to the outside, and both Hardy brothers clotheslines Luke to the outside leading us to a commercial break.
When we return Luke Gallows has some advantage over Matt Hardy and tags in Karl Anderson. They connect a double neck breaker and Karl pins for a 2 count. The Club cut off Matt from his brother Jeff and work on him in the Clubs corner. The audience try and get behind Matt, which works for a little bit but Club is too overwhelming for Matt laying him out when ever they can. Matt though manages to move out of the way from a elbow drop and tags in Jeff.
Jeff comes in with momentum and lands a few punches to Luke and a running forearm. He hits an atomic drop and a dropkick to the face. Gallows rolls to the outside, so Jeff sets up some steps, jumps off them and his Luke with the poetry in motion. Jeff rolls Gallows back and looks for a top rope move, but Anderson distracts him and Gallows tags in Karl. The Club hit their boot finisher on Jeff and push off Matt from the apron. They pin bu only get a 2 count. They try for the magic killer, but Matt pulls Karl out, and Jeff hits the twist of fate. Matt tags in, hits the twist of fate and Jeff hits the senton bomb pinning Luke for the 3 count.
Winners: Matt and Jeff Hardy (Retain)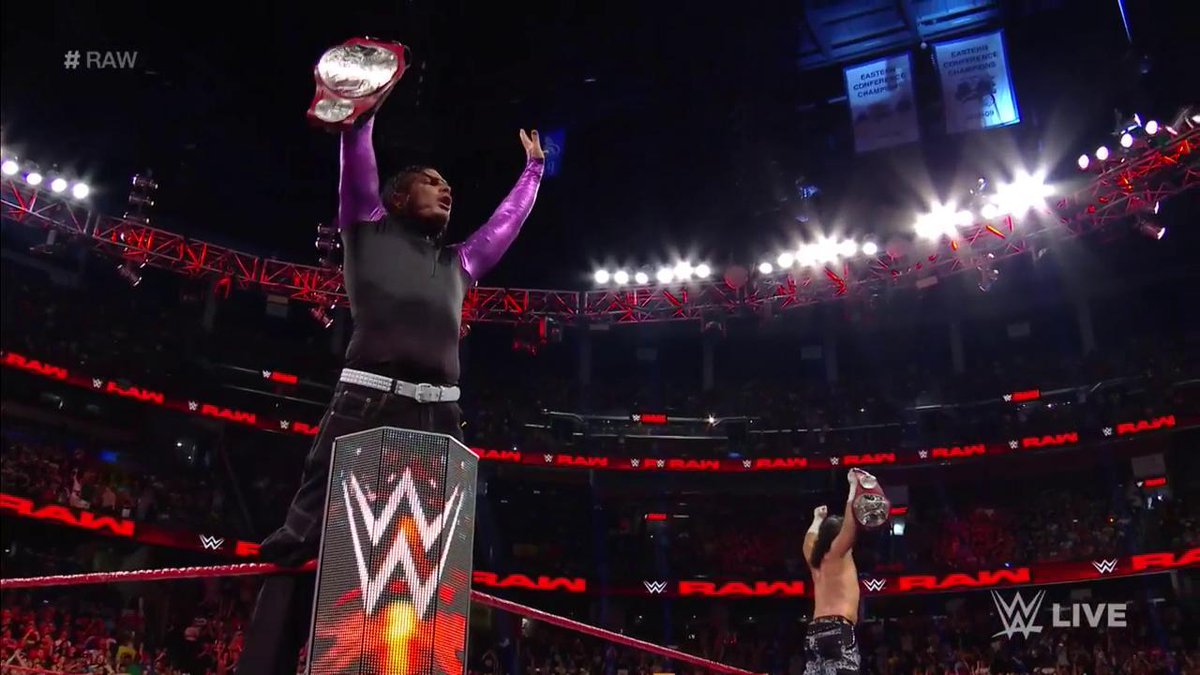 I over detailed that match, just because i'm happy the Hardy's are back.
---
ANNOUNCERS: Brock Lesnar the new Universal Champion addresses his WrestleMania win. Also, Chris Jericho & Seth Rollins vs. Kevin Owens & Samoa Joe for later tonight. The announcers show a few photo's from the Triple H & Seth Rollins Wrestlemania match.
---
IN RING: Neville comes out to the ring and gets on the mic and says that he did what he said he was going to do, and that was beat Austin Aries. Neville downgrades Austin's ability and says that some may not like his tactics, but you can't deny his results [holding up the Cruiserweight title.] Neville tries to continue, but gets stopped by Mustafa Ali.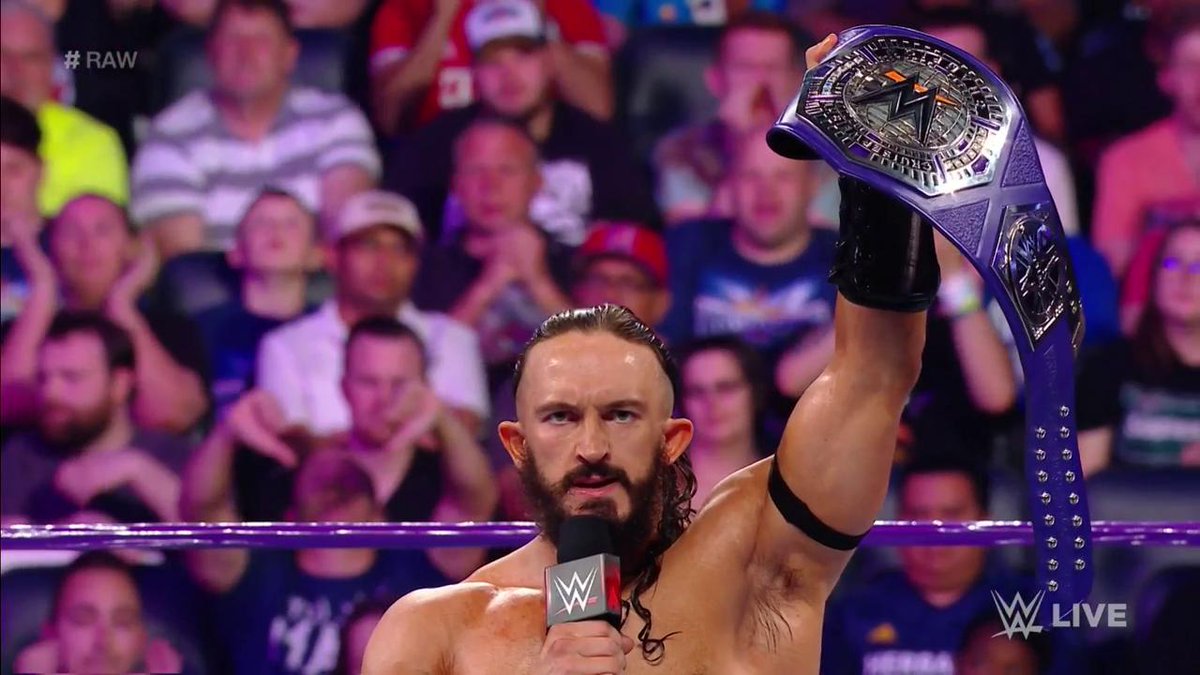 Neville (c) vs. Mustafa Ali
Non-Title Singles match
The action starts quickly with Mustafa getting in some offence early on. Neville would stop him and throw him to the outside taking us into a commercial.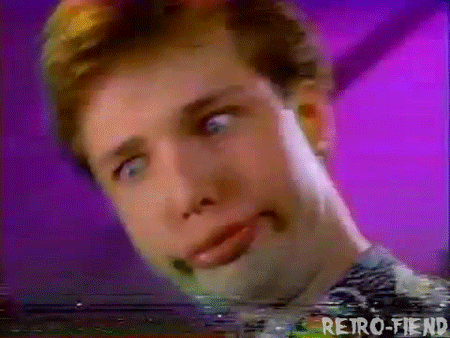 We come back from commercials and Neville hits a missile dropkick. Something also seems to be happening in the audience which is taking the attention away from the match. We later find out that it's a beach-ball that's freaking the audience out.
Anyways, back to the match. Neville tries to clothesline Mustafa's head off and pins for  a 2 count. Neville tries for a top rope move, but Mustafa counters into a back-flip Spanish Fly. Neville comes back delivering a few kicks, but Mustafa counters into a huge DDT and pins for the close 2 count. Mustafa tries for the inverted 450, but Neville moves and tries for the Red Arrow, but Neville decides against it jumping down and locking in the Rings of Saturn. Neville picks up the submission victory.
Winner: Neville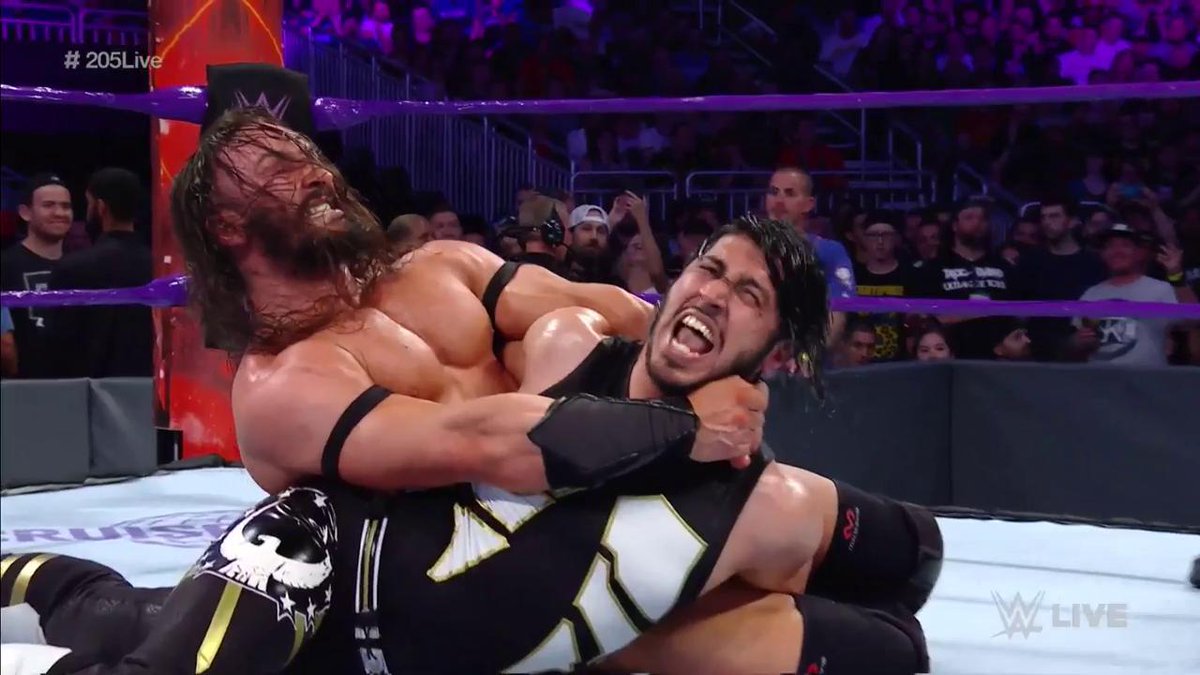 ---
BACKSTAGE: A limo pulls up, and from behind Vince McMahon climbs out and is heading to the ring.
---
ENTRANCE: Vince McMahon makes his way out to the ring and gets a great ovation from the audience.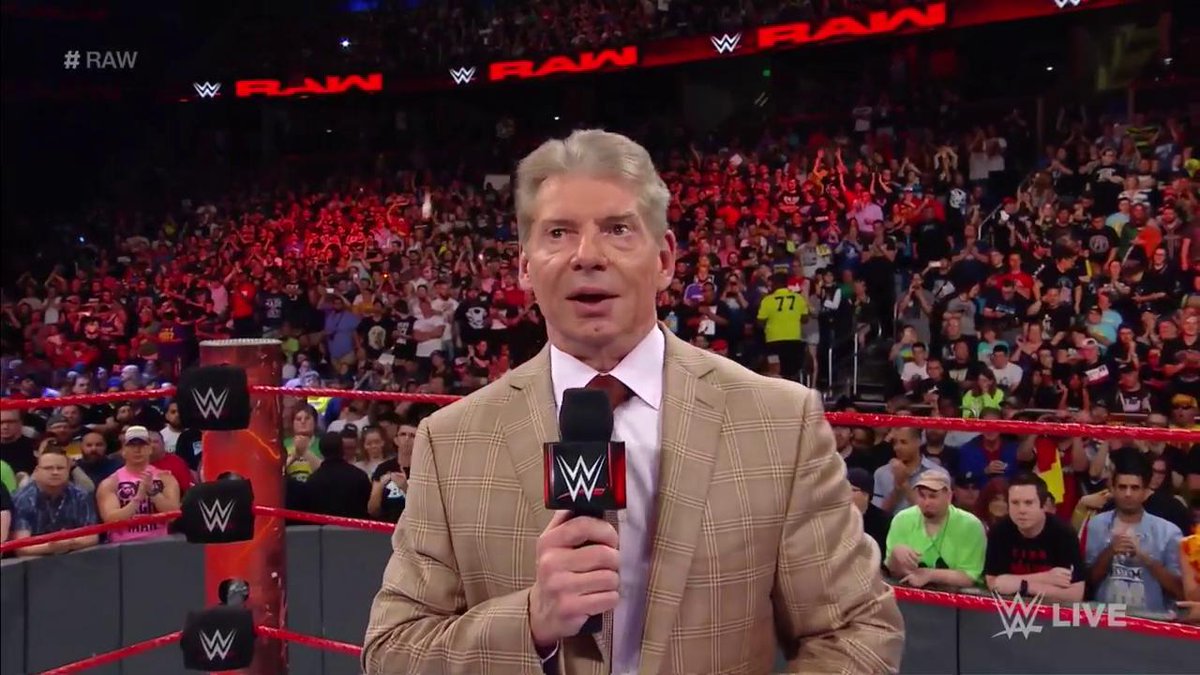 Vince gets on the mic and right away a "Roman sucks" chants begins. Vince says that he wants to say to something to the fans of the WWE, and says "Thank you, Thank you for being the most passionate fans in the world." Vince says that even though WrestleMania was last night, the wheel keeps turning. He's verified that Raw and SD roster will be 'shaken up' next week. He also references the closing moments from last night's match between Triple H & Seth Rollins, when Stephanie McMahon was taken through a table.
Vince says that his daughter will be out of action for some time. Vince says that the show must still go on, and introduces a new General Manager for Raw. Vince says that this new GM was just inducted into the 2017 Hall of Fame, and right away Teddy Long's music hits. Vince says to cut Teddy's music and tells him to stop dancing and says it's not him. Teddy asks, "it's not me…. ok my bad." He sends out a Holla Holla Holla and runs away. Vince now introduces the new GM, Kurt Angle!
Angle shakes Vince's hand and gets handed the mic as fans chant "you suck" to his music. Kurt gets on the mic and says that he has one thing to say "it's great to be back on Monday Night Raw, it's true, it's dam true!"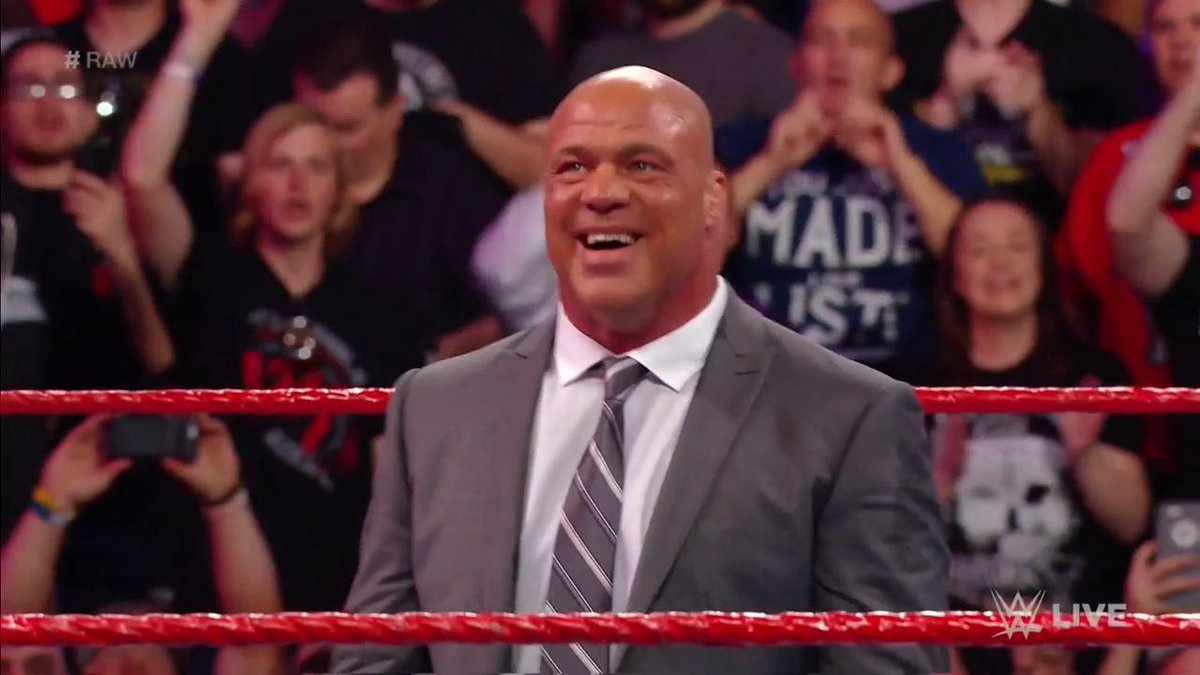 ---
ENTRANCE: New Day make their entrance to a rowdy Orlando audience. They come out with their ice cream bike and the New Day members wear a Legion of Doom themed gear, while Big E wears a backpack Booty O's box which explodes Booty O's out of it.
They get in the ring and Big E gets on the mic first yelling "what a night!" They talk about how great WrestleMania was. Kofi says that they hosted a record setting event, but there was a part of them that was upset for not being able to get in the ring to whoop anyone in the back. So tonight New Day issues an open challenge for anyone in the back.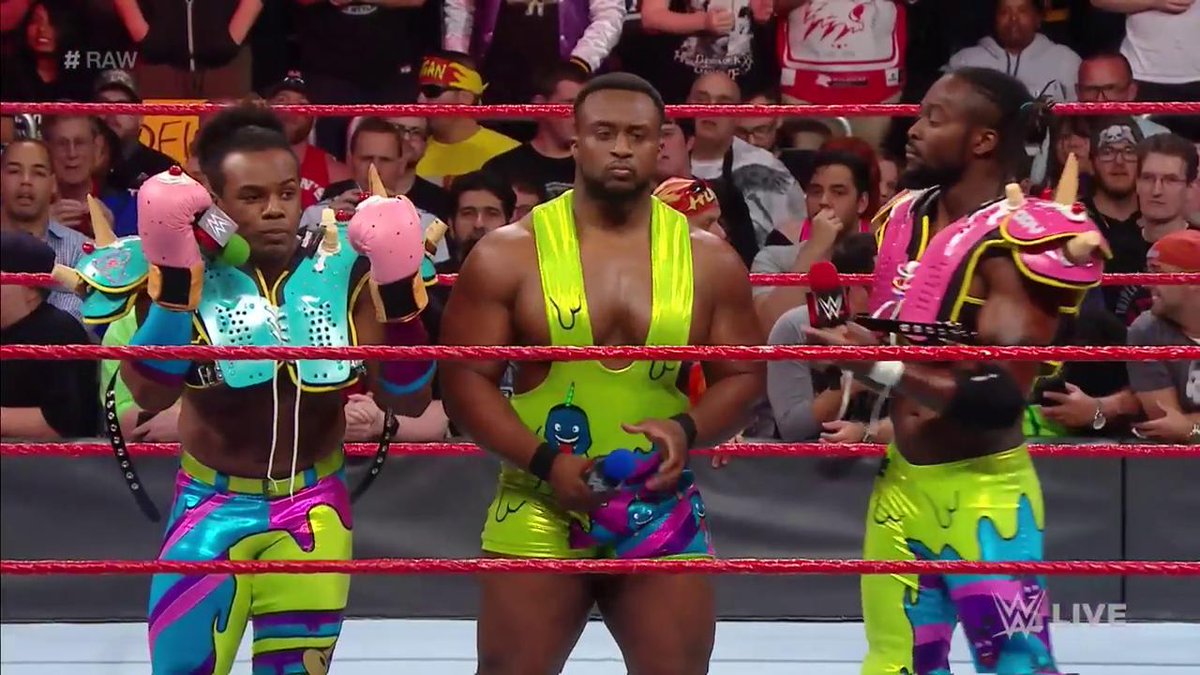 NXT tag team Revival answer the call!
As revival walk to the ring, they push the New Day's ice cream bike.
New Day (w/ Kofi Kingston) vs. The Revival
Tag Team Match
The match starts and right away Revival have the advantage over Xavier Woods. They keep Woods in their corner, but Xavier counters into a hurricanrana. Xavier goes on the attack, but Scott Dawson gets a blink tag and comes in slamming Xavier to the mat. We head to commercials
When we return from commercials, Revival keep the advantage over Xavier Woods. Dash tags in and Scott drives Xavier shoulder first in Dash's knee. Dash beats on Woods in the corner and lifts him on the top turnbuckle, but Xavier pushed him off and connects a missile dropkick. Big E would eventually get the tag and hits a few belly-to-bellies on Scott Dawson. Big E runs the ropes, clotheslining Dash over the top rope and tries for spear Scott on the apron, but Scott moves out of the way.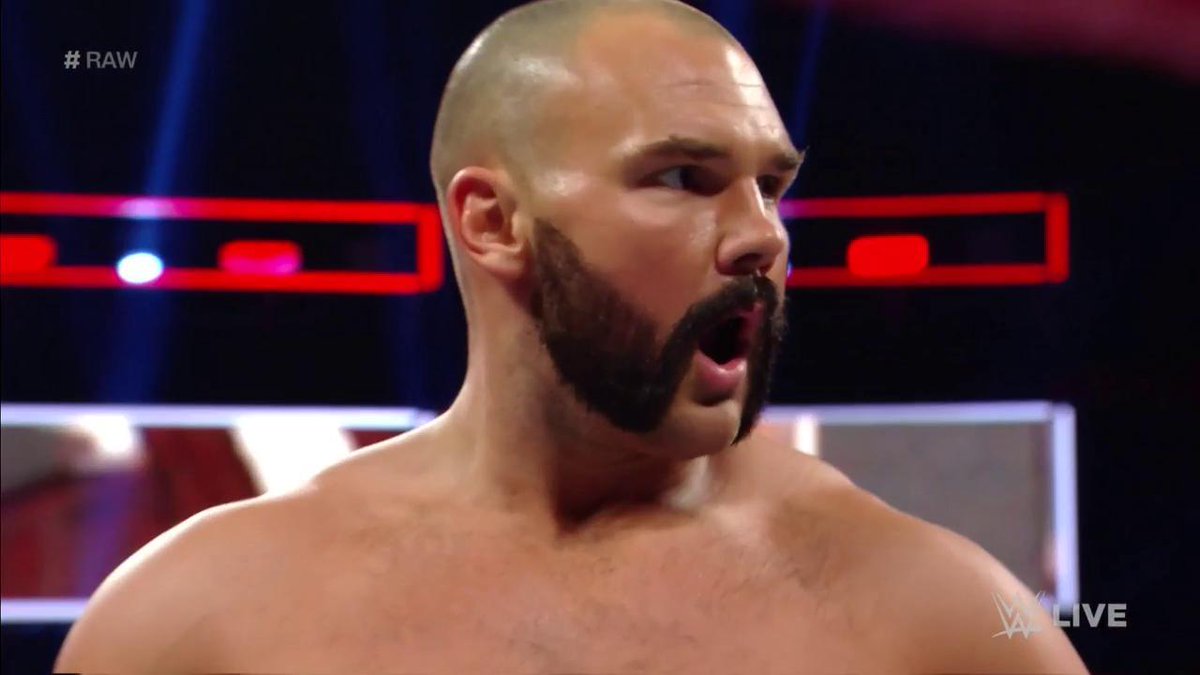 Xavier Woods comes in as he got a blind tag and lands a few shots on Scott. Dash Wilder tags in and Woods tries for his flipping clothesline, but Revival hit their shatter machine finisher for the 1..2..3!
Winners: The Revival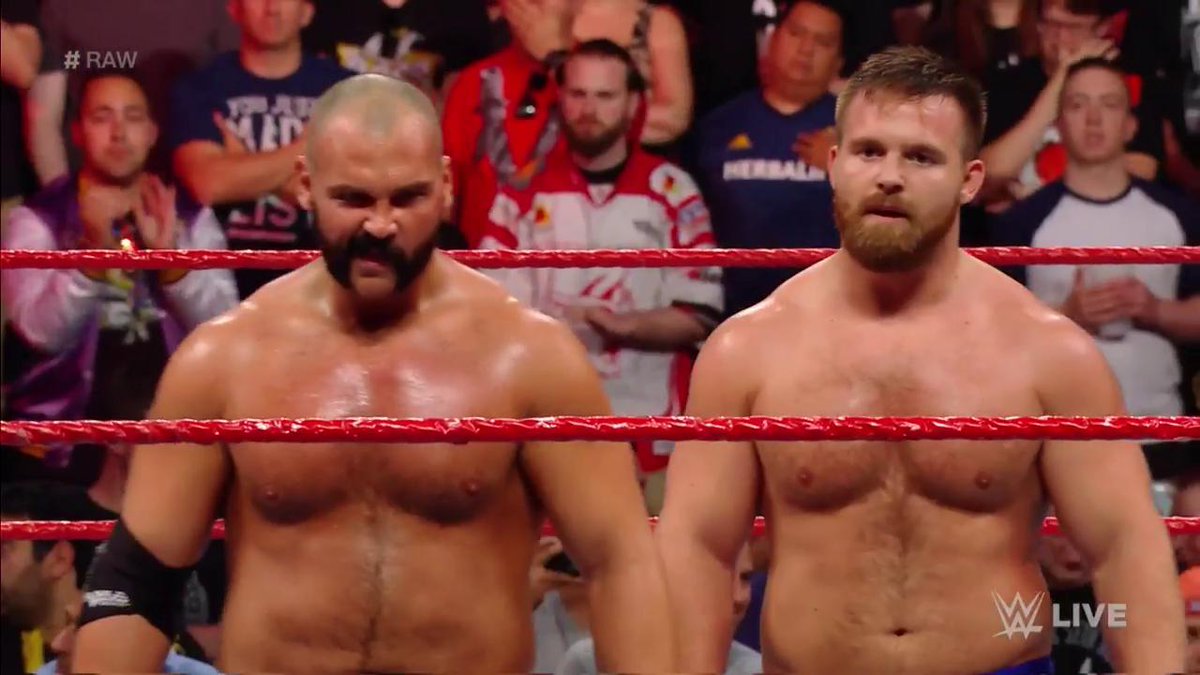 After the match, the Revival lift Kofi from the outside and begin beating on him. Scott positions Kofi into a leg lock, and Dash jumps from the second rope hitting a hard slam looking to "injure" Kofi.
---
BACKSTAGE: Kurt Angle is in the back office. Enzo Amore & Cass comes in and deliver their usual intro promo, but Kurt doesn't seems impressed. Enzo says that they're not doing the best after getting screwed at WrestleMania when the Hardy Boyz got entered into their WrestleMania match for no reason. Enzo goes off, but Angle stops him saying that he has no idea what he's [Enzo] is talking about. Angle says that he can get Enzo and Cass closer to the tag titles, giving them a #1 Contenders match against Sheamus & Cesaro for tonight.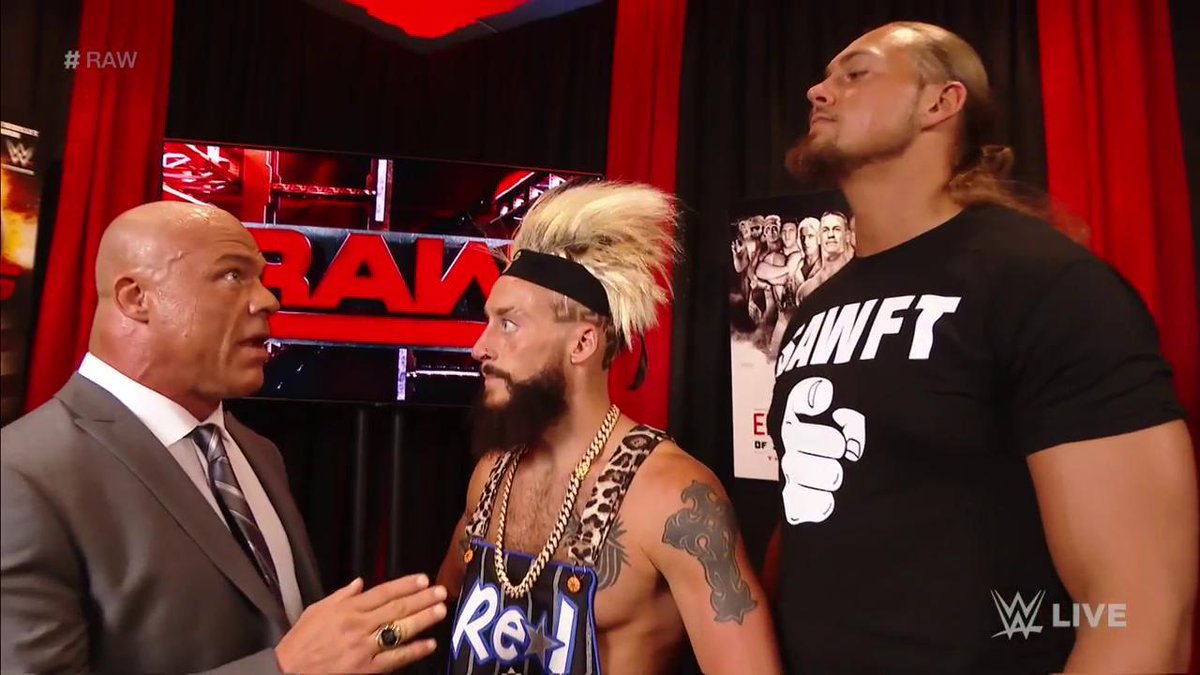 ---
Bayley (c), Sasha Banks & Dana Brooke vs. Emma, Nia Jax & Charlotte
Six Women's Tag Team Match
Emma makes her return to in-ring competition.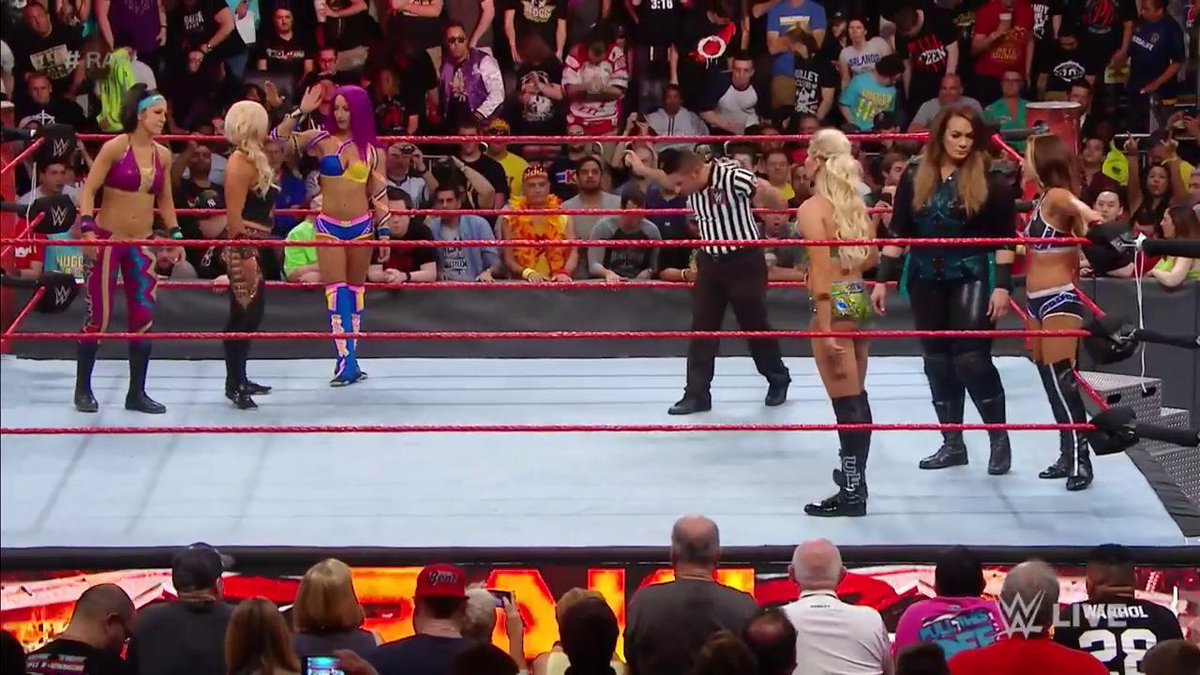 The match begins with Emma and Dana, and Emma dropkicks Dana to her corner and makes Dana tag in Bayley. Both women clinch and Emma takes control of Bayley's arm. Bayley eventually comes back with a few offensive moves, but Emma knocks her to the mat with a hard elbow, taking us into the commercial break.
When we return from commercials Nia Jax is shown beating on Bayley. Charlotte tags in and both hold Bayley up allowing Charlotte to land a hard chest slap. He hangs Bayley upside down and stomps on her stomach. Emma tags in and also stomps on her stomach. Emma tags in Charlotte and she delivers a few knees to Bayley's hamstring. Bayley finally manages to fight back and throws Charlotte the outside. As Bayley almost reaches Sasha Banks, Charlotte pulls her off the apron.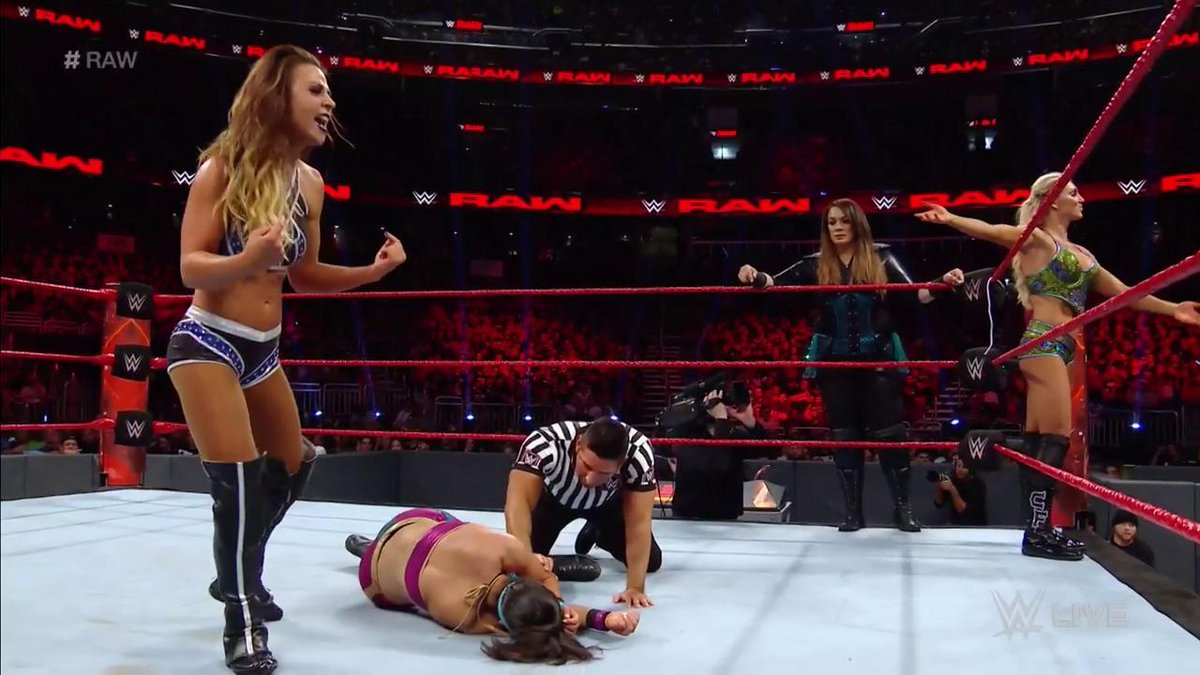 Bayley tries for another tag and would actually tag in Sasha Banks. Sasha hits a double knee on Charlotte. Kicks Emma and Nia off the apron. She drives both knees to Charlottes stomach and pins. Emma breaks it up, but Dana takes her out. NIa comes in but both Dana and Sasha take her out. Bayley jumps on Nia on the outside. Inside the ring, Charlotte tries for Natural selection, but Sasha counters into the Banks-Statement and Charlotte taps out.
Winners: Sasha Banks, Bayley & Dana Brooke
After the match Charlotte pushes Nia and Emma asking where they were. Nia pushes back and begin her attack on Charlotte landing a hard elbow drop to the queen.  Nia leaves Charlotte laid out.
---
BACKSTAGE: Angle is shown in the back talking with Sami Zayn. Sami says that he wants to cultivate a similar relationship he had with Mick Foley with Kurt Angle as well. Angle says that he sees the three "i's" in Sami Zayn, and no matter what he does in his career, he'll do just fine. Sami thanks Kurt Angle, Jinder Mahal comes in and says that he deserves winning the Andre The Giant Battle Royal. Sami and Jinder bicker back and forth with Angle stopping them and making a match between the two.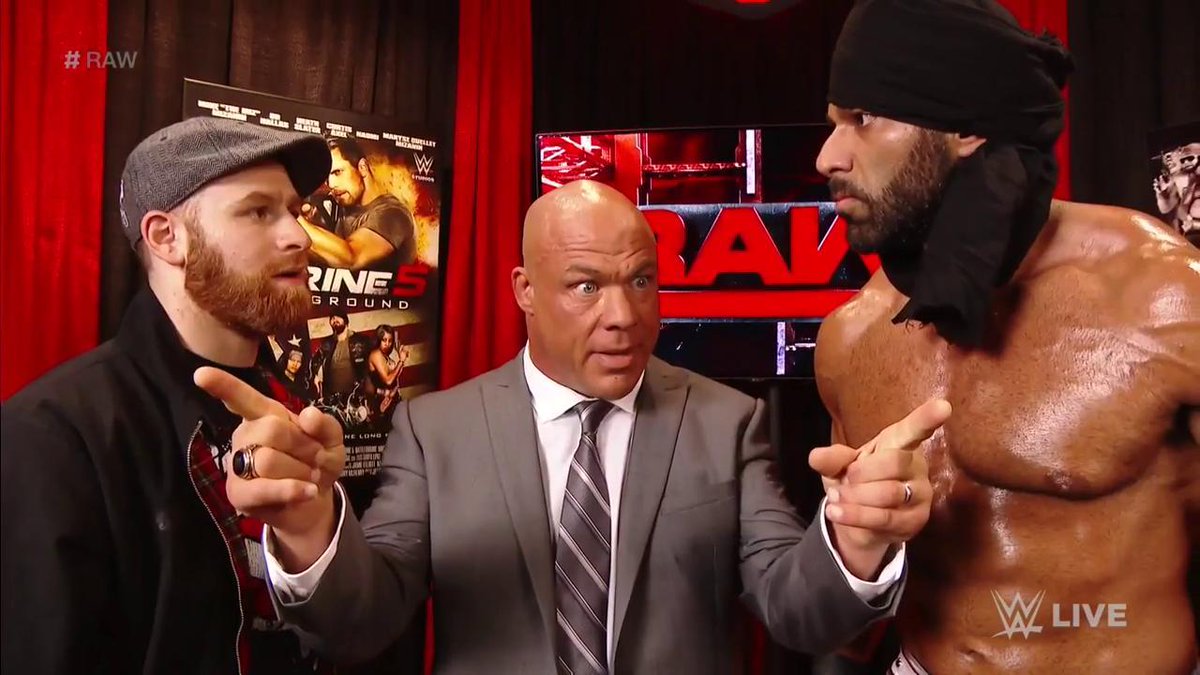 ---
ANNOUNCERS: Brock Lesnar comes out next
---
ENTRANCE: The New Universal Champion, Brock Lesnar along with Paul Heyman make their way to the ring.
Heyman would get on the mic and in his usual fashion make an impressive introduction to himself and his client Brock Lesnar. Heyman says that his client has authorized him to tell a true personal story. He says that Brock wants Heyman to tell a little bed time story which he tells to his children at night. The story, talks about a "hero" [Goldberg] and how Lesnar destroys him once the hero made a wrong turn into Suplex City… but the happy ending is, that we won't be seeing Goldberg around anymore. There, I shortened it. LOL
Heyman continues saying that Lesnar is looking for new challenges and challengers. Heyman begins listing a few talents, Seth Rollins, Matt Hardy, Jeff Hardy, hell even both Hardy's vs. Brock Lesnar. Heyman says that Lesnar is the distributor of the statuesque and begins talking about the 2 or 23-2. Heyman calls forward Roman Reigns to determine who's yard this [the ring] really is. The audience don't really care about Roman and begins a "we want Balor" chant.
Heyman continues saying that if Roman is the "big dog" than Lesnar is "animal cruelty." Heyman says that it's time they give the Raw after mania audience something that they would never forget and says that Roman vs. Brock should go now! But all of a sudden Braun Strowman's music hits.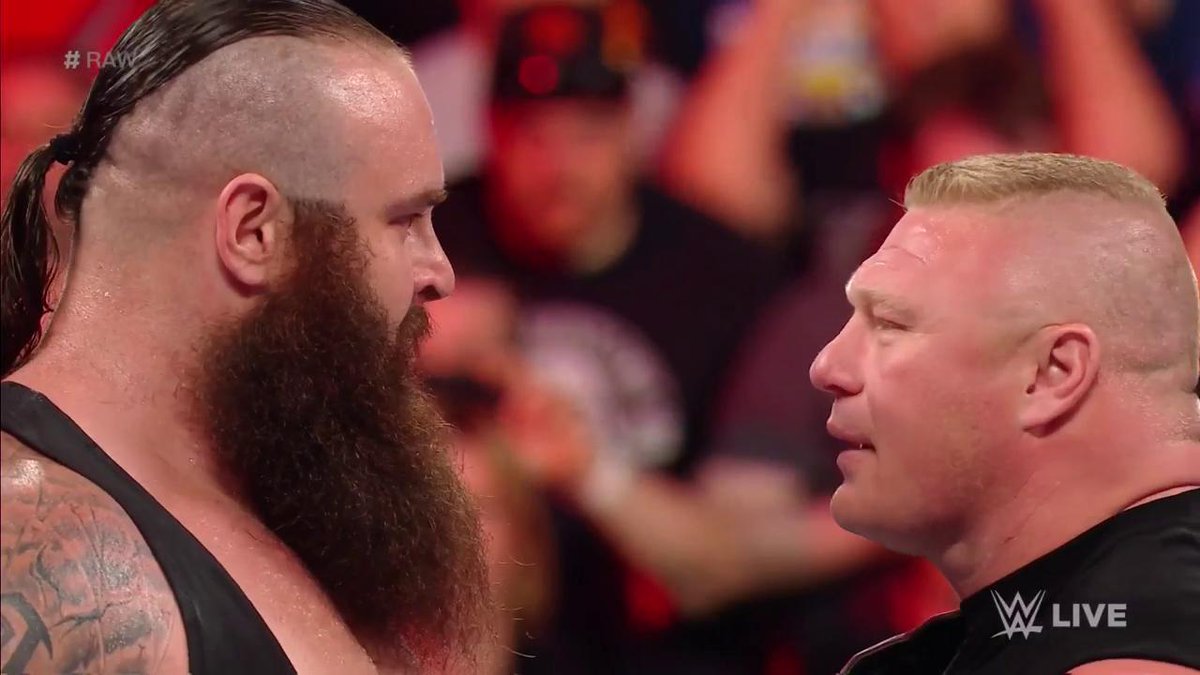 Braun climbs into the ring, and towers over Lesnar. Braun says that when he's finished with Roman Reigns, maybe he'll get Lesnar's attention. Braun pushes Lesnar saying that he's got Braun's attention. Lesnar lays the Universal Title on the mat and beckons Braun to attack.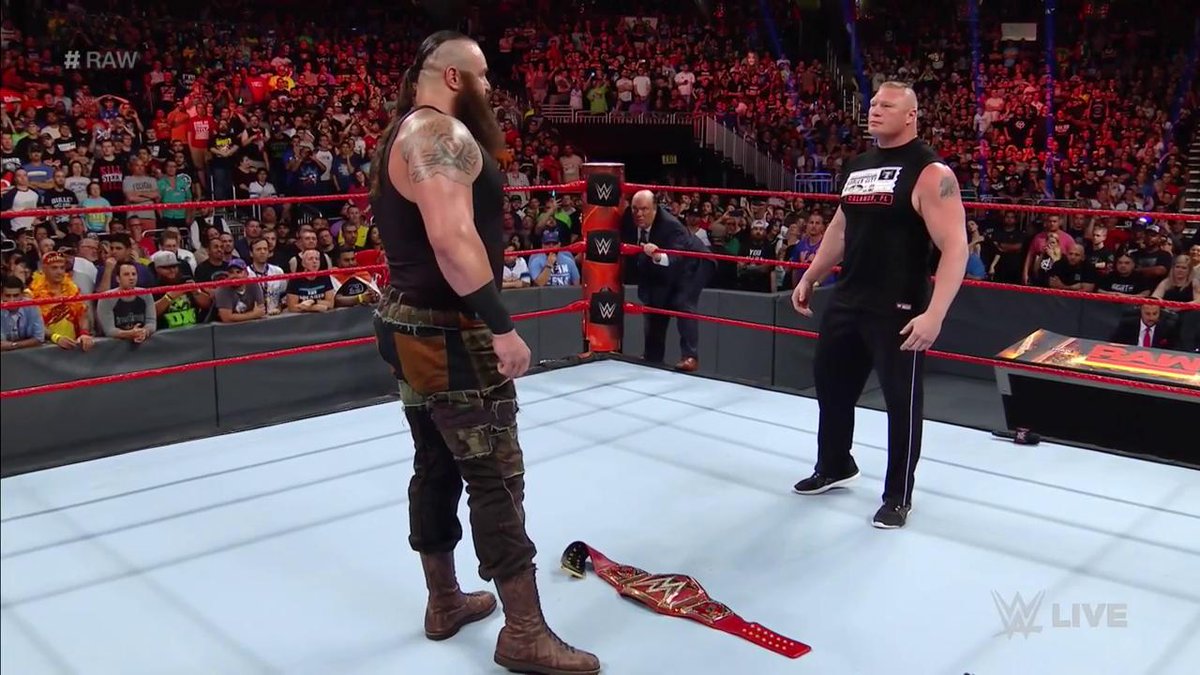 Braun backs off and climbs out of the ring.
---
BACKSTAGE: Charly interviews Chris Jericho backstage and says that in 4 week's Jericho gets his Unites States Championship rematch against Kevin Owens. She asks about his match tonight. Jericho hypes the audience and says that "beach-ball mania" is running wild. Jericho calls everyone the "friends of Jericho, cheer me on maaaaaan!" Jericho continues his promo, until Kevin Owens runs in and attacks Jericho from behind.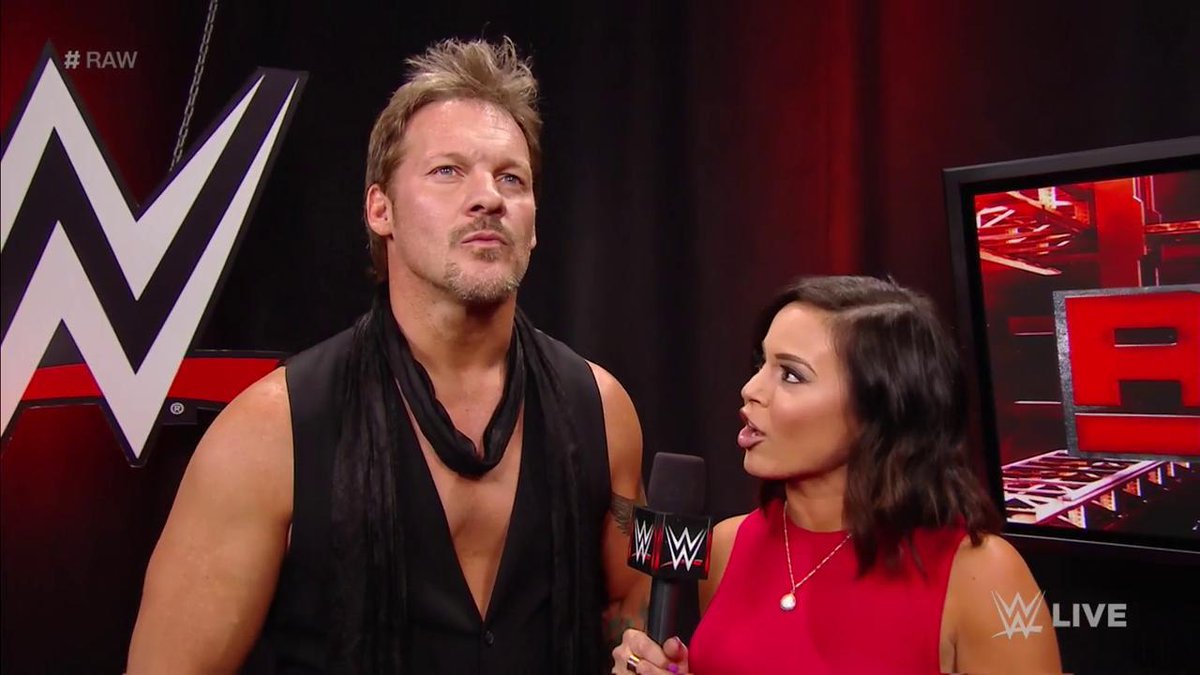 Both Kevin Owens and Samoa Joe beat on Jericho backstage and powerbomb him through a table. Can he make his match, or will Rollins have to find a replacement?
---
BACKSTAGE: We're shown the training room where Kurt Angle steps out from. Rollins meets him and Angle says that Jericho's in no condition to fight tonight, but he keeps the match on, and promises Rollins he'll find him a partner.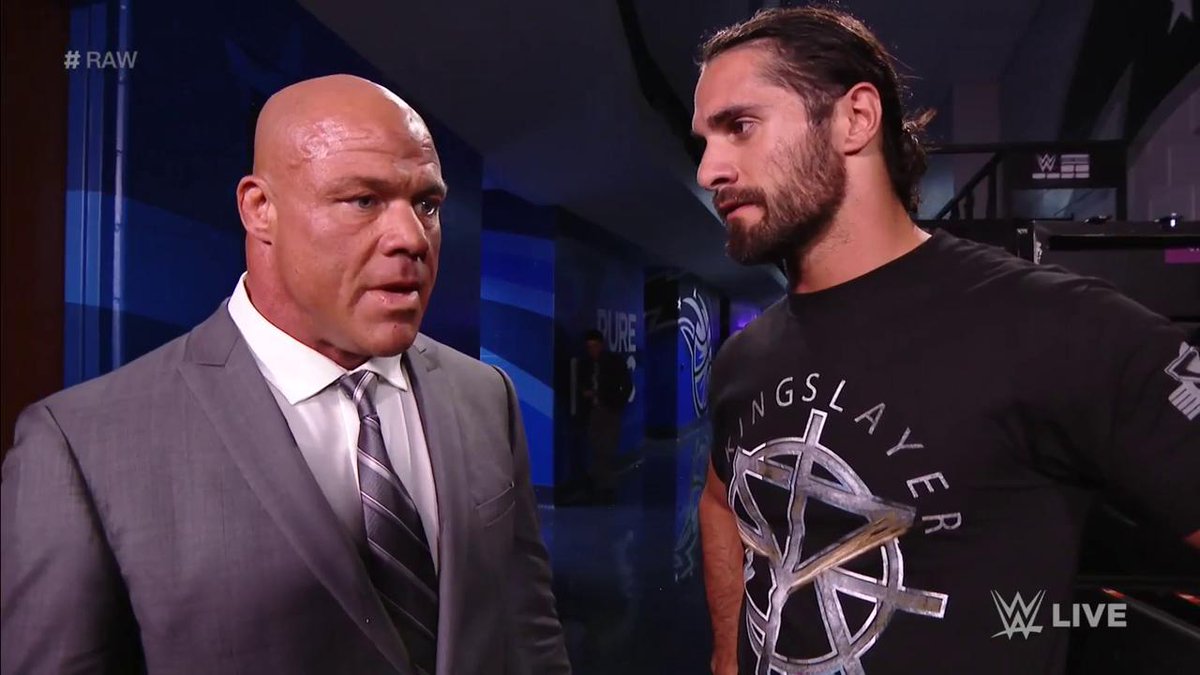 ---
Enzo / Cass vs. Sheamus / Cesaro
-#1 Contender Match For the Raw Tag Team Championship-
Tag Team Match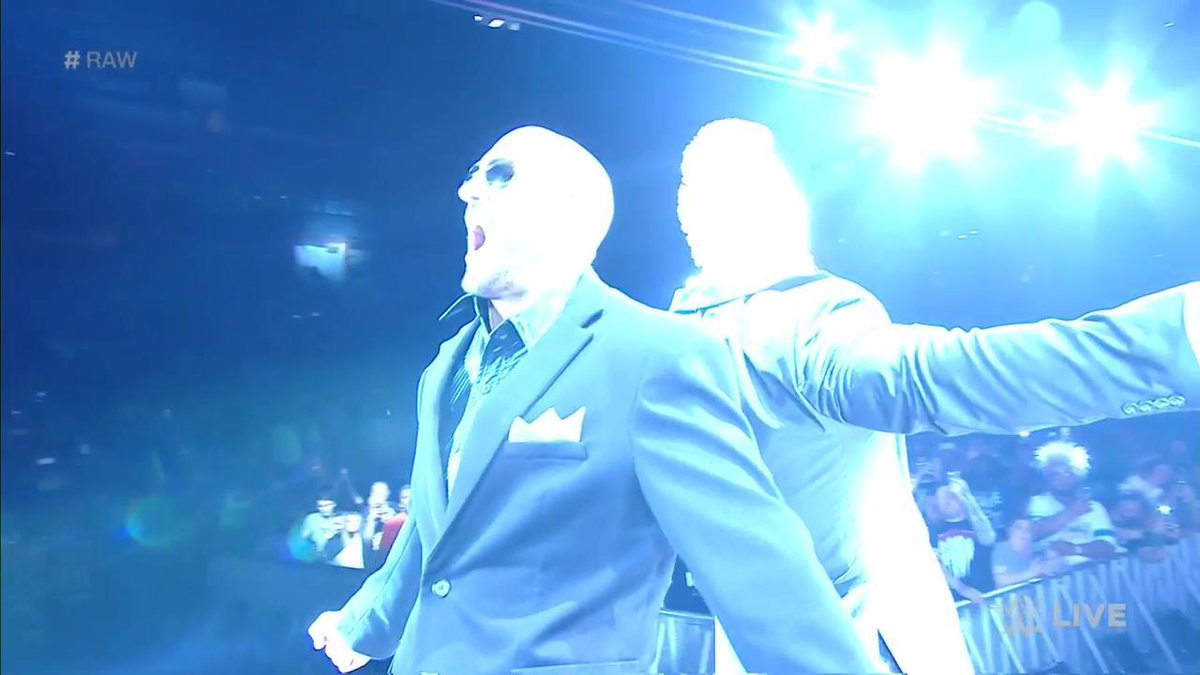 I will admit, i did take a bit of a break during this match… Sorry guys, it's been a lot of recapping this weekend.
Pretty much Sheamus & Cesaro beat Enzo and Cass to become the new #1 contenders.
Winners: Cesaro & Sheamus (#1 Contenders For The Raw Tag Team Championship)
---
Jinder Mahal vs. Sami Zayn
Singles Match
The match wouldn't even start and Jinder Mahal goes on the attack right away taking Sami to the outside. Jinder throws Sami against the steel steps and beats on Sami against the barricade. Jinder again throws Sami against the steps and rolls him into the ring.
The ref checks on Sami and then rings the bell. Jinder goes on the attack quickly, landing a few clotheslines and dropping a few knees to the chest. Jinder continues the assault and drives his knee into the lowerback of Sami. Jinder lands a few more knees to the chest and pins for a 2 count. He locks in a choke, but Sami fights back and hits an exploder suplex in the corner. Sami hits his Helluva kick and pins for the win.
Winner: Sami Zayn
---
Kevin Owens (c) & Samoa Joe vs. Seth Rollins & ….
Tag Team Match
Seth Rollins would make his entrance and waits in the ring for his partner picked by the new General Manager Kurt Angle. His partner would be the returning Finn Balor.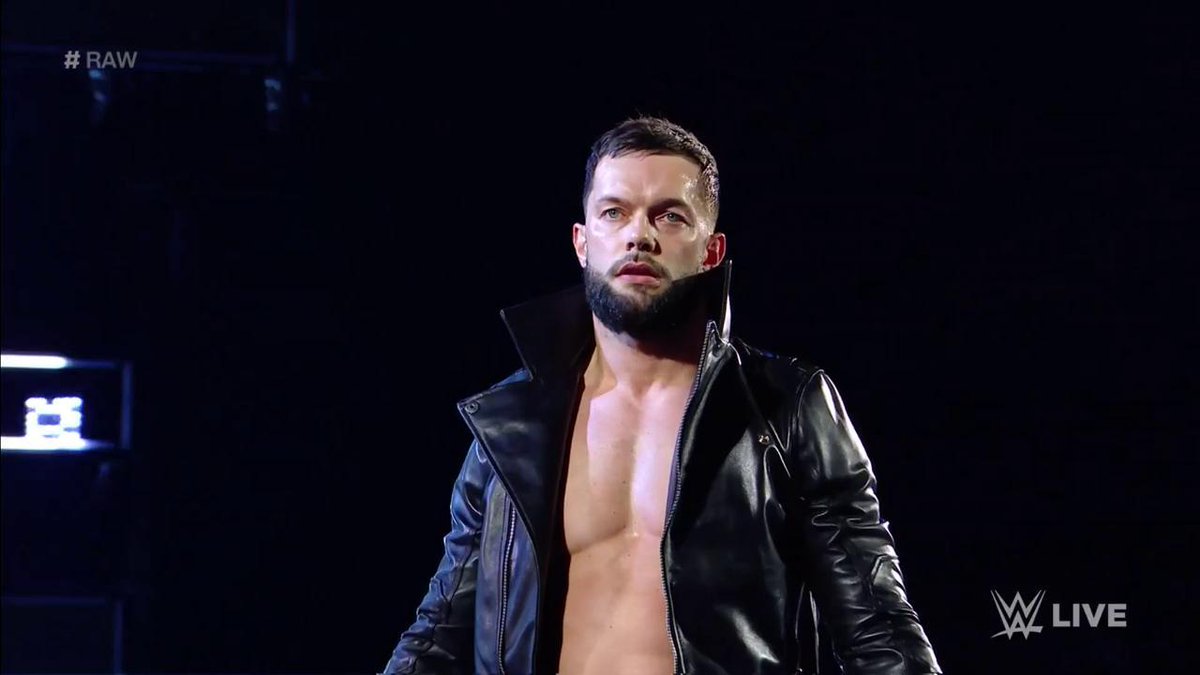 Kevin Owens (c) & Samoa Joe vs. Seth Rollins & Finn Balor
Tag Team Match
Before the match could begin… Raw cuts to commercials.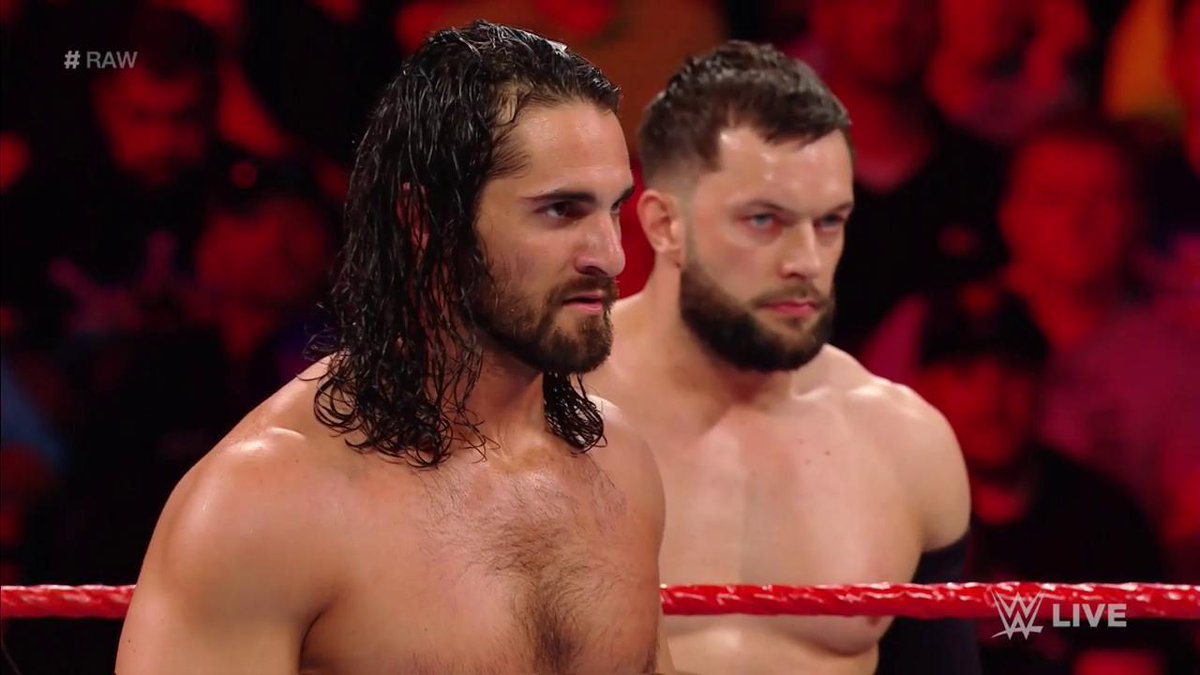 When we come back from commercials the action begins and Rollins starts things off with Kevin Owens. Both men go back and forth with a bit of chain wrestling, but Owens takes the advantage with a hard shoulder tackle. Rollins counters with a few kicks and tries for a suplex. Owens counters into a pin, which Rollins reverses into his own. Both men stare off.
Samoa Joe tags in and both he and Rollins begin exchanging punches. Joe gets the upper hand with a few punches in the corner. Rollins comes back with a few of his own, but Joe drops him with a huge left kick. Owens tags in and lands a few punches in the corner and mocks Finn Balor on the apron. Rollins manages to counter an attack from Owens and smashes his face against the turnbuckle. Rollins holds Owens and pulls him to his corner and tags in Finn Balor.
Owens backs off, but Finn comes for the attack and lays him out. Balor climbs to the top rope but Owens rolls to the outside. Balor runs around the ring and hits a hard dropkick taking Owens to the barricade. Balor tags in Rollins and both men try for a double move, but Owens goes to the outside. Rollins runs the ropes and hits a nice suicide dive on Owens. Joe tries to attack but Rollins rolls into the ring. As Joe helps Owens, Rollins runs the ropes again and lands on both men at ringside.
Rollins rolls Owens into the ring but Owens kicks his knee and hits a big DDT. Owens pins but gets a 2 count. Joe tags in and delivers a few punches to Rollins in the corner. Joe hits a hip attack and kick to the head to give him a 2 count pin on Seth Rollins. Owens tags in and chokes Rollins in his corner. Owens lands several focused punches to Rollins and finishes it with a senton. Owens pins for a 2 count.
The assault continues as Joe and Owens tag in and out focusing on Rollins knee. Rollins almost gets the tag but Joe slams him back on the mat knee first. Joe goes for a senton, but Rollins moves out of the way. Joe tries to stop Rollins again, but he counters landing his head kick on Joe. Finn Balor would get the tag.
Balor comes in hot taking out Owens and hitting Joe off the apron. He dropkicks Owens and takes him to the corner landing a running knife-edge chop. Balor hits a hard head kick and positions Owens. He climbs to the top rope and goes for his finisher but Owens gets back on his feet. Owens catches Balor as he runs the ropes and slams him to the mat. Owens tries for the pop-up powerbomb, but Balor counters with the sling-blade. Balor goes for the running dropkick, but Joe catches him with the choke. Rollins rebounds off the rope and hits Joe with a knee. Owens hits a superkick to Rollins. Balor now connects his running dropkick and hits his top rope finisher and pins Owens for the 3 count win.
Winners: Seth Rollins & Finn Balor
And that was Raw after mania guys! Hope you enjoyed it! We now have the debut of Revival, Angle as the GM and the return of Finn Balor. Next week we also have a "shake up" on the rosters. This will be interesting.
Any missed highlights will be uploaded tomorrow.
Thanks for reading.
Cause Carnage, Watch Wrestling