Wrestlemania 33 was as much as entertaining as it was sad, as a realization that many fans believed was coming soon.. actually came to fruition. The Undertaker possibly wrestled his last match.
As a fan it was sad to see Taker suffer another loss at Wrestlemania, this time at the hands of Roman Reigns. His loss though wasn't what was memorable in my mind, as after the match Taker put on his jacket and hat and stood in the middle of the ring. What was to follow made a huge impact and spoke words. Taker would slowly remove his gloves, his jacket and followed by his hat and lay them in the ring, a sure sign that this was in deed the ending of the deadman.
Undertaker has had an illustrious career with an over the top character which worked too well. He planted fear in fans and his opponents for at least two decades and made us believe that he was truly unstoppable. From his debut back in 1990 to his apparent last match in 2017, Taker was a house hold name and was synonyms with WWE. The Undertaker was a character that many had nightmares about and left an impression on you. Whether through a match or using his dark powers, Undertaker knew how to work the audience and in his prime was the most unstoppable force anyone could face.
There are so many moments in Takers career that made him special, and for sure there are more than 3, but here are my 3 moments when Taker truly planted fear in me.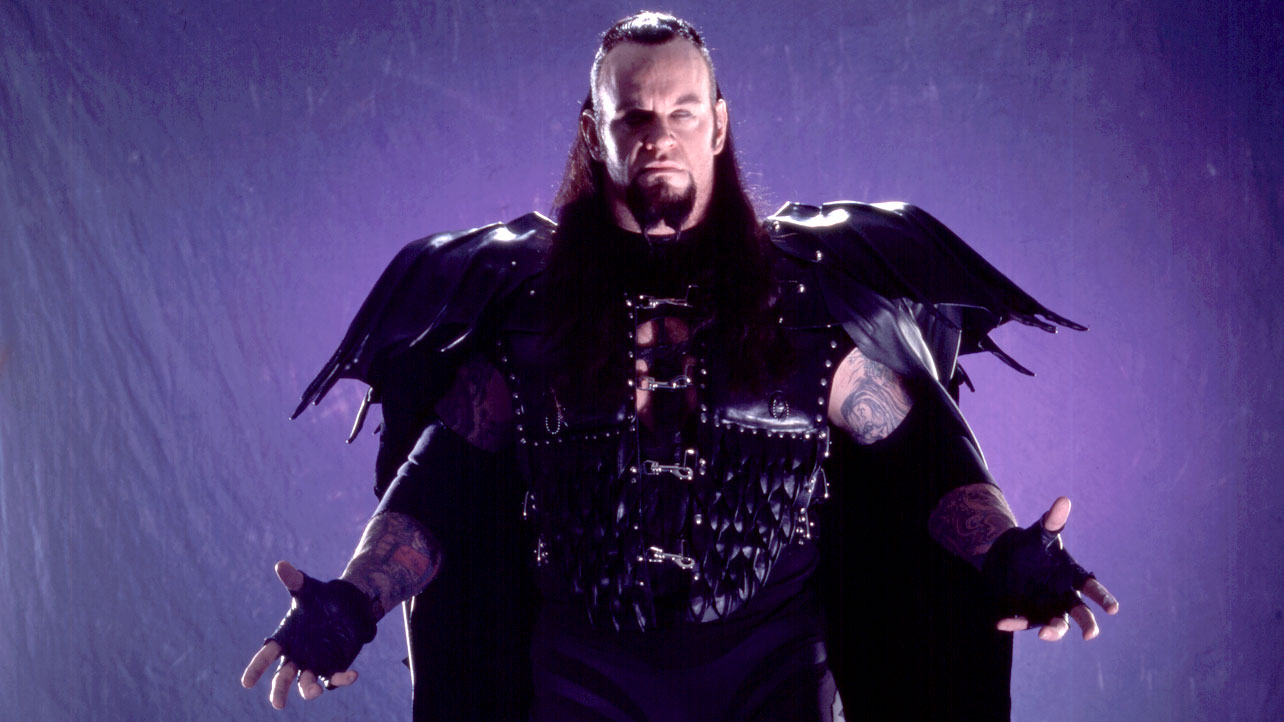 Ministry of Darkness
There was a time in WWE where the Undertaker took an even more darker turn in his career. He would hone a dark hooded robe and portray a more demonic presence. Taker at this time didn't do a ton of wrestling as he had just undergone a hip replacement, but his non in-ring action is what made him even more creepier. Dawning the black robe, sitting on a custom throne just watching his Ministry of Darkness (Christian, Edge, Gangrel, The Acolytes, Viscera & Mideon) take control over the WWE. He would even at one point crucify Stone Cold Steve Austin on his symbol high above the entrance area.
This was a time in WWE that Taker was truly a character on his own and inflicted an unknowing on the fans. We had no clue what devilish action he would take next, or how he could go darker the following week. Taker was also even apart of a "Dark Wedding" with Stephanie McMahon which really creeped me out. A helpless women tied to Taker's symbol and forced to get married to this man. It was something to witness. So let's witness it again:
---
The Invention of the Buried Alive Match
Mortality is something that everyone has to live with. You will die someday. But one fear is being buried alive, and the Buried Alive match truly heightened that fear. It was a match idea developed in 1996, and Mankind vs. The Undertaker had made way into showcasing this match on WWE TV. It was a terrifying concept where you literally had to bury the man alive under dirt, and it's something that I fear to this day.
Taker was synonyms with this match and was featured in all 5 of them spanning 1996 to 2010. No matter the outcome, it was always a site to see, especially the times where Taker would lose and his hand would raise from the grave. Taker was always unstoppable. Here's one video I found featuring Taker & Big Show vs. Rock and Mankind during Smackdown and one of these buried alive matches:
---
Ascend into Heaven
There was one moment that always sent chills down my spine, even to this day. It may have been a bit corny, but during a casket match with Yokozuna Taker would end up losing the match with help from the entire WWE locker-room. They positioned the casket near the entrance area as smoke came from inside and Taker would come on the titon-tron. He delivers a creepy message that he will be reborn. After that, the camera pans out you can see Taker Ascend into the heavens. Well sort of, I don't think that was Taker himself but just a copy of him.
It was just such a creepy feeling watching that and listening to his music at the same time just sent goosebumps up and down my arms. This was one memory that I can't forget as it was such a memorable moment that really showcased the capabilities of the Undertakers character. Again some may call these a really cheesy WWE Jesus moment, but for me it was memorable especially watching it as a little kid.
Thankfully, WWE actually has that video available. Check it out below:
---
There are way too many moments from the Undertakers career to relive. So this is why I wanted to share those three that really made me see the potential in the Undertaker and truly feel his character. He was a man of mystery, and had several moments in the ring and out of the ring that made you want more.
If we truly did experience the Undertaker's last match, it was an honor to witness what he did prior to it. To those fans who will never watch Taker in his prime, you truly did miss out on a great wrestler. But no matter what, Taker will always be remembered for being the scariest and most terrifying deadman ever to walk this blue earth.
Share your memories below, what was your most memorable moments from the Undertakers career?