Show: Monday Night Raw
Date: April 24, 2017
Venue: Spring Center Arena, Kansas City, MO
Author: Cade Carnage
Make sure to follow me on twitter to communicate with me live during Raw.
Following the monstrous show last week where both Braun and Big Show imploded the ring, we get some backlash tonight as Kalisto has challenged Braun Strowman to a Dumpster match…. yup, we're going there. Pinpointing Kalisto's career in one match. Welcome to Raw!
But nonetheless I feel this match may bring forth a returning Roman Reigns… potentially…. maybe…. or Braun's just going to throw Kalisto around and dump him like yesterday's trash. Which reminds me, I need to dumb yesterday's trash.
Other than the dumpster match, there'll be more Women's title segment featuring the new #1 contender Alexa Bliss. Miz and Dean Ambrose bickering back and forth. And a lot more.
Remember to keep refreshing this page for the latest details and highlights [when available]. Also make sure to hit that follow button at the bottom of the website to stay in the know and be one of the minds of carnage!
So let the recap begin!
---
RAW
VIDEO: Raw kicks off with a video package of Braun's attack on Roman Reigns two weeks back and from the attacks from last week where he fought Big Show.
OPENER: Raw kicks off with Chris Jericho making his way to the ring for the highlight reel.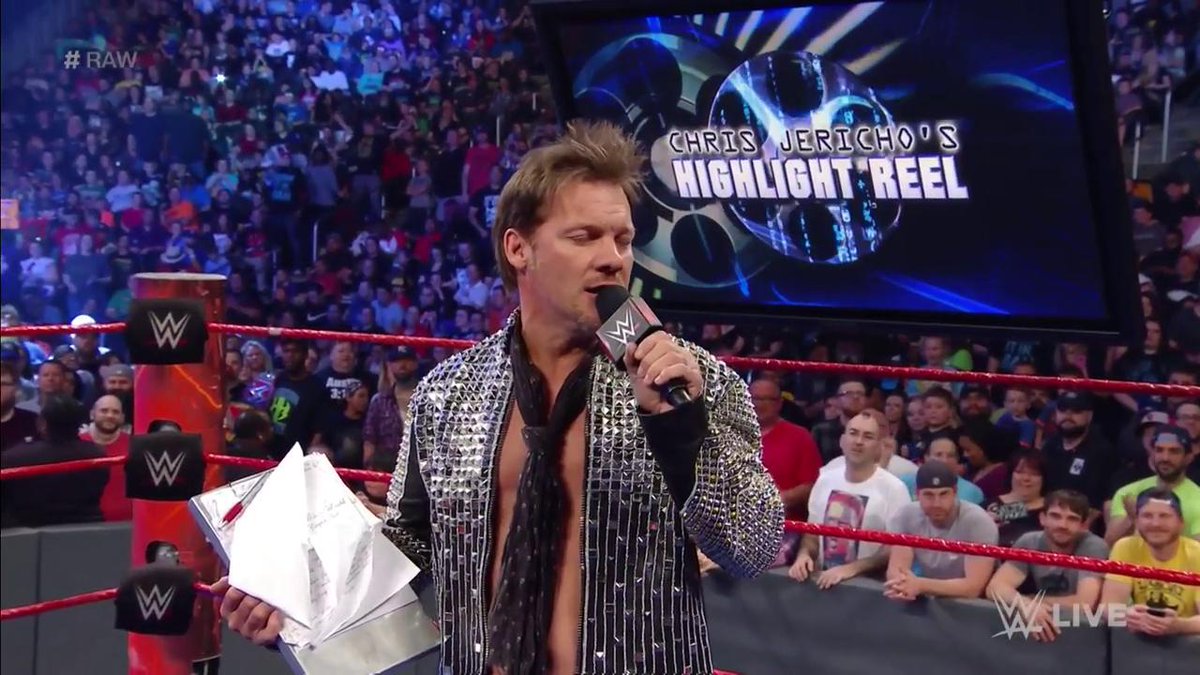 Jericho welcomes everyone to a "monumental edition" of the highlight reel, as he claims it will be the last one on Monday Night Raw. He claims that he will beat Owens this Sunday at Payback to win the US title and will head to Smackdown Live. Jericho says that no matter what the audience will always be the "Friends of Jericho." He continues saying that he needed a sexy beast for this special show, and introduces….. himself!
Jericho recaps Owens going to Smackdown Live and how he claims that he's the "face of America" and makes fun of his looks. He calls Owens the "hemorrhoid of America." He was about to add him to the list, but Miz and Maryse make their way out.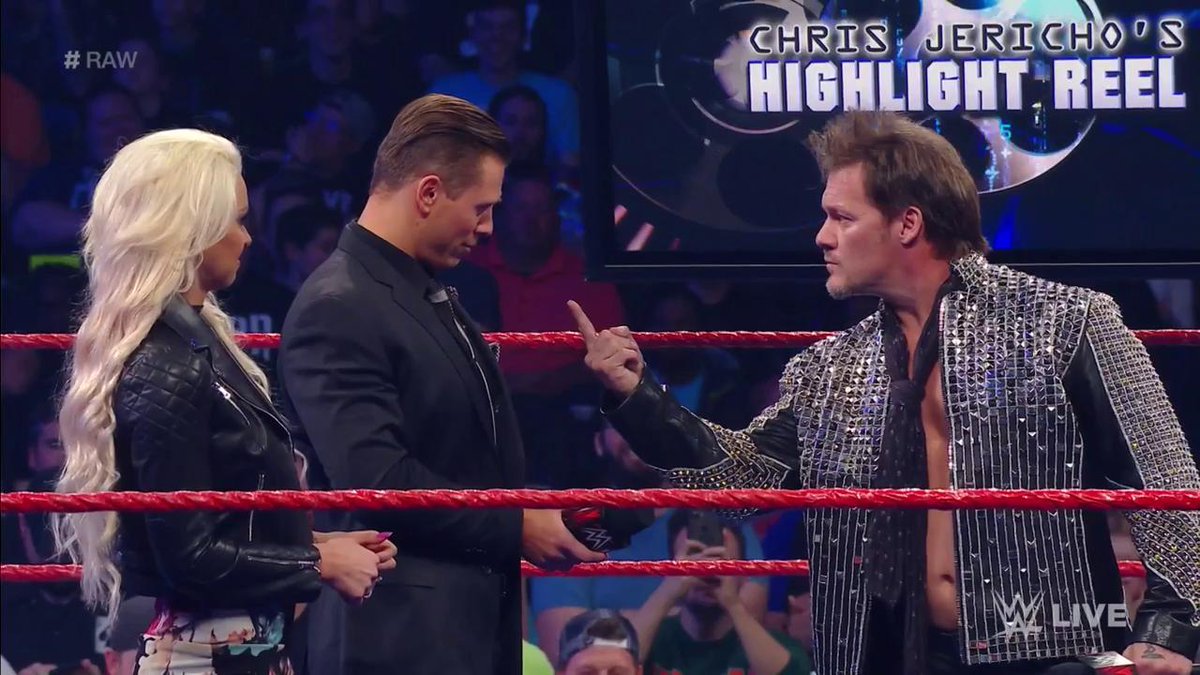 Miz says that Raw is no longer Jericho and that it hasn't been since we [Miz and Maryse] arrived. Miz says that Raw is all about the "it couple." Jericho jokes saying that Miz better watch…..[long pause] IT COUPLE! Miz isn't impressed and says that the Highlight Reel has officially been cancelled and has been replaced with MizTV. He calls for the ring crew to change the set.
As the ring crew changes the set and adds Miz' chairs into the ring, he was about to introduce his show, that is until Dean Ambrose' music hits and he interrupts the IT COUPLE. Dean comes in and says that Jericho had a point, calling Miz a Stupid Idiot. Miz says that Jericho never said that, but Jericho said he was thinking it.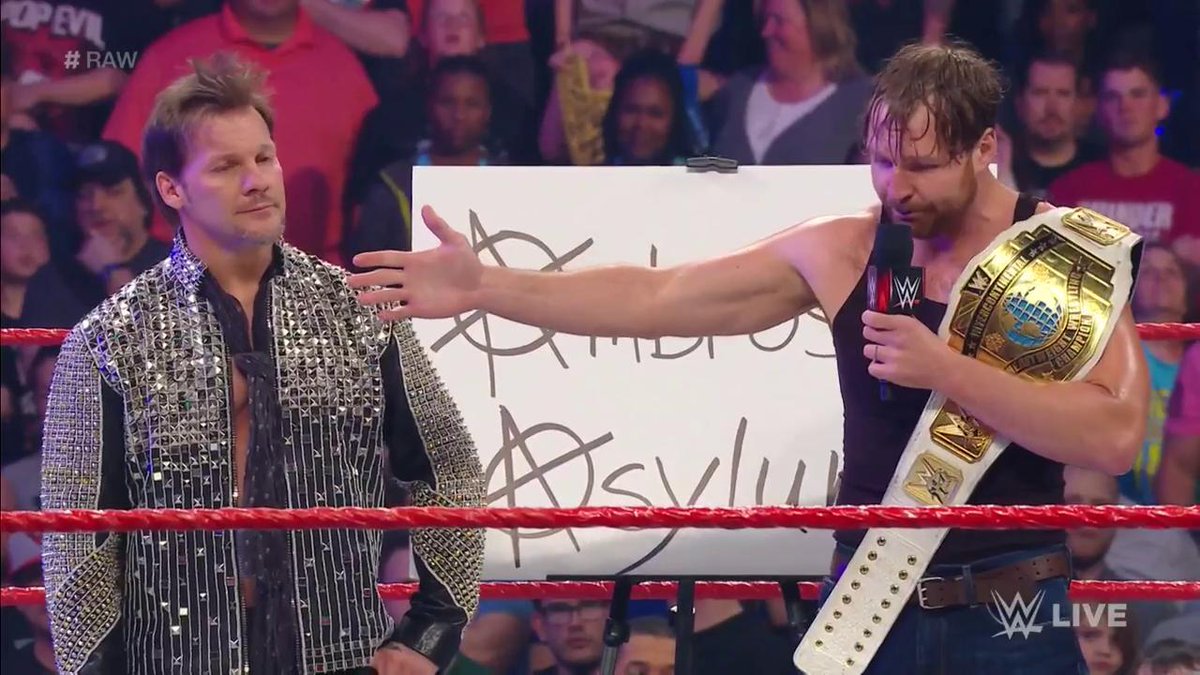 Dean continues saying that no one wants to see an episode of MizTV and calls the ring crew. The ring crew set up the Ambrose Asylum talk show. Dean introduces his guests Jericho, Miz and Maryse [because they were there already.] Dean says that he'll be rooting for Jericho on Sunday at Payback but he believes that Jericho will come out on top. Dean mentions the checkered history between him and Jericho and apologizes for destroying the light up jacket. Dean though gives him a present which is a jacket, with Christmas lights glued on.
As Jericho was going to try on the jacket, Miz stops them saying that that's the type of quality that comes from an IC title who is a slacker. He claims that Ambrose devalues the IC title and that everyone should be thankful Miz is on Raw. Miz is the one that should be receiving gifts. Dean says that he does have a gift for Miz and hits the dirty deeds.
Jericho then asks Maryse "you know what happens when you're married to the Miz, you know what happens when your husbands a stupid idiot? You just made the list." Maryse made the list…
---
ANNOUNCERS: Matt Hardy faces Sheamus on next on Raw.
---
Sheamus (w/ Cesaro) vs. Matt Hardy (c) (w/ Jeff Hardy (c))
Singles Match
The match gets started quickly as Matt tries for a quick pin on Sheamus. Matt hits a few leg drops and a elbow drop and gets a 1 count pin. Sheamus tries to get in some offence but Matt counters his attempts and hits the side effect to Sheamus on the apron leading us into a commercial.
When we return Sheamus has the advantage over Matt and lands a hard forearm to Matt from the top rope. Sheamus tries for the white noise, but Hardy counters. He hits a spinning DDT from the second rope and begins landing multiple punches to Sheamus getting the upper hand. He drives Sheamus into the turnbuckles and hits a hard clothesline and a running bulldog. Matt hits a elbow drop and pins for a 2 count.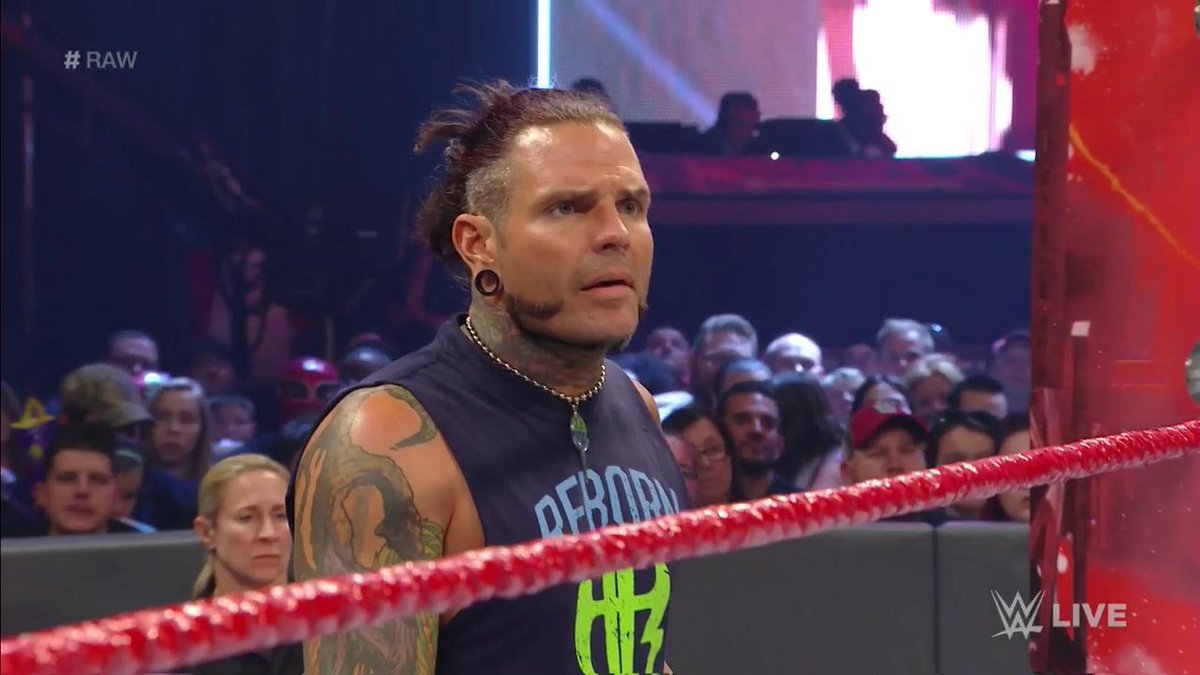 Matt tries for the twist of fate, but Sheamus kicks him to the outside. Matt tries for the twist of fate on the outside, but Sheamus hits a rolling senton. As Jeff checks on his brother, Sheamus pushes him away. Jeff and Sheamus start to argue and Cesaro pushes Jeff off the apron. As Sheamus gets distracted Matt hits the twist of fate and pins for the 3 count.
Winner: Matt Hardy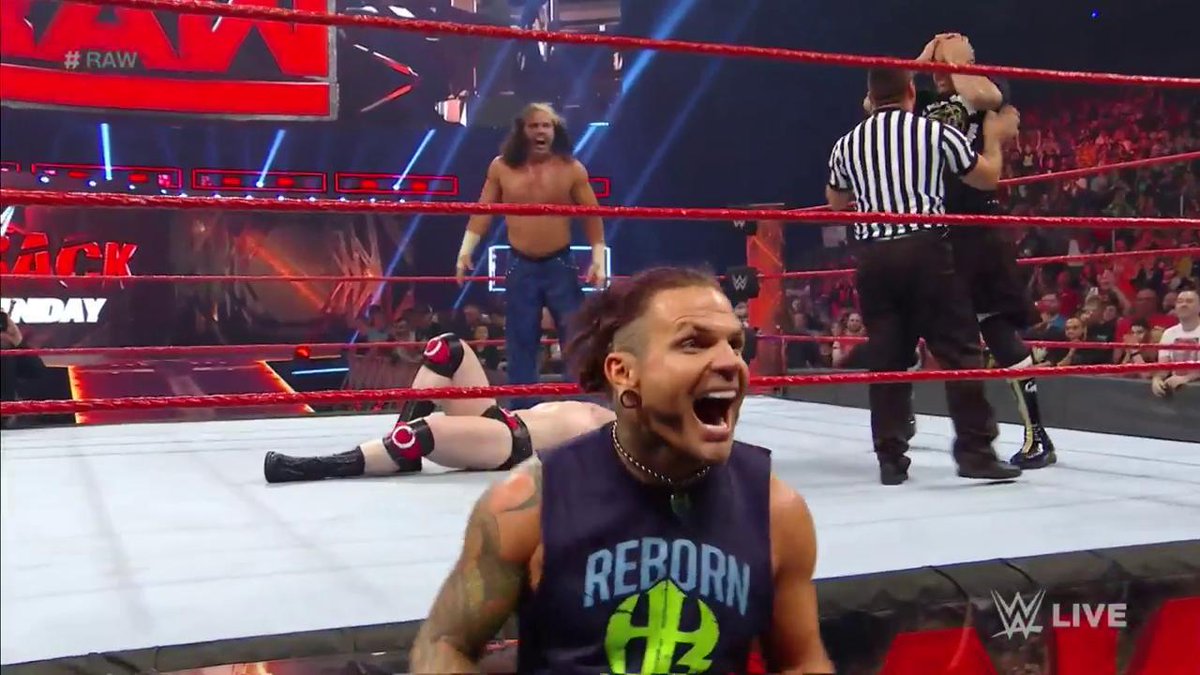 Cesaro is not impressed from the distraction and argues with the Hardy's. Sheamus tries to calm Cesaro and asks for a hand shake from Matt. They shake hands and celebrate.
---
BACKSTAGE: Kurt Angle is talking on the mic and talks about the upcoming Dumpster match later. All of a sudden the phone goes dead as Miz hangs the phone up. Dean says he's been waiting for Angle for a bit and Miz says he wants action taken against Dean and Jericho for their actions earlier. Angle says that any problems are solved in the ring and says that Miz can find a partner as he'll face Dean and Jericho tonight.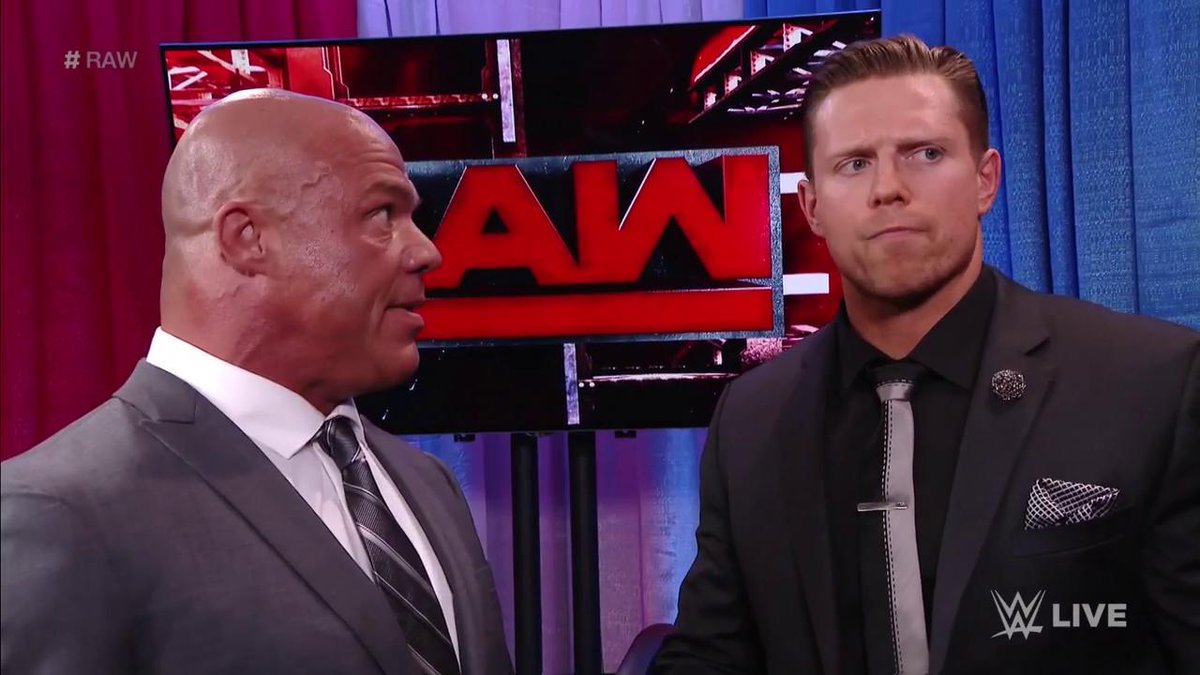 ---
Neville (c) & TJ Perkins vs. Austin Aries & Jack Gallagher
Tag Team Match
The match doesn't start as Aries and Jacl run into the ring and attack Neville and TJ right away. They brawl it out for a bit and Aries and Jack throw TJ and Neville out of the ring leading us to commercials.
 When we return from commercials TJ and Neville have control over Jack. Jack though manages to come back and tags in Austin Aries. Aries comes in quickly and lands a few offensive moves on Neville and TJ. Aries keeps control and hits a running suicide dive on both TJ and Neville. Aries pins for a two count and locks in his submission finisher. Before TJ can tap out, Neville breaks it up. Jack comes in and attacks Neville with a few shots and an uppercut. Neville comes back with a few shots, but Jack hits a hard headbutt taking Neville out of the ring.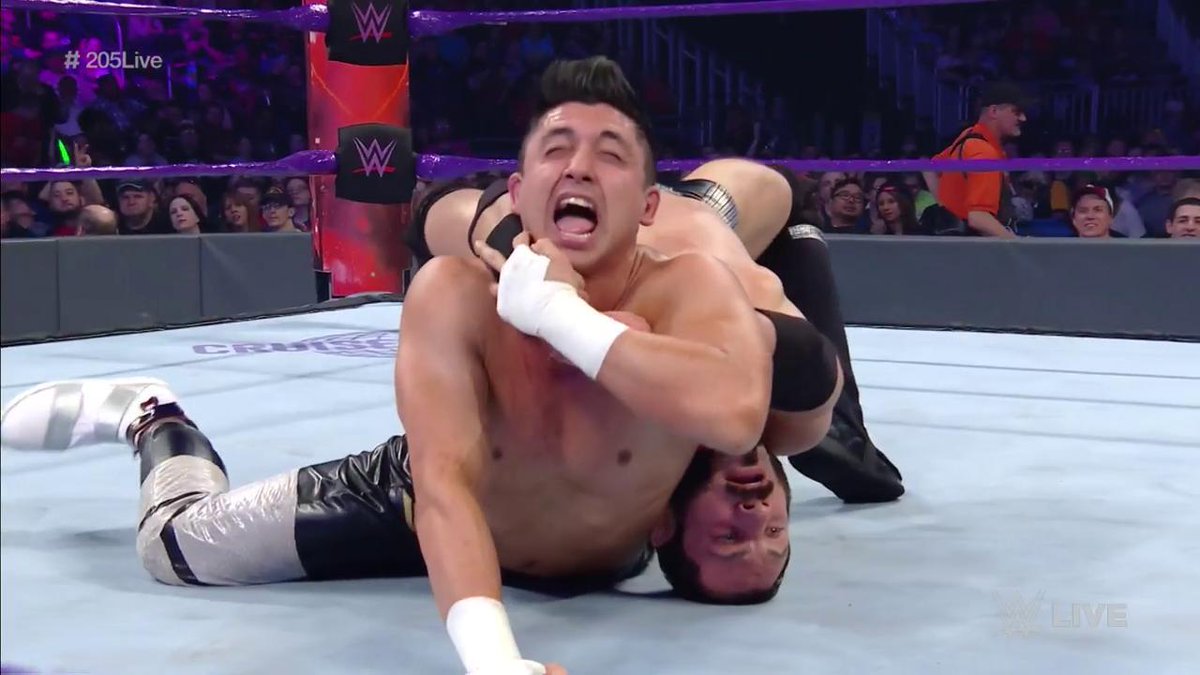 Jack counters a kick attempt from TJ and Austin hits his discuss finisher and pins TJ for the 3 count.
Winners; Jack Gallagher & TJ Perkins
---
Braun Strowman vs. Kalisto
Dumpster Match
Just as a coffin match, a Dumpster is sitting at ringside right beside the ring awaiting for someone to be thrown in. When Braun enters for the match he lifts the cover of the dumpster open.
Before Kalisto could come out, Braun got on the mic and says that everyone in the entire arena, are nothing more than trash. Braun says that when he stuffs Kalisto in the trash, it will be as he will be stuffing every person in the trash, especially Roman Reigns.
Backstage Kalisto is talking to Angle saying that he doesn't like being treated like garbage. He says lucha means that you fight for your pride, and if he can't fight for that, he can't fight for anything. Kalisto finally makes his way to the ring. Kalisto also has new gear and a new entrance theme.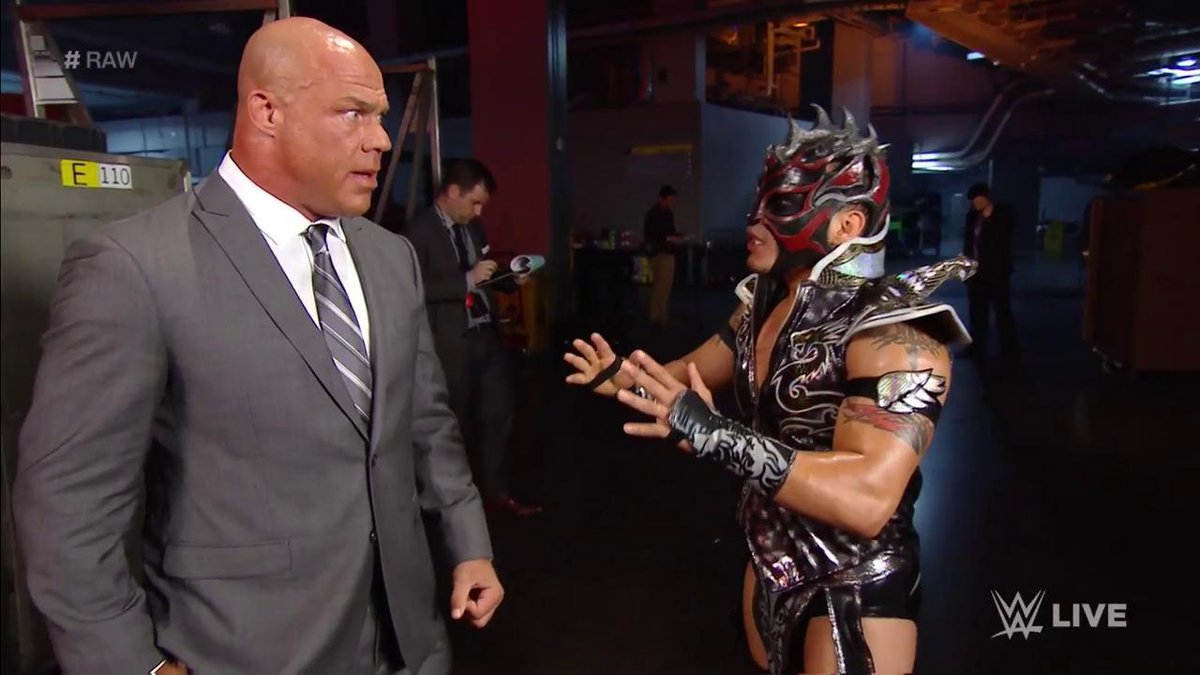 The match begins and Kalisto manages to land a few kicks but Braun would grab him and try to throw him into the dumpster. Kalisto would grab the ropes and connect a head kick. Kalisto hits a rebound DDT on Braun and tries for a cross body. But Braun catches him and throws him across the ring. Braun lands a clothesline in the corner and steps on Kalisto.
Braun points at the Dumpster and carries Kalisto there, but Kalisto grabs onto his head and almost pulls Strowman in the dumpster. Braun pulls him up again and throws him into the ring. Braun hits a gut kick and a running clothesline to Kalisto in the corner. Braun lands a few more forearms to the chest and lays out Kalisto. Braun again tries to throw Kalisto into the dumpster but Kalisto hangs onto the ropes. Braun climbs to the apron and tries to slam Kalisto in but Kalisto jumps back into the ring, and kicks Braun's legs out making him land directly into the dumpster. Kalisto wins.
Winner: Kalisto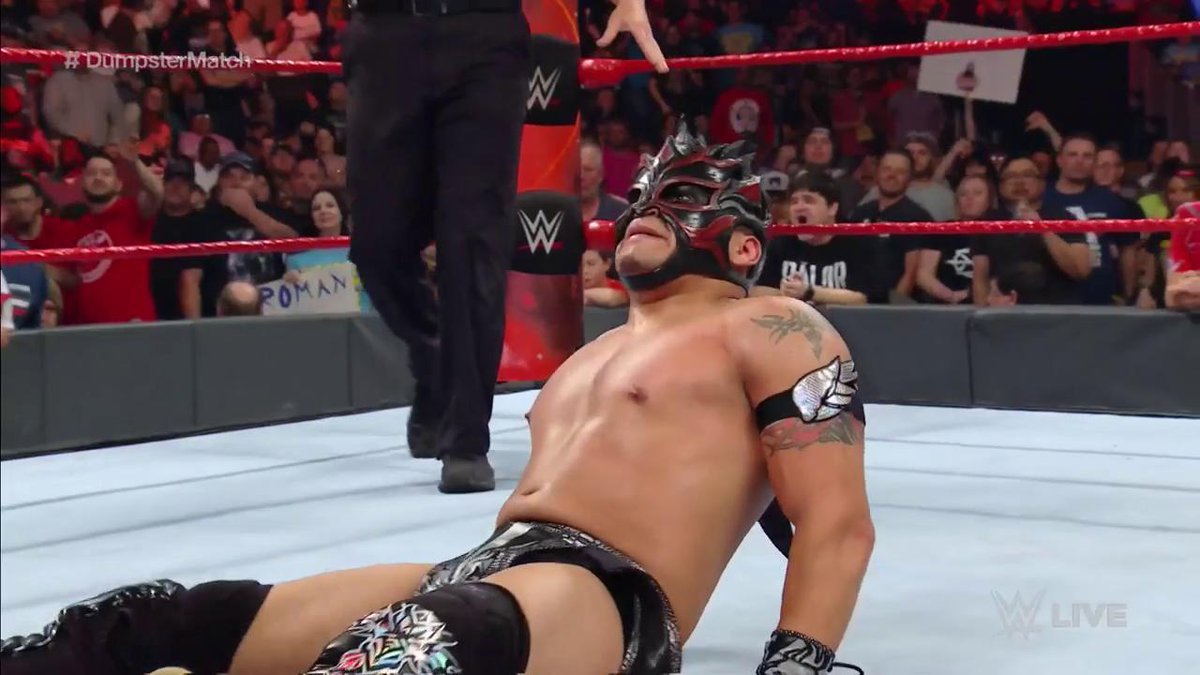 Strowman who obviously is not happy begins beating the crap out of Kalisto, lifting him off the mat with one arm and slamming him back down three times. Braun throws Kalisto out of the ring and slams him against the barricade… HARD! Braun lifts him up and throws Kalisto into the dumpster.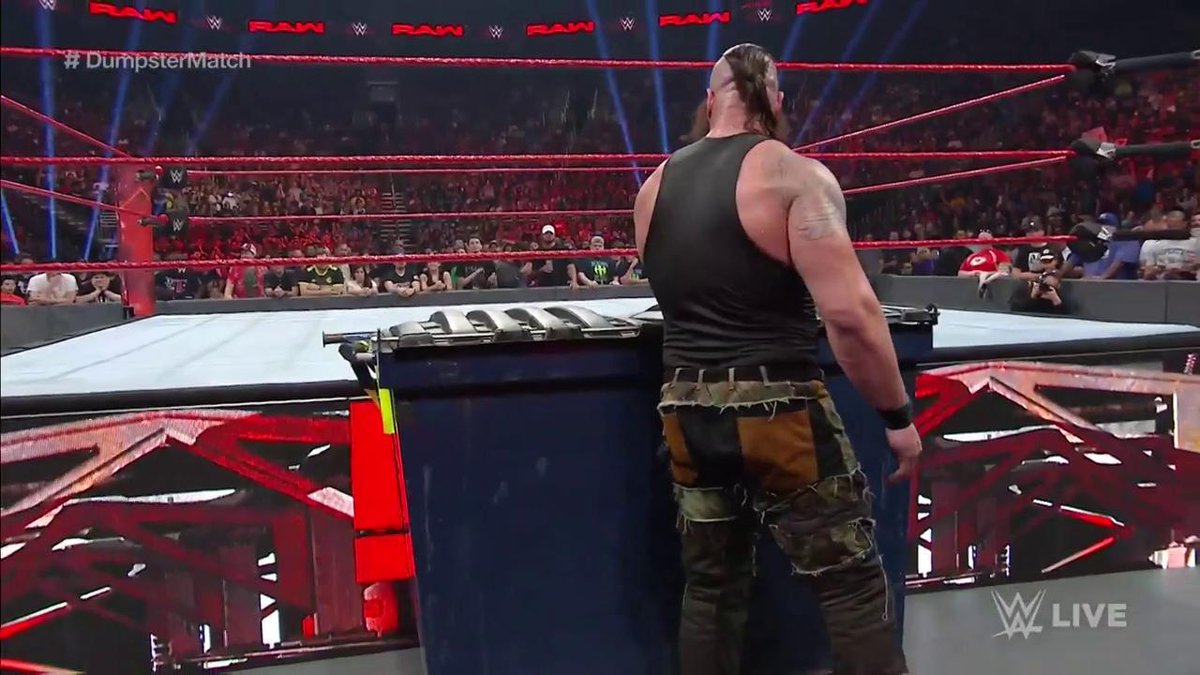 Braun now begins rolling the dumpster up the ramp with Kalisto inside. As he reaches the stage area, officials come out to stop Braun. He chases them off and threatens to hit them with the dumpster. Braun straps the top of the dumpster closed shut. He pretends to walk off, but comes running in and and rolls it off the stage area. It only lands on it's side, not a huge impact.
Officials check on Kalisto to take us to commercials.
ANNOUNCERS: The recap what just happened between Braun and Kalisto. They cut to video of Kalisto being stretchered. They take him backstage and roll him to the ambulance… You have to start thinking if Braun would tip that ambulance as well, but he doesn't. Announcers take us to an video package of Roman Reigns.
---
TITONTRON: Bray Wyatt would cut in and deliver a promo towards Randy Orton. He references the barn where Randy set fire to it. Bray says that the same pain and suffering he made Wyatt feel, will be the same that awaits Orton in the House of Horror. The video is edited with people's screaming, terrified and just clips of evil images and demonic imagery. Wyatt say that he will be reborn.
---
Dana Brooke vs. Alicia Fox
Singles Match
This is a simple quick match with Dana picking up the win.
Winner: Dana Brooke
Emma would come out to view the match ringside. Following the match Emma climbs into the ring and hugs Dana. Dana doesn't look impressed as Emma walks off.
BACKSTAGE: Samoa Joe, Karl Anderson & Luke Gallows are interviewed backstage and talk down Enzo, Cass and Seth Rollins. Joe references that he will tear the rest of Rollins ligaments tonight on Raw.
---
Enzo, Cass & Seth Rollins vs. Samoa Joe, Karl Anderson & Luke Gallows
Six-Man Tag Team Match
Enzo & Cass enter first and deliver their usual intro promo.
As Enzo and Cass enter the ring, Karl Anderson and Luke Gallows attack Enzo on the ringside. Samoa Joe pulls out Big Cass and beats him in the audience area. The club hits magic killer on Enzo on the outside. Rollins would run out and attack all members to stop the attack. Cass fights back and we get led to commercials as Enzo gets checked by officials.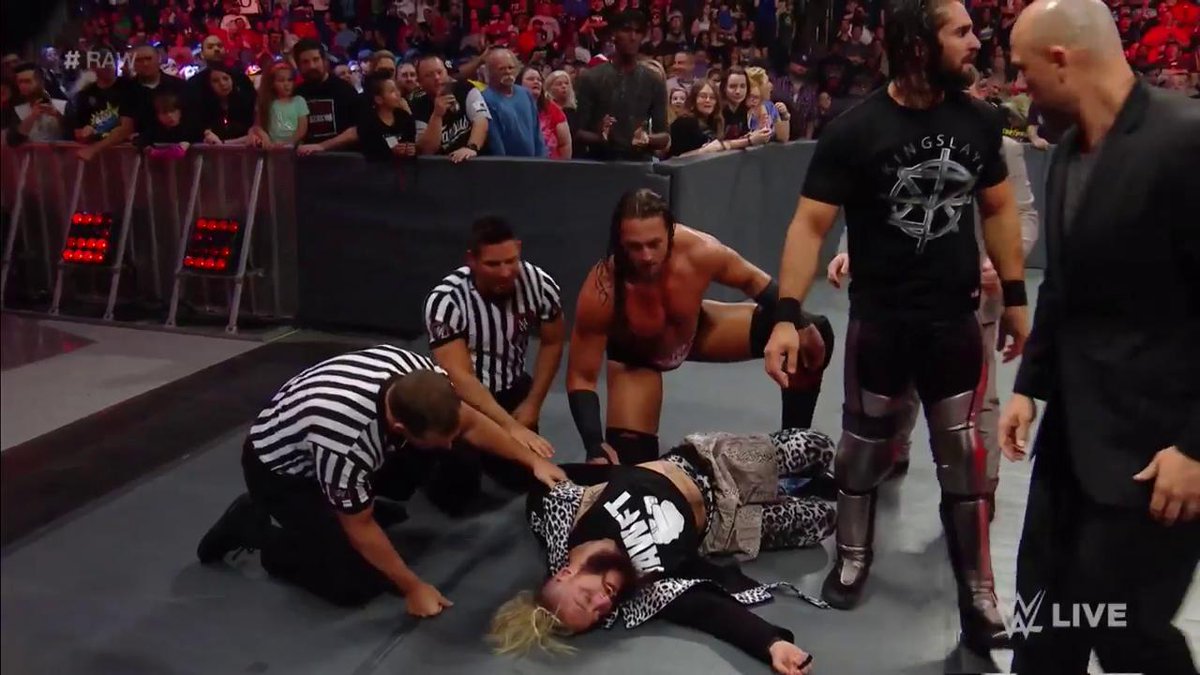 When we return from commercials, Kurt Angle announces that Enzo Amore can't compete, therefor Angle got them a new partner. Finn Balor comes out.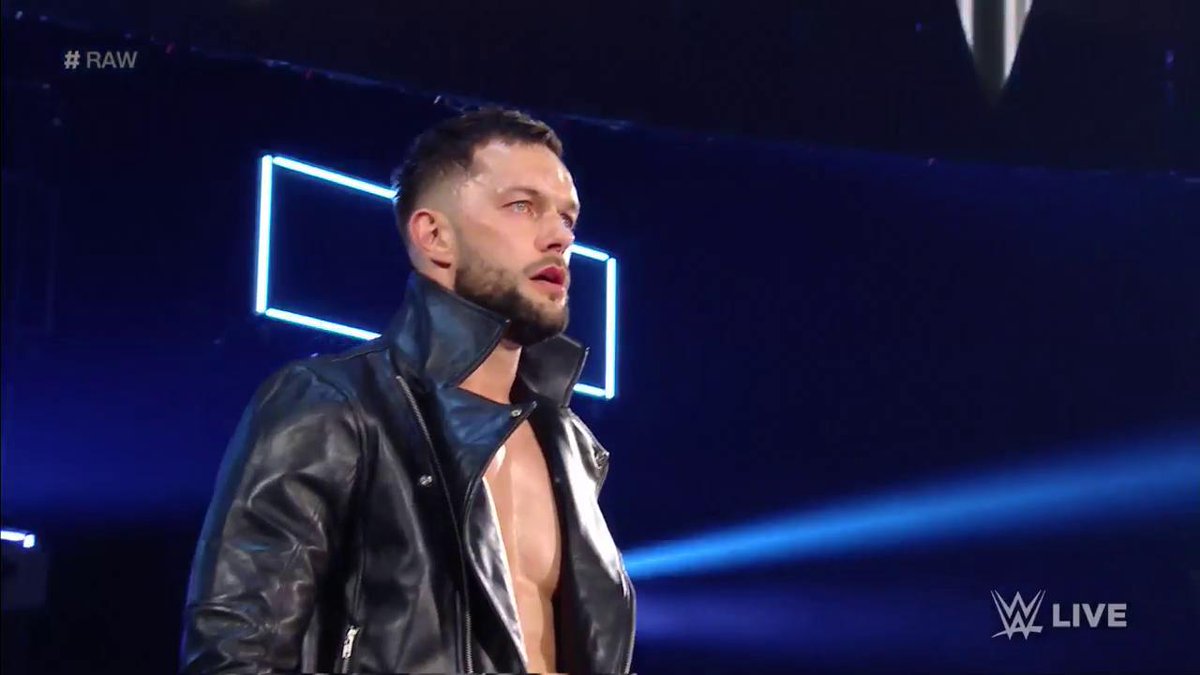 ---
Finn Balor, Big Cass & Seth Rollins vs. Samoa Joe, Karl Anderson & Luke Gallows
Six-Man Tag Team Match
As Finn makes his way out, everyone begins to brawl in the ring. Cass and Gallows were the only ones left in the ring. Cass keeps the advantage over Gallows. Rollins tags in and lands a few kicks, he tags in Finn who comes in quickly and hits a dropkick. Karl Anderson would tag in and get in some offence but Balor lands a hard kick. Anderson fights back and tags in Samoa Joe. Joe goes on the attack quickly and hits a hard kick to Finn's head.
Anderson tags in and lands a few kicks to the gut. He locks in an arm lock and slows the action down. Finn tries to fight out, but Anderson stops him and tags in Luke Gallows. Luke lands several shots to the head and locks in an arm lock. Gallows connects a side slam, and a big kick to Cass on the apron. He tries for a leg drop but Finn moves out of the way.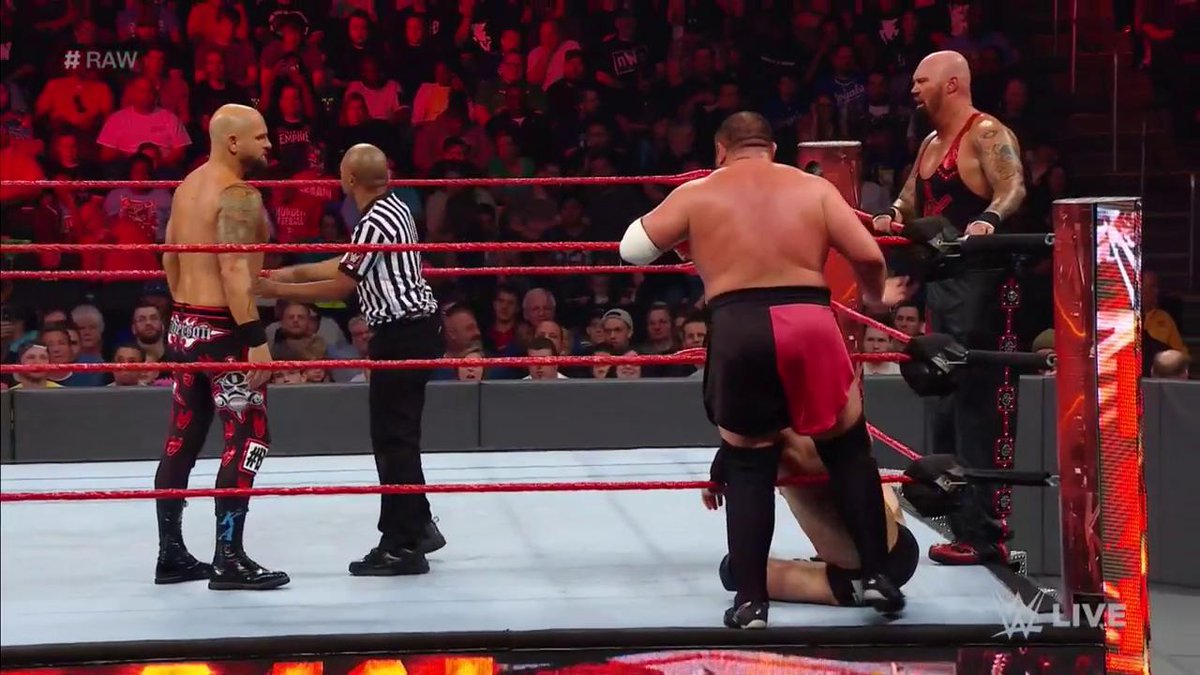 Rollins and Anderson get tagged in. Rollins comes in with the hot tag and lands a neck breaker to Anderson and hits a sling blade. Rollins tries for a suplex, but Anderson counters Gallows tries to attack but Cass takes him off the apron with a big boot. Rollins throws out Anderson and connects a suicide dive to both Joe and Anderson on the outside.
Rollins rolls in Anderson and looks to rebound into the ring, but Samoa Joe catches him and beats on his knee. Balor lands a dropkick to Joe. Rollins hits a springboard knee and looks for the pedigree. Rollins doesn't hit the pedigree as he doesn't want to anymore. So he transitions into another finisher which is a knee to the head. Rollins pins Anderson for the 3 count.
Winners: Seth Rollins, Finn Balor & Big Cass
BACKSTAGE: Miz is seen talking to Cesaro and Sheamus looking for a partner, but both Cesaro and Sheamus walk off laughing at him.
---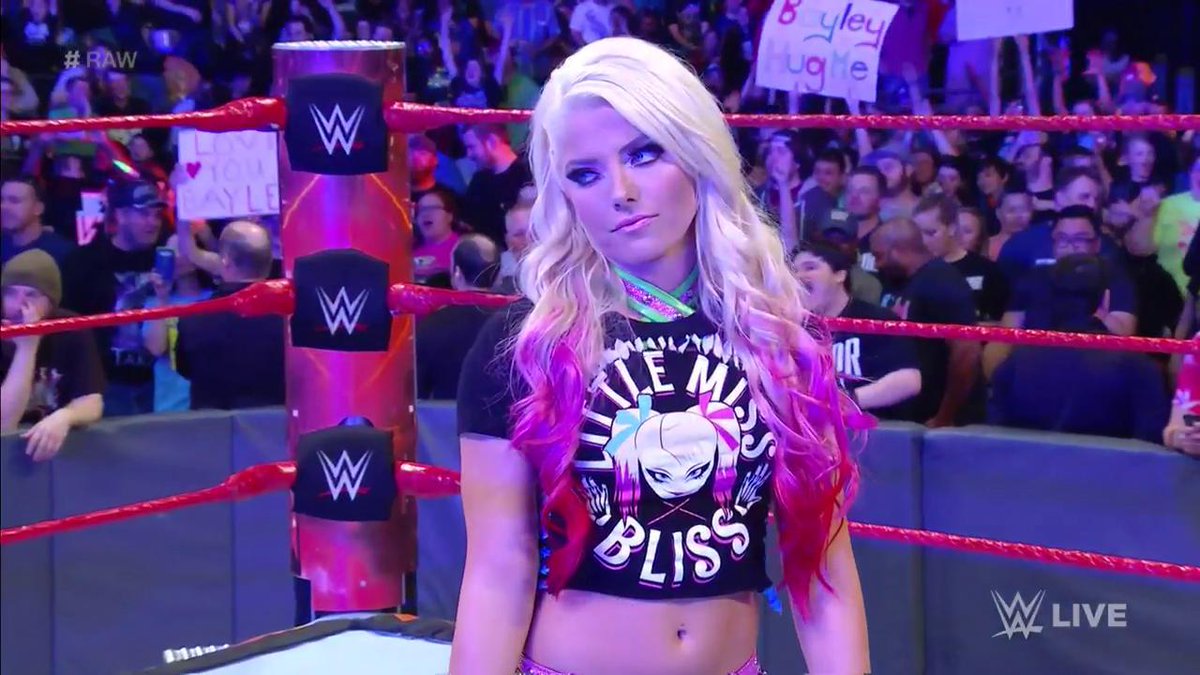 ---
INRING: Alexa Bliss comes out to the ring and mocks the Raw women's competitors and how they make her sick. She says that on Sunday's she'll prove that she came to Raw to fight, and not talk. Bayley would come out.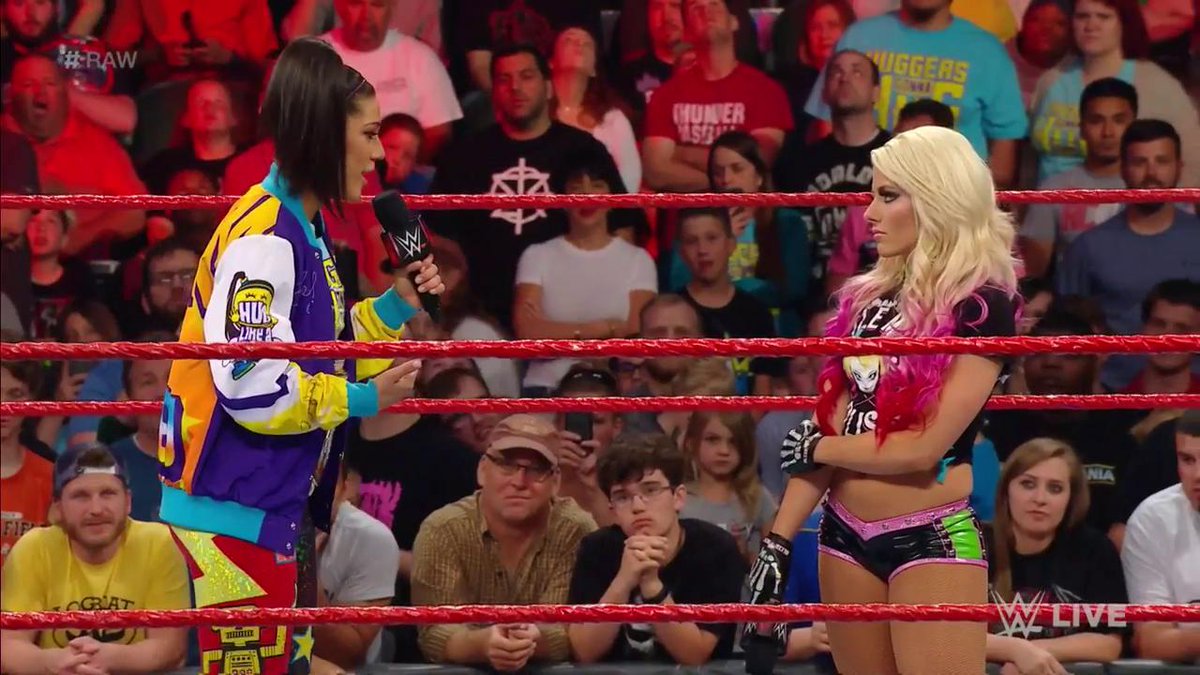 Bayley says that Alexa wasted no time proving how good she is on Raw. Bayley says that Alexa likes to talk behind people's back and not to their face. Bayley says that every female star in the back is trying to take the Women's title away from her. Alexa says considering Payback is in Bayley's hometown she gets the opportunity to take Bayley's title, and beat her down in front of her dad. Sasha Banks would come out.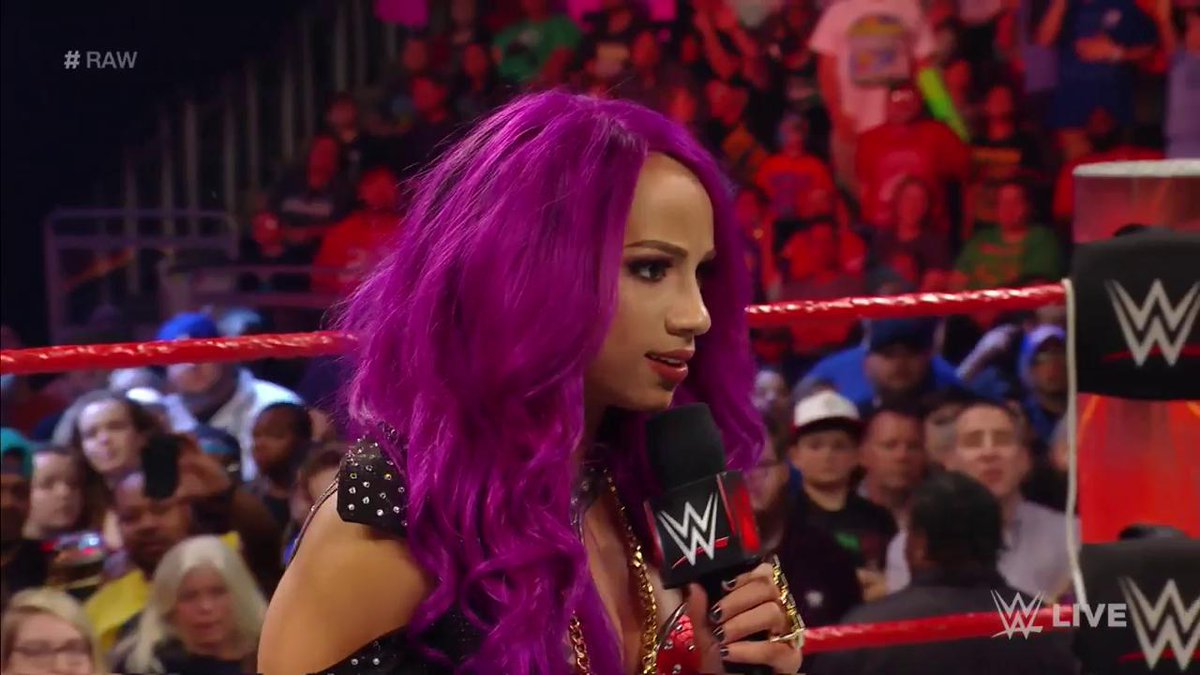 Sasha comes out and Alexa stops her in the ring and says "we get it!" Alexa jokes about their friendship and how they leave notes for each other. Sasha calls Alexa lucky and that on Sunday Bayley will shut her up. But tonight Sasha wants to shut Alexa up right now. Alexa says that considering she has a match on Sunday she's going to go talk with Angle as she believes Sasha Banks is a bit unhinged and should get the match cancelled. Sasha doesn't take that likely as she lands a hard forearm to Bliss. We cut to commercials.
Alexa Bliss vs. Sasha Banks
-Bayley on commentary-
Singles Match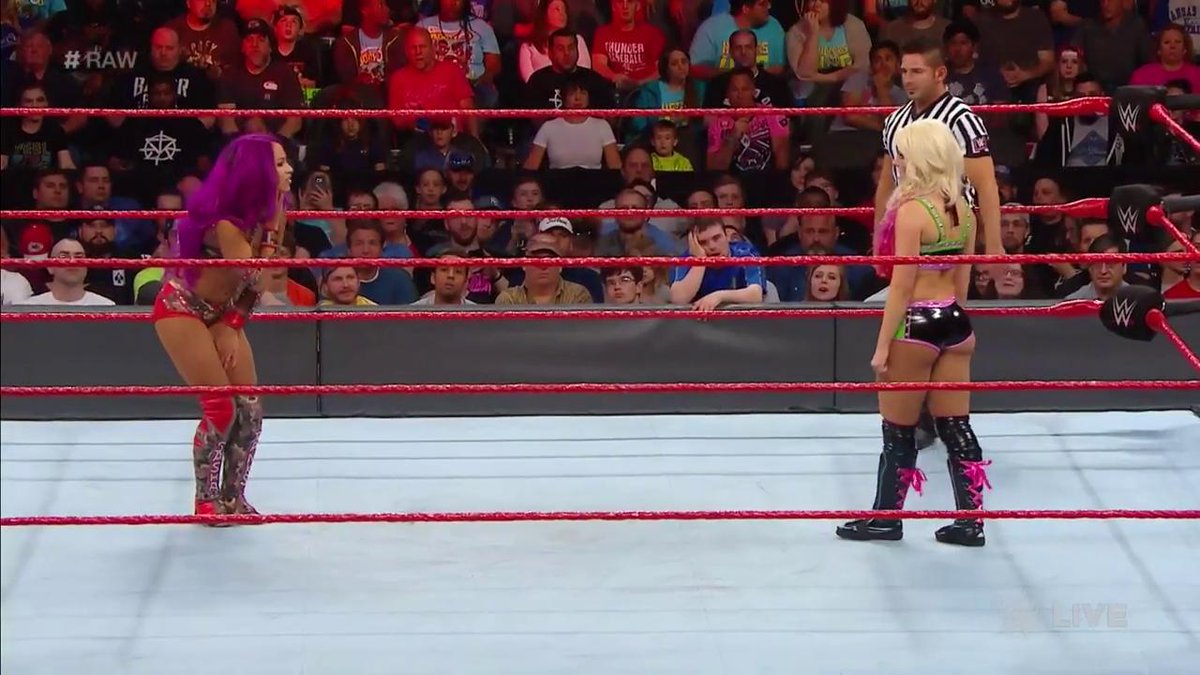 Alexa would start the attack quickly connecting a a gut kick and smashing Sasha's face against the mat. Sasha would come back with a few kicks and chops and delivers her knees to the gut in the corner. Sasha would lock in her submission finisher but Alexa got to the ropes.
Alexa would roll to the outside and say that she doesn't need this and walks up the ramp as the ref counts to 10.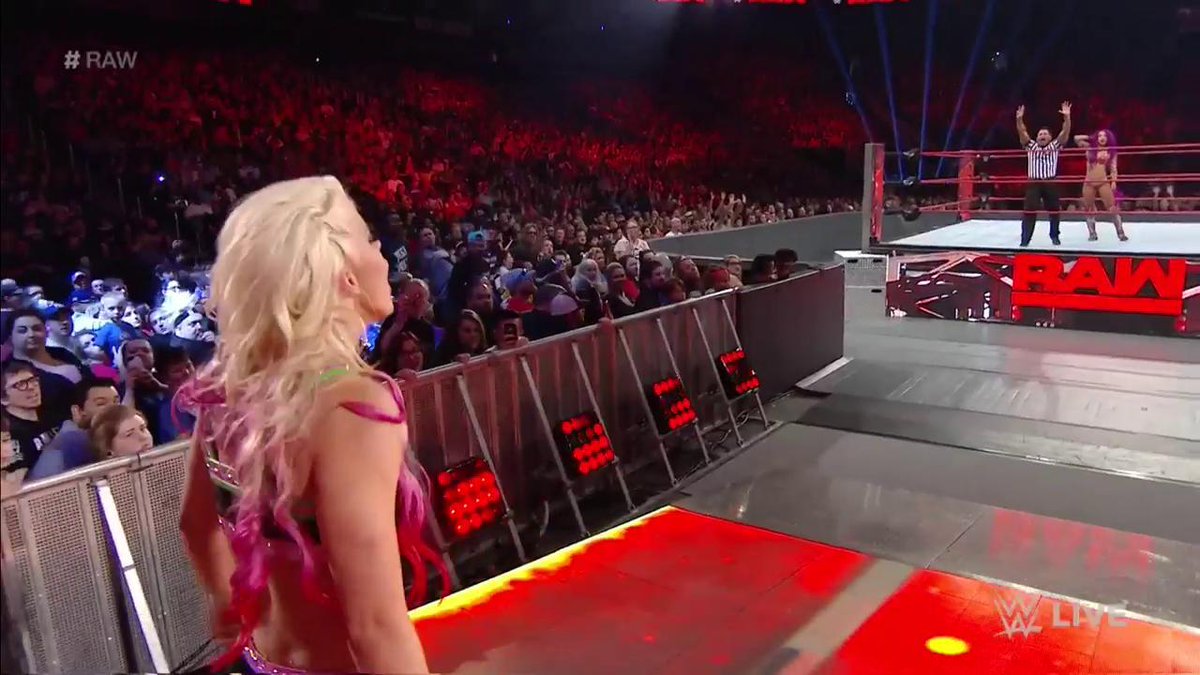 Winner: Sasha Banks via countout. 
Following the match, Bayley would try and bring Alexa back to the ring, but Alexa would run to the back. As soon as Bayley turns around , Alexa comes back and attacks her from behind and runs off again.
---
BACKSTAGE: Dean is talking to Chris Jericho and says that he wants them to move towards the future from their problems. Dean though wants one thing, and that's to be removed off Jericho's list. Jericho says that no one gets taken off the list. Jericho says that he was power-bombed onto thumbtacks during the Ambrose Asylum match and that Dean destroyed his jacket, but because Dean tried to make a piece offering Jericho says he took him off the list. As Dean walks away happy he's off the list, Jericho clicks his pen and re-adds him.
---
BACKSTAGE: Heath Slate and Curtis Axel are backstage looking to get interviewed for their Marine 5 roles, and Miz comes in saying that he has a role of a lifetime for one of them. Slater says that he already has a partner [Rhyno walks in] and Axel says no. Miz would receive a note and a smile would be put on his face. Curious to know who.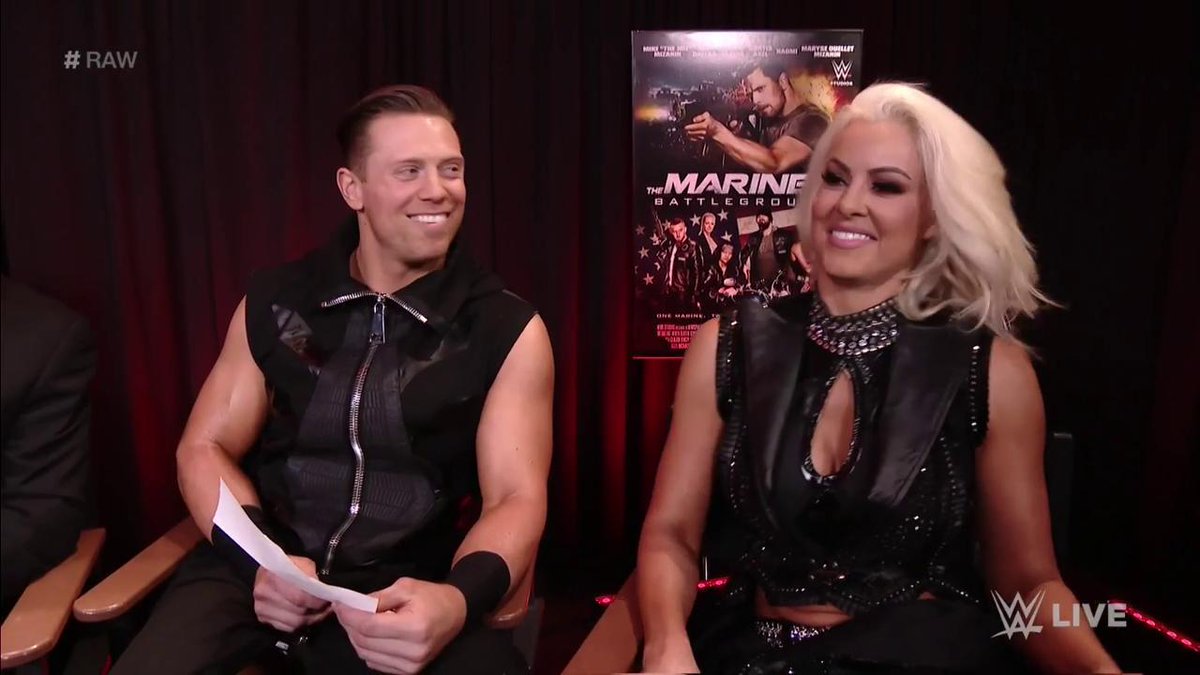 ---
INRING: Curt Hawkins is in the ring and does another open challenge for anyone in the back. Apollo Crews would answer.
Apollo Crews vs. Curt Hawkins
Singles match
Apollo would have a quick advantage to begin with, but Hawkins would get some offence in giving him a close pinfall. Crews would fight back and hit his finisher giving him the 3 count win.
Winner: Apollo Crews
After the match Titus O'Neil would come out and celebrate with Apollo Crews.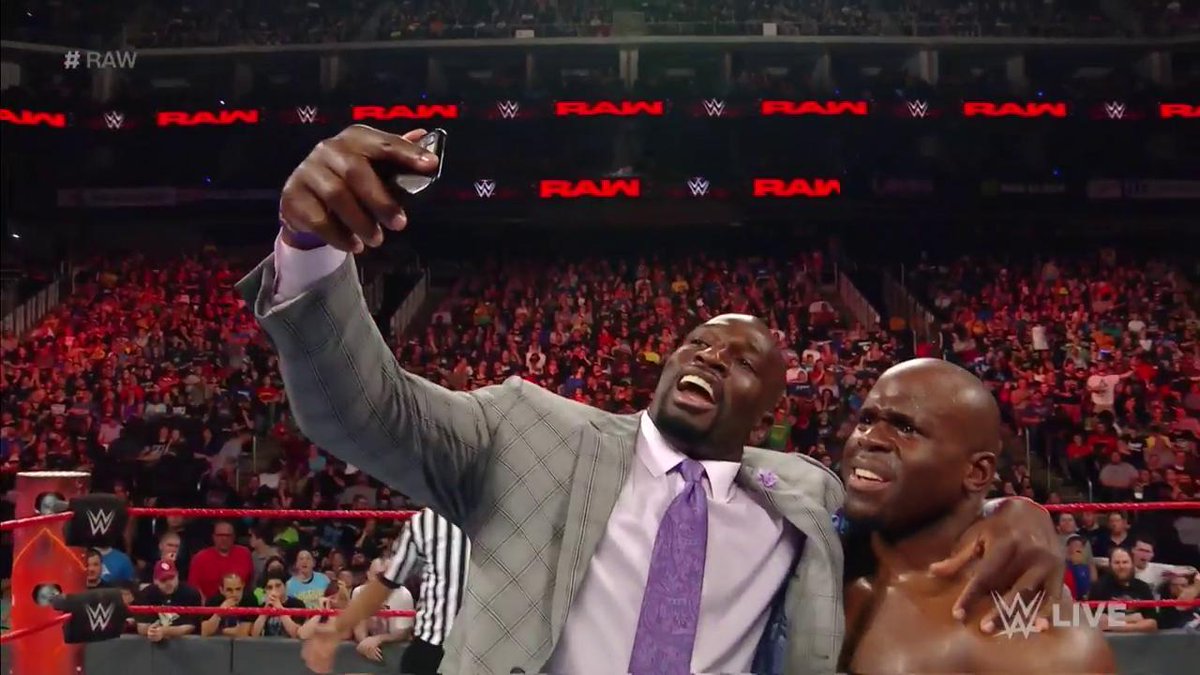 ---
ANNOUNCERS: They recap earlier when Kalisto won the Dumpster match but suffered a beating from Braun Strowman afterwards, and get rolled off the stage area in the dumpster. Announcers say that Kalisto is suffering from a cervical injury and more details will be available later in the week.
They hype the Payback PPV and provide an update on Roman Reigns showing some highlights from an interview done with him on WWE.com.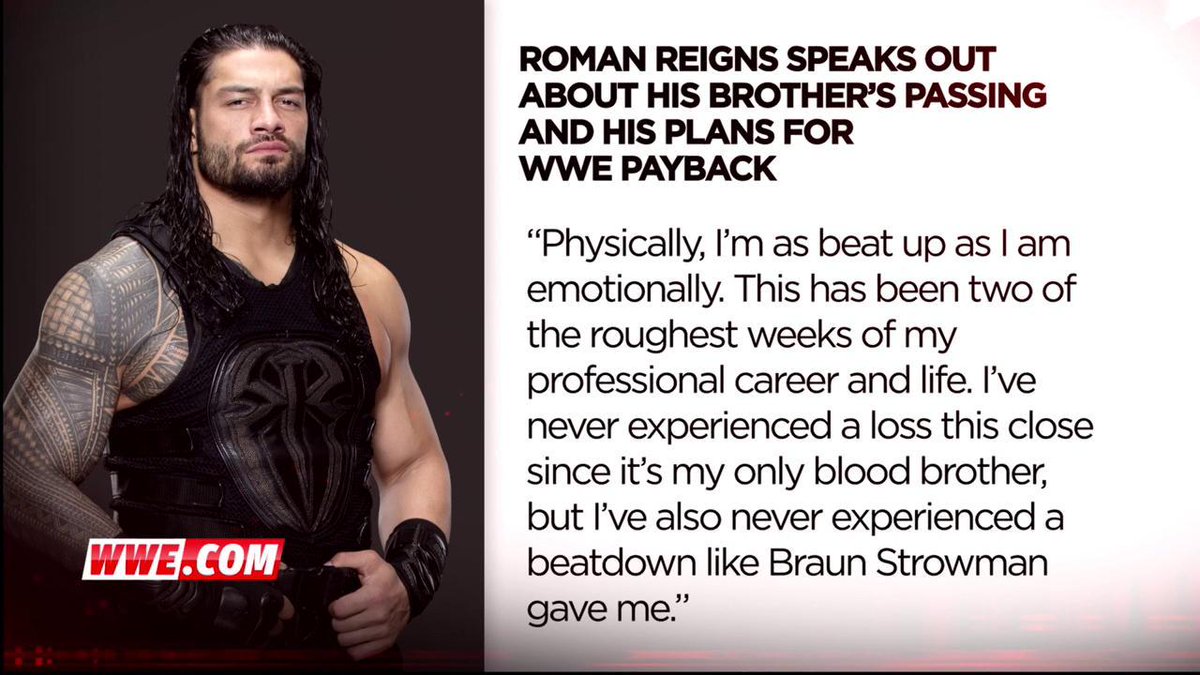 BACKSTAGE: Austin Aries was seen talking to Kurt, and gave him some idea for his Cruiserweight title at Payback. Kurt says he'll think about it, and Aries gives him a banana.
Kurt sees Miz and and asks if he got a partner. Miz says that his partner found him. At this time Elias Samson walks by strumming his guitar. Angle says that he's an odd choice, but Miz shoots him down saying he doesn't know that guy. But says his partner will be one to see.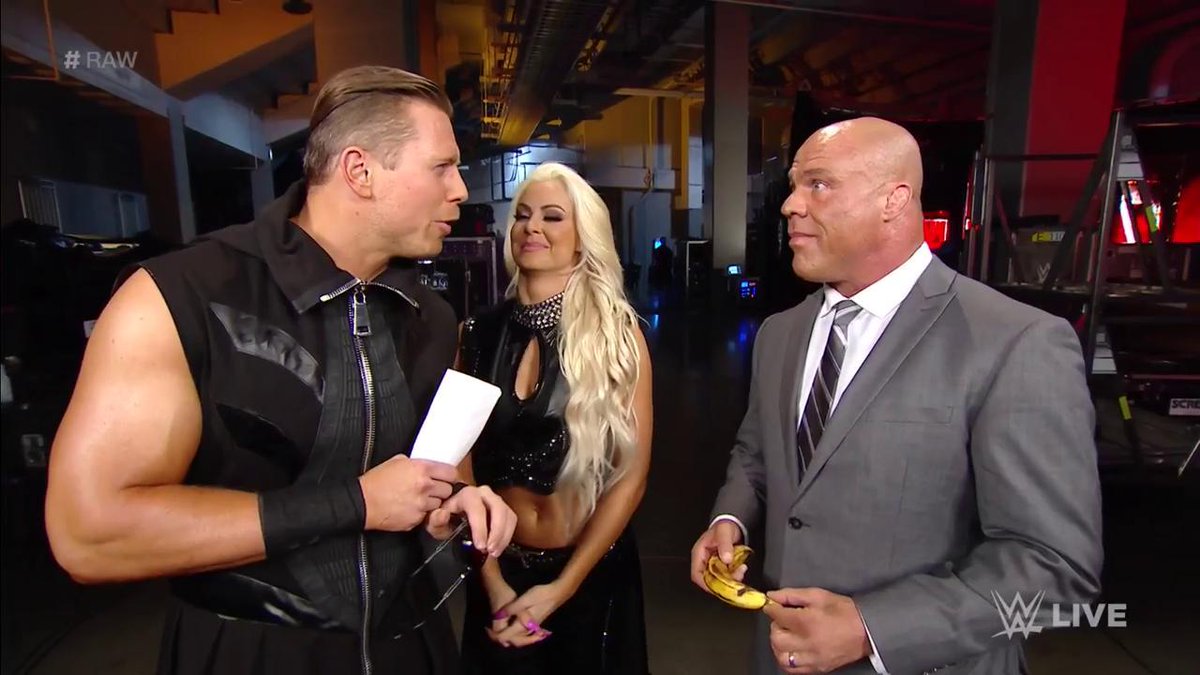 ---
Dean Ambrose (c) & Chris Jericho vs. The Miz (w/ Maryse) & ….
Tag Team Match
Miz would get on the mic before his tag team partner is announced and introduces his partner…. No one comes out and Miz says his partner is a bit late and that the match should be cancelled. Miz tries to head to the back to see what happened exactly, but Kurt Angles music hits and he comes out. Angle gets on the mic and says that if Miz couldn't find a tag team partner the match is still on, partner or not. It's damn true.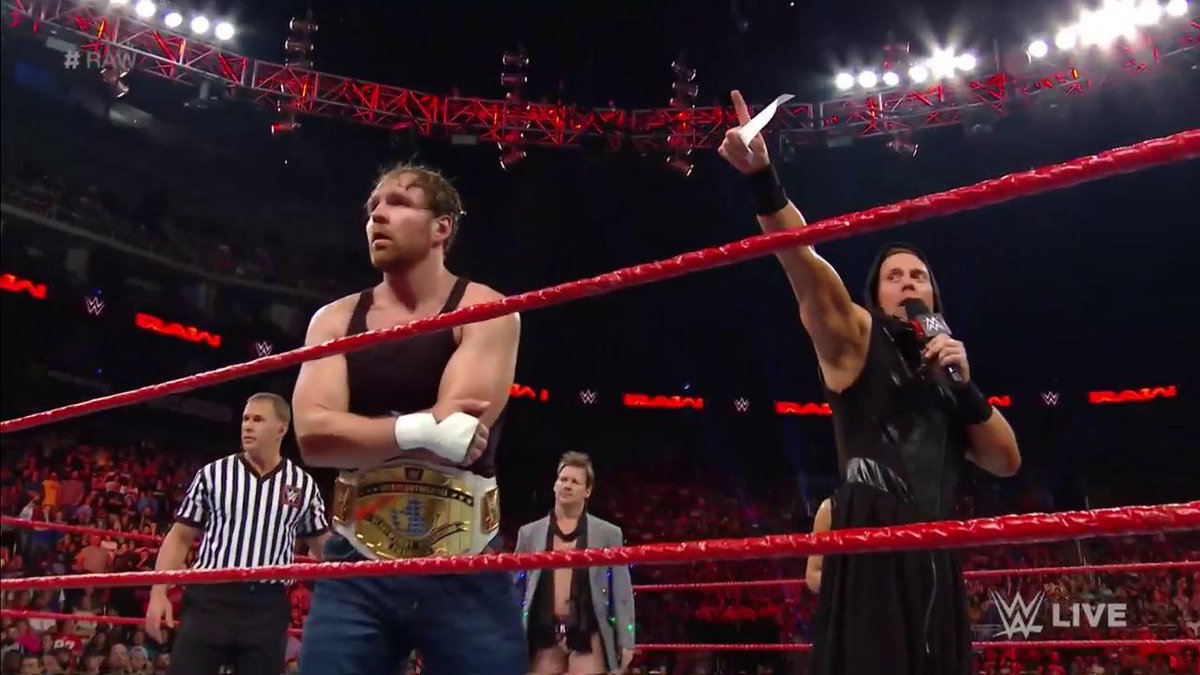 Angle walks off and Miz is in the ring with Jericho and Ambrose. Jericho quickly goes on the attack landing a few chops. He hits a running clothesline, and Dean follows it up with a running forearm and bulldog. Dean and Jericho double clothesline Miz out of the ring an we head to commercials. Looks like this will be a Handicap match.
When we return from commercials, Miz is getting beat up by Dean and Jericho. Jericho hits a running elbow and does a cocky pin. Jericho hits a suplex and chokes Miz on the ropes. Ambrose tags in and hits an axe handle on Miz. Miz begs for them to stop and says that he has no partner and show mercy. Miz wants to shake hands and call it even. Miz tries to get the audience to do a YES chant. Dean doesn't want to shake so Miz slaps him.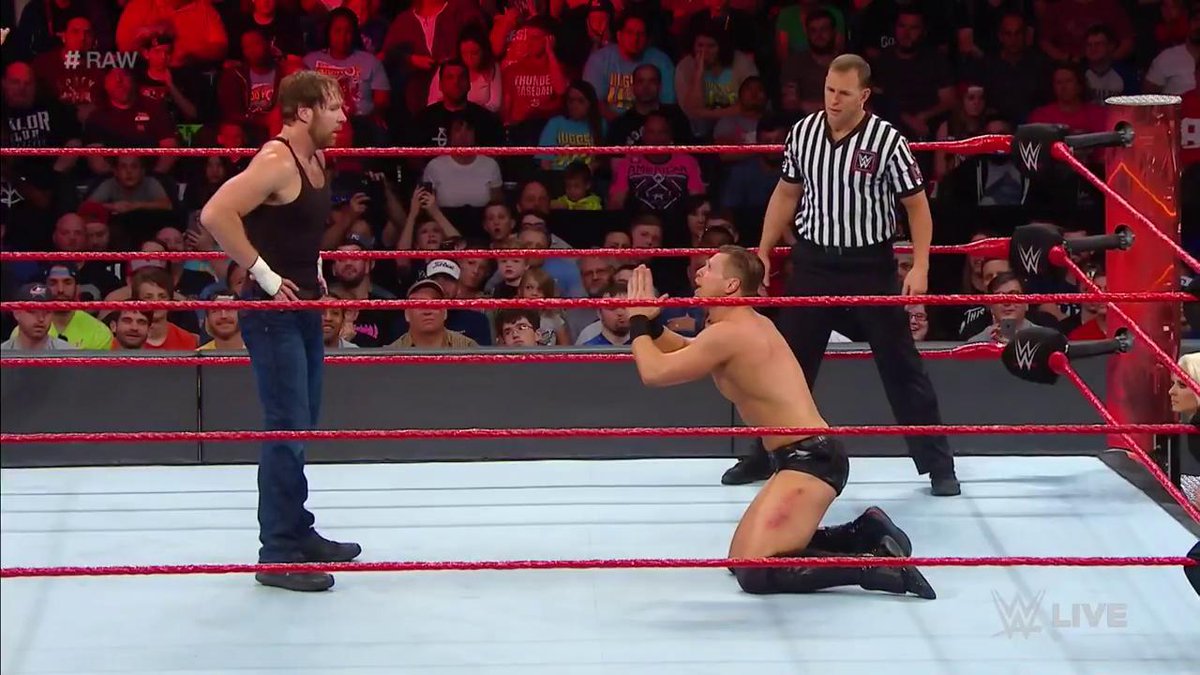 Miz runs out of the ring and hides behind his wife stopping Dean. Miz lands a cheap shot and throws Ambrose against the barricade. Miz rolls Dean into the ring and lands a running boot to the face. Miz pins for the 2 count. Miz lock in a choke hold and Dean tries to fight back, but Miz stops him with a neck breaker. Miz mocking Daniel Bryan hits a few kicks to the chest. He tries for a head kick but Dean quickly pins him for a 2 count.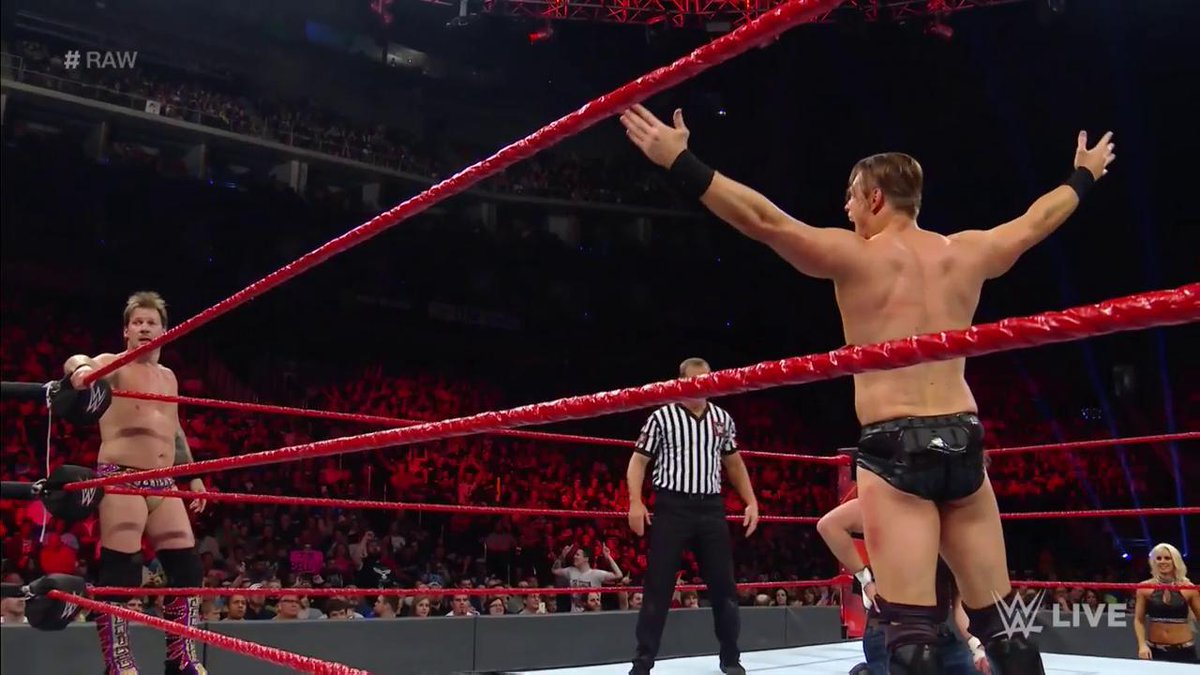 Miz quickly connects a hard punch, Ambrose rebounds off the ropes and hits a hard clothesline. Ambrose tags in Jericho, and he hits a shoulder tackle. He hits a top rope axe handle and hits a running bulldog. Jericho hits the lionsault and excite the audience. He goes for the code breaker, but Miz counters and Jericho hits a dropkick. Miz rolls out of the ring, and heads to the stage area. Dean won't allow him to run away and attacks him on the stage.
They head to the announcers table and stripe it clean. Dean throws Miz on top and tries for his finisher, but all of a sudden Bray's cut off music hits and he's now standing on the table with Dean. He punches Dean off and connects sister Abigail against the titon-tron banner. Miz can't believe it as both men exchange glares. Jericho attacks him from behind but Wyatt and Miz stop him and bring him back to the ring. Miz tells Bray that he has it, and climbs into the ring. Jericho quickly hits the code breaker, and Bray runs in hitting Sister Abigail.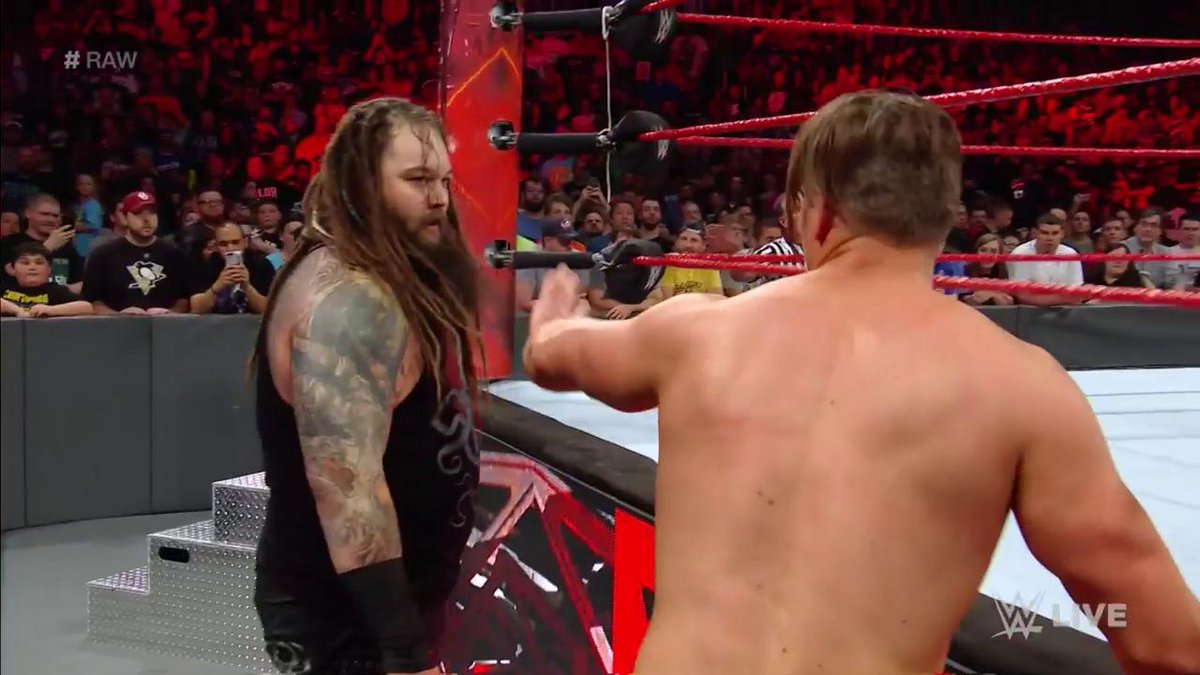 Bray taunts in the corner and pulls Jericho tot he center of the ring and taunts over him. Miz comes from behind, puts his hand on Bray's shoulder, but that wasn't the best idea as Bray hits sister abigail on him as well.
Raw ends with Bray's cut off video……… Ok, it looks as if the match just ended…. ok.
Winners: No Contest.
Thank for reading guys!
Any highlights not uploaded will be put up tomorrow.
Cause Carnage, Watch Wrestling!