Before tonight's WWE Raw broadcast, I thought I would go through the previews from WWE.com and give my thoughts on what we can expect tonight.
Three's A Crowd
WWE announced last week that at this years SummerSlam PPV, Brock Lesnar will face his biggest challenge yet when he defends his WWE Universal Championship not only against 1 man, but three. Lesnar is set to face Roman Reigns, Samoa Joe & Braun Strowman in a Fatal-4-way match at the biggest party of the summer. But before the big PPV match, WWE announced that on tonight's WWE Raw broadcast, Roman, Joe and Braun will take part in a triple threat match. Let's be honest, this is gonna be a hard hitting match which may end with all three men just brawling it out.
In my opinion Braun will have to be showcased as the biggest challenge for everyone involved in the match. Roman and Joe will team together to hopefully bring Braun down but in the end he'll over power. I foresee this match as being the highlight of the show, and as stated, I feel the ending will not be clean and all men go on an all-out brawl to end the show. This only strengthens the story between the men and builds anticipation.
Jason Jordan Speaks Out On Miz TV
After finding out that Kurt Angle is Jason's father who didn't know about him, he's had much more attention on him. Last week he had his singles debut on Raw against Curt Hawkins and safe to say he won that. But tonight he's the special guest on Miz TV and there are a couple of angles this could go.
1 – WWE could surprise us all and make Jordan go after the IC title.
2 – WWE could tag both Rollins and Ambrose with Jason to face Miz' Miztourage possible at Summerslam.
In my honest opinion I feel WWE will have Jason team with the former Shield members to take on the new stable. It at least shows his stance in the roster and that he too doesn't want to put up with Miz' crap. So during tonight's Miz TV segment, I see Miz trying to down talk Jason which in the long run will make Jason take Miz out.
Brothers in Arms
For the last few weeks Dean Ambrose and Seth Rollins have appeared to be on the same page. This comes after Ambrose showed he was still skeptical of Rollins following his back-stab on The Shield three years ago. But the common saying goes, "the enemy of my enemy is my friend," and these two seemed to have at least set aside their issues to work together.
The one idea I had as stated above with Jason Jordan, is that Rollins and Dean will be used in the MizTV segment which will in turn lead to a temporary alliance with the new son of Kurt Angle, Jason Jordan. This could technically lead to a six-man tag at Summerslam, which I know not many WWE fans want, but in all honesty it's at least a story angle these guys are working towards. Eventually one will go after the IC title, but until then it'll be interesting to see how this angle proceeds and what role Jason will play in it.
Hardy Boyz & "Good brothers," meet Team Red's "top guys"
I'll admit it, I'm a big Revival fan. I love the team tactics & strategy. Dash and Dawson really bring back the term team work as they make sure to cut that ring in half, and always work a certain body part to make that one talent vulnerable. Now they get to work with other well known teams such as the Hardy's and Gallows & Anderson.
In my opinion I see Vince truly backing the Revival as a team, and will at one point give them a Raw title run. But for now, they have to work towards that, and it wouldn't surprise me if WWE pin Revival vs. The Club vs. Hardy's for a #1 contendership for Sheamus & Cesaro's Raw Tag Team Titles. Though I feel WWE will want Revival & Hardy's to have a few matches before any of those two get title shots yet again. So if anything The Clubs (Karl Anderson & Luke Gallows) will get the next title opportunity and Revival vs. Hardy's will be an ongoing feud potentially leading to Summerslam.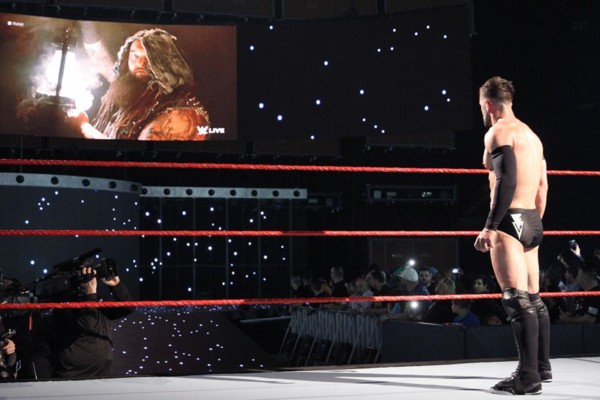 Balor to Bray "Let's Play"
Bray Wyatt has made it clear that Finn Balor is on his hit-list. This though is gonna be interesting because in all honesty, when was the last time Finn Balor came out as "the demon?" Last I recall he was the Demon during the Summerslam match against Seth Rollins for the universal championship. So in all honesty, it's a bit overdue. This is why I think WWE has pinned these two together. Have Bray draw the negative (demon) out of Balor.
This Summerslam I feel will be the return of Demon Balor, and this feud between him and Bray will only grow slowly during Raw. We saw Bray screw Balor over last week, during the no DQ match, so in all honesty I foresee Finn having some tricks up his sleeve.
Well, those are my thoughts for tonight's WWE Raw broadcast, and what I feel will happen tonight. They'll be a ton more action waiting to happen. Make sure to follow me on twitter at @MindofCarnage to interact with me live during the show.